Wondering where to hide out for the rest of the year? What with Mario Draghi reminding the world of Europe's problems, (as if we'd forgotten), and post-election profit-taking sending the S&P down 2.37% in one day, defensive dividend stocks are looking more and more attractive. Here's an old familiar name that's been bucking the fall pullback, and only fell .41% during Wednesday's big sell-off.
Dr. Pepper Snapple Group, (NYSE:DPS), has beaten the market since the September 14 highs, and also has done well during the summer rally and during the spring pullback. Year to date, it has kept pace with the S&P, with a whole lot less drama:

Dividends: Since its spinoff in 2008 from Cadbury Schweppes, DPS has more than doubled its annualized dividend payouts, starting with its first quarterly $.15 dividend in December 2009, to its present $.34 level: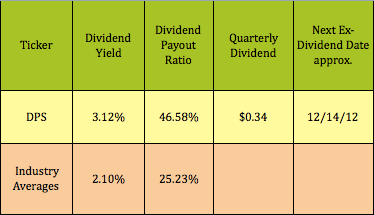 Earnings Valuation: DPS isn't an undervalued high growth story. Indeed, its 2013 PEG and 5-year PEG are high, and its P/E sits above the median level of its 5-year P/E range:

You also can't make the case for it being undervalued on a Price/Book or Price/Sales basis, vs. its peers: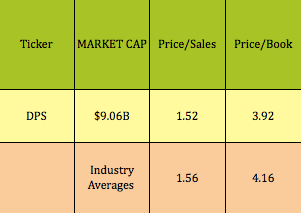 Financials: However, it does have better Management Efficiency ratios, and a much higher Operating Margin than industry averages. Its debt load is higher, but it also has a higher Interest Coverage figure: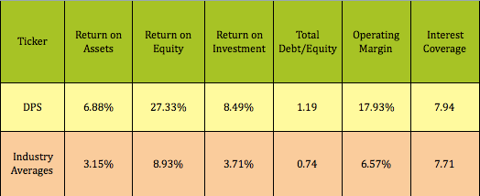 With its low beta, DPS doesn't currently have enough volatility to offer high options yields, like some of the other dividend stocks we've covered in recent articles, but it looks like it can offer you some stability in these uncertain times.

Profile: Dr Pepper Snapple Group Inc. is an integrated refreshment beverage business, marketing more than 50 beverage brands throughout North America. In addition to its flagship Dr Pepper and Snapple brands, the company's portfolio includes 7UP, Mott's, A&W, Sunkist Soda, Hawaiian Punch, Canada Dry, Schweppes, Squirt, RC Cola, Diet Rite, Peñafiel, Rose's, Yoo-hoo, Clamato, Mr & Mrs T and other well-known consumer favorites. Based in Plano, Texas, DPSG employs approximately 20,000 people and operates 24 bottling and manufacturing facilities and more than distribution centers across the United States, Canada, Mexico and the Caribbean. (Source: DPS website)
Disclaimer: This article is written for informational purposes only and isn't intended as investment advice.
Disclosure: I have no positions in any stocks mentioned, and no plans to initiate any positions within the next 72 hours. I wrote this article myself, and it expresses my own opinions. I am not receiving compensation for it. I have no business relationship with any company whose stock is mentioned in this article.