I recently read an article on this site, "Transportation Sector May be Overly Clobbered," that basically implied that the Dow Jones Transports Average [DJT)]had been "clobbered out of proportion." There is a common misconception that transports should be doing better in the face of rapidly falling oil prices. Admittedly, the DJ Transports Average has been performing extremely well compared to the overall transportation sector. But is it currently being unfairly punished or is it now in the process of being properly priced?  
The chart below demonstrates this point. The DJT is a cherry picked composite of 20 transport companies that have held up quite well in this recent downturn. The problem for Dow Theorists (who use the DJT and Dow Jones Industrials Average [DJIA] together to confirm trend) is that this fact has created confusion. Until very recently, the DJT has been in a trading range while the DJIA has been falling.
click to enlarge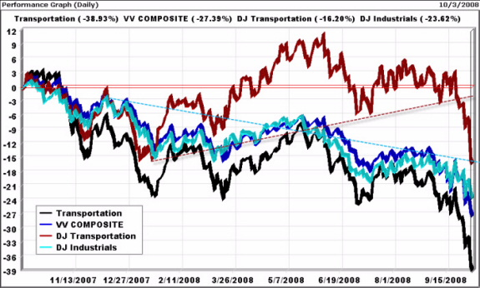 Figure 1 – Chart comparing performances of the Dow Jones Industrial Average (30 companies), Dow Jones Transports Average (20 companies), with the VectorVest Composite (8300+ companies) and Transportation Sector (145 companies) over the last year to October 3, 2008.  Chart by VectorVest.com 
As we see from Figure 1, the DJT did not break its recent rally from January 2008 support line (dashed dark red) until very recently while the DJIA has been in a downtrend since October 2007.  
Contrast this with the VectorVest Transportation sector index which consists of 145 transport companies (black) and VectorVest Composite index representing the overall market of more than 8300 stocks trading on US markets.  
As we see, the DJT is finally coming back into line with the overall transports sector, an adjustment that has been long overdue. And as we also see as of October 3, the correction is not over.
For a more complete sector analysis which is updated regularly, please see http://tradesystemguru.com/content/view/194/61/.