"Are you in earnest? Seize this very minute. Boldness has genius, power and magic in it. Only engage [get started], and then the mind grows heated--Begin it, and then the work will be completed!" Johann Wolfgang Von Goethe (German poet, playwright and novelist, 1749-1832)
Now that the U.S. elections are behind us, the groundwork is being laid for some outstanding investment opportunities. As I write this the U.S. stock market is in freefall. Some hints of panic are in the air.

The overblown fears of a "fiscal cliff" and political gridlock are helping both the S&P 500 and the Dow Jones Industrial Average test support levels. A plethora of profitable companies and their stocks are offering some long-awaited "bargain" pricing.
During after-election stock market corrections of the past, the basic materials sector took the brunt of the sell-off reaction. This sector of stocks includes companies involved in the discovery, development and refining of raw materials. It includes the mining and processing of metals, precious metals, agricultural products, chemical producers and timber products.
The U.S. election results imply that the Bernanke Fed will be continuing its unprecedented program of supporting the bond market, the real estate market and the financial credit markets to the tune of hundreds of billions of dollars. No wonder gold and silver stocks are doing well despite the fact that the major stock indices are down 2 to 3% in one day.
First, let's take a look at the Materials Select Sector SPDR ETF (NYSEARCA:XLB). On Wednesday November 7th, XLB fell as much as 2%. It recovered and ended the day down 1.2%.
The chart below shows us the last two low points at mid-year and again in late August to early September. Once the Fed began its latest version of Quantitative Easing, XLB rocketed higher. It has begun to correct back towards the intraday low on October 23rd of $35.89.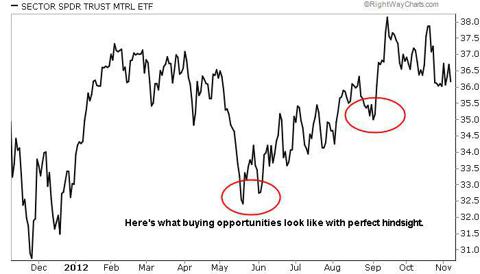 Two of the basic material stocks I've been monitoring are Potash of Saskatchewan (NYSE:POT) and Agrium Inc. (NYSE:AGU) which disappointed on its November 7th earnings announcement and was down almost 11% on the day. AGU sells agricultural products and services worldwide.
POT produces and sells fertilizers and related industrial and feed products primarily in the United States and Canada. It's selling at a forward (1-year) PE of 11.74 but a surprisingly high PEG ratio (5-year expected) of over 5.
POT has total cash (most recent quarter) of $411 million, and as importantly operating cash flow (trailing twelve months) of $3.22 billion. Its levered free cash flow ((NYSE:TTM)) is a comfortable $138.62 million.
POT's current dividend yield-to-price is 2.11% which represents a very modest payout ratio of only 16% of earnings. POT is in a good position to raise its dividend payout, which alone may cause the stock to rally.
AGU is another story. Its most recent quarterly earnings dropped a stunning 56%, and it guided significantly lower. AGU blamed the fact that both China and India, the world's two top potash consumers, had stopped buying. The CEO offered hope that things would improve in the first half of 2013.
Interestingly, if you had a tight trailing stop order in on AGU, you might have been able to jettison the stock at the opening. A more flexible trailing stop loss percentage of say 15 to 20% may mean you would still own the stock in spite of the harrowing drop on November 7th.
Here's a chart that shows us the 12-month history of AGU (blue line) and POT (black line). We can see an implied buying opportunity, especially after AGU's 10% recent correction. POT may be at or near its multi-month low, having corrected to $39.73 intra-day November 7th. Back on June 14th the stock traded as low as $37.45.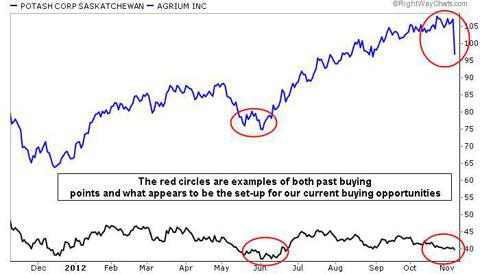 AGU may have a long way to fall before finding a bottom. Back on June 4th, it traded as low as $74.28. Interested buyers should study the latest earnings call transcript and consider accumulating a little at a time after the stock price forms a base of support.
The other two companies I want us to consider and take a close look at are Freeport-McMoRan Copper and Gold (NYSE:FCX) and Goldcorp (NYSE:GG). FCX is not only the world's largest publicly-traded copper producer. It also explores for and finds gold, molybdenum, cobalt hydroxide, silver, as well as strategic metals like rhenium and magnetite.
The September 27th low of $37.86 may be considered the downside for FCX. As we saw on the day after the U.S. elections, the stock bounced off $38.45 and closed at $39.29. With its lofty dividend yield of almost 3.2%, a payout ratio of only 37%, and operating cash flow of $3.26 billion, FCX is a compelling growth-with-income stock.
Goldcorp is one of the world's best managed and productive major precious metals producers. Selling at only 15 times forward earnings and with a PEG ratio (5-year expected) of only 1.22, GG appears to be modestly priced. In the last quarter it grew its quarterly earnings (y/o/y) by over 48% and revenue growth grew by almost 18%.
Its modest 1.2% dividend yield reflects a payout ratio of only 29%. The officers of the company know that shareholders are hungry for both income and price appreciation, so the current quarter may bring a number of positive surprises. Remember, the Fed and the other major central banks aren't done easing or injecting a large fortune into circulation. Gold and silver prices are likely to end the year higher.
I'll close the article with the 1-year chart below. I'd prefer to buy more GG closer to the October 24th low of $41 per share, but that might not materialize. If you don't already own shares now may be a good point to begin accumulating. Both GG and FCX are poised for growth, and barring any unforeseen bad news should perform well in the months ahead.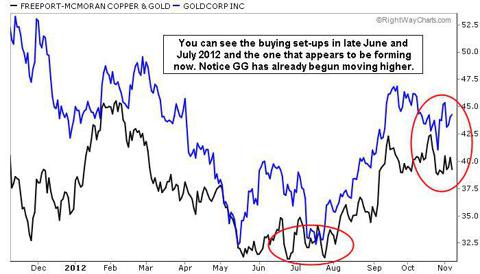 Disclosure: I am long FCX, GG. I wrote this article myself, and it expresses my own opinions. I am not receiving compensation for it (other than from Seeking Alpha). I have no business relationship with any company whose stock is mentioned in this article.