As big American banks continue to regain their strength little by little, their neighbors to the north are enjoying a more robust banking atmosphere. So much so, in fact, that Bloomberg recently noted that Canadian banks are among the most solid in the world.
Canada has a strong, stable banking system that is not only solid, but solidly profitable. For the anti-regulation crowd who say that too much regulation is bad for the banking industry, here is real-world proof that strict regulation works very, very well. Not only are these banks showing stellar earnings and profits, but they are also growing and expanding at a respectable pace, reaching out to new markets as the domestic lending scene slows. For smart financial investors, looking to the north seems like a beautiful way to go.
In my view, the most beautiful way would be investing in the Royal Bank of Canada (NYSE:RY). It has an unparalleled branch network in Canada consisting of 1,338 branches and 4,293 ATMs (source: Royal Bank of Canada 2011 Annual Report) - in comparison to Toronto Dominion's (NYSE:TD) 2,780 automated banking machines and a network of 1,150 branches located across Canada.
Royal Bank of Canada is one of the heavily regulated Canadian 'Big Five' banks which are as follows:
Official names

Bank brand

Headquarters

Assets

(CAD billions)

Deposits

(CAD billions)

Capitalization (CAD billions)

Branches

Employees

(Canada only)

(Full-time equivalent)

Royal Bank of Canada

RBC Royal Bank

Montreal (legal)

$751.70

$444.20

$73.00

1,338

68,480

Banque Royale du Canada

RBC Banque Royale

Toronto (operational)

Toronto-Dominion Bank

TD Canada Trust

Toronto

$686.40

$481.10

$70.50

1,150

65,930

Banque Toronto-Dominion

Bank of Nova Scotia (NYSE:BNS)

Scotiabank

Toronto (operational)

$575.30

$396.40

$57.50

1,030

75,362

Banque de Nouvelle-Écosse

Banque Scotia

Halifax (domicile)

Bank of Montreal (NYSE:BMO)

BMO Bank of Montreal

Montreal (legal)

$477.40

$302.90

$34.80

920

47,180

Banque de Montréal

BMO Banque de Montréal

Toronto (operational)

Canadian Imperial Bank of Commerce (NYSE:CM)

CIBC

Toronto

$353.70

$255.40

$28.30

~1,100

42,239

Banque Canadienne Impériale de Commerce
Why Canada?
For people wishing to invest in a bank, Royal Bank of Canada ought to be at the top of the list, together with that Norwegian bank DNB NOR ASA (OTCPK:DNBHF). I like this bank in Norway because Norway is a country with low unemployment (3.1%) so people shouldn't be unable to repay their mortgages and other debt. But Royal Bank of Canada beats the mentioned bank in one thing - dividends! RBC has never suspended dividend payments, while owners of DNB NOR have not received compensation in the form of dividends in 2009.
Canada currently has a rather high unemployment rate of 7.4% and a rather anemic GDP growth of around 2%. But Canada is the twin country of the USA, with a vast territory (second only to Russia) rich in natural resources and socialist attitudes like Norway. Social democratic attitudes are good for large corporations - none of the 'Big Five' had serious issues during the last financial crisis when all US banks suspended divided and reported gargantuan impairments to capital.
Canada is still sparsely populated with only 35 million inhabitants and healthy immigration inflows. I am especially bullish on British Columbia, energy rich province of Alberta, and those agricultural provinces on the plains west of Ontario. Royal Bank of Canada also earns 17% of its revenue in the southeast of the US: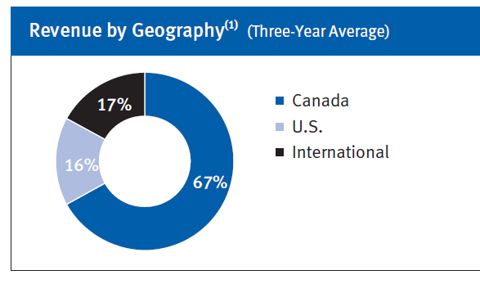 Click to enlarge
Source: Royal Bank of Canada 2011 Annual Report, p. 1
Juicy Dividend
I deem RBC able to pay dividends at the current level. It has net income of CAD $6.3 billion in 2011 versus an annual total dividend payment of CAD $2.9 billion in 2010. Total allowance for loan losses has actually fallen in 2011 - from CAD $2.038 million to CAD $1.958 million (source: Royal Bank of Canada 2011 Annual Report, p. 73).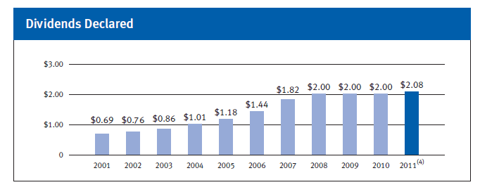 Click to enlarge
Source: Royal Bank of Canada 2011 Annual Report, p. 1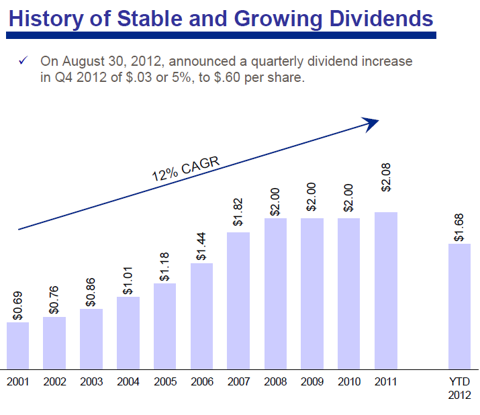 Click to enlarge
If you want to diversify your portfolio with the financial sector, I suggest you take a look at RBC. The stock price has not moved much since 2007, while net income is bigger. Also, a nice annual dividend of 4% should keep you satisfied till you wait for banks to return to the orbit of desirable investments.
One of the things I don't like about RBC is their penchant for issuing shares (the bank had 1.431 million shares at the end of 2011 versus 1.273 million at the end of 2007). But these news of an intent to repurchase ought to reassure investors and perhaps signal a new course in that regard.
Caveats
Please do not invest more that 5-10% of your portfolio in banks, as they have proven to be black boxes a few years back. It is hard to determine the quality of their assets, let alone items like derivatives and proprietary trading.
Disclosure: I am long RY. I wrote this article myself, and it expresses my own opinions. I am not receiving compensation for it (other than from Seeking Alpha). I have no business relationship with any company whose stock is mentioned in this article.