Besides researching REITs and spending time with my family, my favorite past time is basketball. When I was a kid, I spent hours on end in the playground working on my technique and modeling a "wicked" jump shot. Like dividend investing, my free throw strategy was built on a prototypical methodology of repeatability - trying never to miss and always rewarding myself with the classic Swoosh!
I still enjoy the sport today and I often venture out to my local gym to relive my childhood passion. On rare occasions, I find a way to conjure up a lethal dose of three point bombs - and when I land the occasional three point shot, I feel like Michael Jordan when he floats a fade away guarded by three players - the best feeling in the world when it's "nothing but net."
OK. Now I'm no Jordan, but perhaps there is another way to float a winning shot without even breaking a sweat. The best thing is that you can sleep well at night and build a repeatable investment portfolio with "nothing but net."
Swoosh! Baby!
National Retail Properties (NYSE:NNN) has an extraordinary track record of consistency as the company is one of only four publicly-traded REITs and 104 publicly traded companies in America to have increased dividends for 23 or more consecutive years. The company has a market cap of around $3.429 billion making the Orlando-based REIT the second largest single tenant REIT in the U.S. The company's stock price is $31.17 per share and the dividend yield is 5.07%. The year-over-year total return is 22.29%.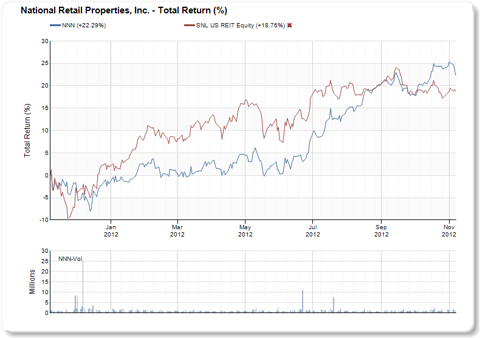 National Retail invests in free-standing, net-leased properties. For new investors, the "NNN" ticker symbol is also the industry moniker for a triple net lease. The triple net lease structure provides an important and unique building block for producing consistent returns since the triple net assets (owned by National Retail) are contractually long-term leases.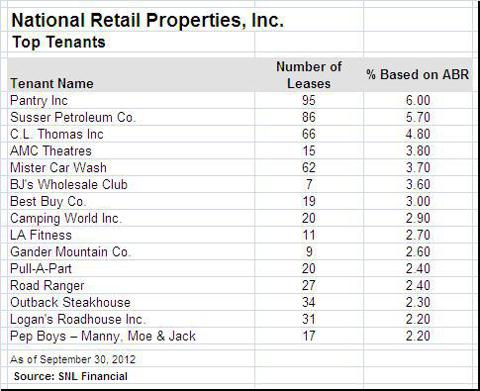 As of September 30, 2012, National Retail owned 1,530 properties in 47 states with a gross leasable area of approximately 18.3 million square feet. So far this year, National Retail has acquired 124 properties for $452.6 million with management now expecting acquisitions totaling $500 million for the full year (up from prior guidance of $300-350 million). For 2013, management is anticipating acquisitions totaling $200 million, with the timing tilted toward the second half of the year.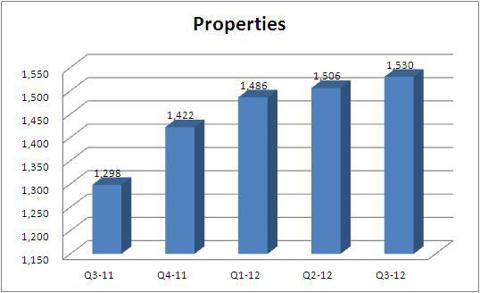 The Latest Stats
As previously mentioned, National Retail is the second largest free-standing REIT ranking behind another stalwart single tenant focused REIT, Realty Income (NYSE:O). Both companies have reported excellent third quarter results and I wrote a full report (here) on Realty Income.
Although National Retail is second (to Realty Income) in size and the number of properties owned, the company is definitely not a second string REIT. National Retail posted its quarterly earnings results on Friday (October 5th) reporting $0.52 earnings per share for the quarter, beating the analysts' consensus estimate of $0.44 by $0.08.
The company had revenue of $85.00 million for the quarter, compared to the consensus estimate of $84.85 million. During the same quarter in 2011, the company posted $0.39 earnings per share. The company's revenue for the quarter was up 27.4% on a year-over-year basis. On average, analysts predict that National Retail will post $1.69 earnings per share for the current fiscal year.
The company also announced an increase in the 2012 FFO guidance to a range of $1.71 to $1.73 per share, that's up from $1.67 to $1.72 per share, and that new guidance translates into a range of $1.81 to $1.83 per share of AFFO, which comfortably covers the $1.55 per share dividend in 2012. National Retail also announced 2013 FFO per share guidance in a range of $1.77 to $1.81 per share. That represents 4.1% growth from the mid-point of 2012 to the midpoint of 2013.
The company's occupancy was 97.9% at the quarter end, that's down 30 basis points from the prior quarter, but it's up 70 basis points from a year ago. Here is a snapshot at historical occupancy: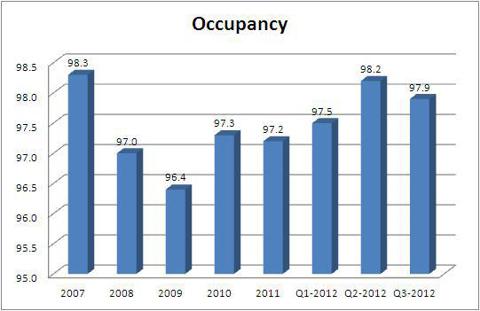 In the third quarter, National Retail acquired 30 properties, investing $140 million at an initial cash yield of approximately 8.65%. Despite an extremely competitive market for net-lease assets, investment yields have continued to surpass expectations due to management's ability to source off-market transactions through existing relationships. (see previous article I wrote on Outback Steakhouse with whom NNN completed a $98 million portfolio acquisition at the beginning of this year).
Year-to-date, National Retail has acquired 124 properties for $452.6 million (at an average 8.5% yield), with management now expecting acquisitions totaling $500 million for the full year (up from prior guidance of $300-350 million). For 2013, management is anticipating acquisitions totaling $200 million, with the timing tilted toward the second half of the year.
Game On!
Judging by the latest quarter, National Retail has plenty of game. Turning to the balance sheet and capital markets activity, in August of this past quarter, National Retail completed a $325 million 10-year unsecured notes offering with a 3.8% coupon and a 3.98% yield. This offering was well received with very strong demand and record pricing. The company paid off its bank line balance and still has around $141 million of cash on the balance sheet. The notes offering seems very attractive and appears consistent with the company's conservative philosophy on balance sheet risk management.
As of the latest quarter (Q3), National Retail's total debt to gross book assets was 38.8%, which is down from 40.1% a year ago. However, excluding the material amount of cash (referenced above) that is on the balance sheet, net debt to gross book assets excluding cash was 36.7%.
Debt to EBITDA was 4.9 times for the quarter and again adjusting for cash balances, however, net debt to EBITDA was 4.4 times for the quarter. For the third quarter of 2012, interest coverage was 3.5 times and fixed charge coverage was 2.9 times.
Only 6 of the company's 1,530 properties, which is well less than 1%, are encumbered by mortgages. Despite over $1.2 billion of acquisitions over the past seven quarters, the company's balance sheet remains in very good shape and is less leveraged than it was seven quarters ago.
The Triple Net Threats
For "bond replacement" investors, there are plenty of options for triple net REITs. Among those are Realty Income, American Realty Capital Trust (NASDAQ:ARCT), American Realty Capital Properties (ARCP), Agree Realty (NYSE:ADC), W.P. Carey (NYSE:WPC), Spirit Realty (NYSE:SRC), Getty Realty (NYSE:GTY), and CapLease (NYSE:LSE).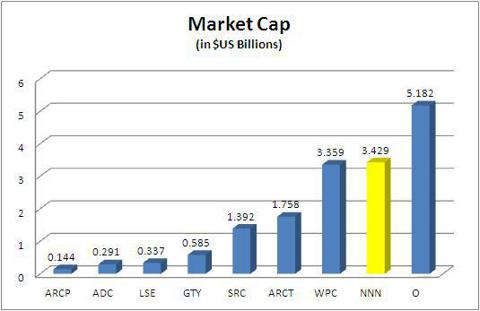 As most know, Realty Income announced its plans to acquire one of its smaller peers, American Realty Capital Trust. Surprisingly, this new deal was announced just six months after American Realty shares were listed publicly in March and four years after the REIT started raising capital (see article I wrote on ARCT when the company listed).
The deal, which is still subject to shareholder approval and is expected to close by the first quarter of next year, will create the world's largest net-lease real estate investment trust and the 18th-largest publicly traded REIT. The combined company will have a $7.6 billion market capitalization and an enterprise value of $11.4 billion, a size that makes it a candidate for inclusion in the S&P 500.
Since the announcement of the ARCT transaction, some of the shareholders from the ARCT camp have cried "foul" over the timing and pricing of the proposed sale, including a letter today from Jet Capital Management, a New York based investment manager of funds and other accounts beneficially owning approximately 5.6 million shares of American Realty Capital.
In the letter, Jet Capital states:
It intends to vote the shares owned by the Jet funds against the merger, on the terms currently proposed. The letter explains why, in the view of Jet Capital, a merger on these terms does not adequately compensate ARCT shareholders for the sale of control of the company, and why the process of the board in approving the merger was flawed.
Luxor Capital Group LP, which beneficially owns and controls 10,112,796 common shares, or about 6.4% of the outstanding shares of American Realty Capital, is also opposing the merger move. However, if the transaction does succeed, the merged entities and peer group will look something like this: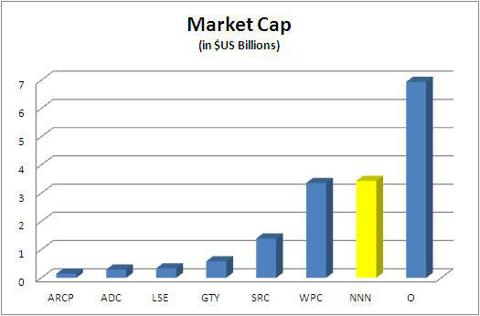 Of course, launching bombs (three point shots) is the same as shooting for high yielding stocks. It seems that the further out you get, the harder it gets to maintain consistency. Take for example Spirit Finance. The Scottsdale-based REIT recently went public and I summarized the IPO (in a Seeking Alpha article) as follows:
The problem with Spirit comes from the fact that the largest two tenants have questionable business models (small towns and competing with Wal-Mart and Dollar General) and even with the debt reduction (from the IPO proceeds) the company will have high leverage and considerably high payout ratios (Spirit reported a loss of $21million, or 82 cents, a share based on historic results for the first half, during which revenue totaled $141 million).
Move down the line, there are several smaller "triple net threats" like ARCP, LSE, and ADC; however, none of them have the depth of experience or the diversification that is the important denominator (or x-factor) for repeatability. I am not sure why I included Getty in the peer group other than the fact that maybe they are the bench warmer (and a subject of a future article on scrub REITs).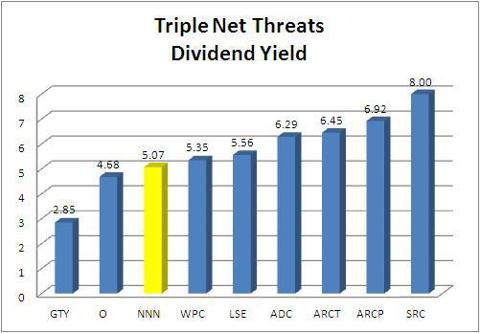 Play to Win!
No question. National Retail deserves a spot on the team. The triple net REIT has a stable portfolio and well-covered dividend that provides investors with a very attractive risk/reward opportunity. In addition, National Retail could see further upward estimate revisions as the company continues to acquire, thereby taking advantage of the large spread between cap rates and interest rates.
National Retail's cash flows are positioned between equities and fixed income given the long-term structure of the tenant leases. Conversely, I consider the 5.07% yield very attractive - especially considering the 10-year Treasury is yielding 1.7%. The stock closed Wednesday at $31.17 - not a bargain - but certainly below most analysts' target price of $33-$34 (the stock trading at ~18.2x 2013 FFO per share).
And as most dividend players (and basketball players) know, a past record is the best indicator of future performance. I won't tell you about my last basketball game, but I will tell you that National Retail Properties has enjoyed an extraordinary record of consistency - not just paying dividends but increasing them every year for 23 years.
A few weeks ago I interviewed National Retail's CFO, Kevin Habicht, and he explained the enviable track record of repeatability (see interview here):
NNN does it primarily through managing risk at the property level through careful underwriting, at the portfolio level through diversification and at the balance sheet level using modest levels of unsecured debt while maintaining balance sheet flexibility. All of this, coupled with the inherent benefits of long term net lease real estate assets leased to creditworthy tenants, produces consistent results that allow dividends to grow for 23 years which in turn provides the foundation for total shareholder returns that beat industry and general equity averages for two decades. Lastly, we take a long term view - we are in a marathon, not a sprint.
Source: SNL Financial
Disclosure: I have no positions in any stocks mentioned, and no plans to initiate any positions within the next 72 hours. I wrote this article myself, and it expresses my own opinions. I am not receiving compensation for it (other than from Seeking Alpha). I have no business relationship with any company whose stock is mentioned in this article.