The title can seem too harsh. But again and again, we're getting proof that something's not right with the jury system when applied to patent law. And this gets all the more important, when most of the technology sector is embroiled in the patent wars.
Juror unreliability is hardly confined to patent cases. The internet is crawling with ever more cases now, and if one Googles for "juror+stupidity" 1.76 million results are already available. This is now starting to be a factor when it comes to investing. After all, an unreliable jury can have significant valuation implications. It can make verdicts more random, thus increasing risk for companies which are prime targets in the patent wars, and it can also wildly affect damages.
Two recent cases illustrate this trend powerfully.
Apple (NASDAQ:AAPL) vs Samsung (OTC:SSNLF)

The most famous case of 2012, where Apple accused Samsung of violating several patents and trade dress, and ended up receiving a substantial court win, was one of those cases where jurors dutifully opened their mouths and inserted their feet.
From taking little time to reach a decision even when faced with 700 questions which would take a lawyer days to understand and answer, to awarding damages for devices that weren't proved to infringe on anything, many were the signs that the jury didn't do its job. Yet at the end of the day this is the process that decides who wins.
Vringo (VRNG) vs Google (NASDAQ:GOOG) and others
Here, we might be under something even more extraordinary. In the course of this case, Vringo estimated the damages at 3.5% of 20.9% of Google's revenues (those revenues coming from SmartAds in the U.S.). Vringo thus estimates the damages as being: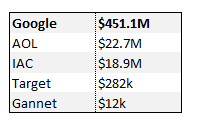 Since the judge limited the damages to just those emerging from infringement after the lawsuit entered the court (September 2011), the jury decided to award just part of those damages. We can clearly see this because most of the damages come to 35% of those asked by Vringo: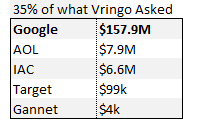 Wait, there's a problem! Vringo didn't get awarded $157.9 million from Google! It got awarded $15.8 million! Which, instead of being 35% of the original damages, is 3.5%. Was it that the $157.9 million sounded too much or was 35% too much like 3.5%? Remember, the damages were already calculated taking into account 3.5% of the revenues as a running royalty, so it makes no sense to multiply that by 3.5% again...
So, there seems to be a potential jury blunder here too. Vringo has already been contacted by some of its own shareholders, and according to a press release is looking into this matter, after all the calculation seems at odds with the 3.5% running royalty that it supposedly was awarded.
This is relevant for many other companies
A cursory look into the latest Amazon.com (NASDAQ:AMZN) 10-Q shows the extent of the patent wars. From page 9, under the "Legal Proceedings" headline, Amazon.com lists 13 different lawsuits brought against it because of supposed patent infringement starting in October 2009.
This has been an escalating war. Amazon.com lists 1 lawsuit from 2009, 3 from 2010, 4 from 2011 and 5 from just the first 9 months of 2012.
Were the outcomes of these lawsuits to become more random, they could represent a significant unrecognized liability. And in all circumstances, they represent added legal costs. Amazon.com is just an example here, the same thing is happening in all other companies where the pockets are thought to be deep.
Conclusion
The unreliability of jurors might yet become a relevant factor in the ongoing patent wars. It might become enough of a factor to even affect risk in the targets of these lawsuits. The sheer unpredictability could even lead to a higher risk premium for those companies seen as targets of litigation. And in any case, if the war turns massive enough, there might be an earnings impact from the sheet legal costs involved.
Disclosure: I am short AMZN. I wrote this article myself, and it expresses my own opinions. I am not receiving compensation for it (other than from Seeking Alpha). I have no business relationship with any company whose stock is mentioned in this article.