During the summer, we were waiting for the perfect pitch in order to enter into American Capital Agency (NASDAQ:AGNC), which is the mREIT industry's most recognized and respected mREIT with regards to financial and investment performance. We were disappointed that even in the wake of a secondary offering and a rating downgrade from a sell-side analyst, AGNC was trading at a 12%-17% premium during the summer. We had no need to fear though, since AGNC's little brother American Capital Mortgage Investment (NASDAQ:MTGE) was trading at a 5% premium in the middle of August and we found that to be a more tolerable price premium to pay. We took a 1% stake in MTGE during the middle of August and it has held up well for us in spite of the mREIT massacre that took place in early October. We were especially pleased that it has not yet cut its $.90/share dividend and it has a lower CPR prepayment rate than its big brother AGNC.
Source: Morningstar Direct
American Capital Mortgage is our favorite mREIT because it is run by the same leadership team that runs its big brother affiliate AGNC. MTGE and AGNC are both led by CEO Malon Wilkus and CIO Gary Kain and this leadership team has taken AGNC from a newly organized mREIT in 2008 to the 2nd largest and most respected mREIT in the industry with $102B in assets and $11.3B in book value. We believe that Wilkus and Kain will do an even better job with MTGE since it has the flexibility to invest in non-agency MBS and we believe that the high credit quality of MTGE's holdings will ensure that it isn't losing money in subprime MBS bonds like Chimera (NYSE:CIM). We were disappointed that we missed out on its rally from June to August and we thought it was serendipitous that MTGE pulled back in August in the wake of its Q2 2012 results. Not long after it pulled back in August, we entered into a 1% position in MTGE for our own account because its premium to book value had been cut in half and we felt that was a more tolerable premium to book to pay for the managerial services of Gary Kain and Company.
Source: Morningstar Direct
Based on the increase in book value that MTGE enjoys due to the unrealized gains on its MBS portfolio and due to the $.71/share spread income generated during the quarter, we can see that mREITs are capable of paying 10% annualized dividend yields even with the narrowing interest spreads due to central bank interventions. MTGE has $.54/share of undistributed estimated taxable net income per share as of Q3 2012 and we expect the company to sustain the dividend for the next quarter or two with its spread income and its undistributed taxable income. Considering that MTGE, AGNC, and Annaly Capital Management (NYSE:NLY) have announced share buyback plans, we believe that this should establish a floor under mREIT shares.
Source: Company Press Releases
MTGE enjoyed such strong performance early in the year it issued 26M shares in the first half of the year. Because of this rapid increase in outstanding shares going into the following periods as well as the steadily flattening yield curve, MTGE was facing a tough challenge in order to top its Q1 2012 results. Needless to say, MTGE's Q2 2012 and Q3 2012 results were not as good as its Q4 2011 results or its Q1 2012 results. MTGE's Q3 2012 Net Interest Income increased by 15% on a linked-quarter basis and increased by 64% year-over-year. MTGE's Net Spread Income per Share was $0.71 for the period versus $0.80 in Q2 2012, $1.07 in Q1 2012 and $0.86 in Q4 2011. Other factors that accounted for a sharp drop in Net Interest Income per Share include:
An uptick in the actual CPR prepayment rate on its portfolio of mortgage-backed securities from 4.7% in Q2 2012 to 6.7% in Q3 2012 and on its forecasted CPR prepayment rate (from 9.5% in Q2 2012 to 12.7% in Q2 2012)
The rapid increase in its total net premium amortization. During the Q4 2011-Q1 2012 periods, AGNC's total net premium amortization was less than $1M. In Q2 2012, total net premium amortization shot up to $3M and further climbed to $4M in Q3 2012.
Source: American Capital Mortgage Q3 2012 Earnings Release
A 10% drop in the leverage ratio on an average during the period basis (from 7.5:1 in Q4 2011 to 6.9:1 in Q3 2012) and 18% on leverage utilized as of the end of the applicable fiscal period(s) (from 8:1 in Q4 2011 to 6.6:1 in Q3 2012)
The continued decline in the average coupon of its MBS holdings narrowing the Average Net Interest Rate Spread enjoyed by the firm
Source: American Capital Mortgage Q3 2012 Earnings Release
If MTGE was to cut its dividend in order to reduce its payout ratio, we are of the opinion that it won't cut dividends until next year. We believe it will continue to pay the $.90 quarterly dividend for the rest of 2012 and maybe even Q1 2013. Before the Fed announced its QE Infinity program, we were expecting AGNC to cut its per share dividends by 10% or less beginning in 2013. Despite the weakness of the economy, our assumptions were that there was no fundamental reason for the Federal Reserve to resort to another round of money printing especially since it had already purchased $2.1T of assets during the first two rounds of money printing and instead of engaging in QE3 last year, implemented the Operation Twist program in which the Fed sold short term debt and bought long-dated debt.
We believe that the company can maintain its $.90/share dividend for the rest of 2012 based on its level of net interest income per share and its strong level of realized and unrealized gains. We also believe that the open-ended monetary easing program will push the company to try to lock in its interest income received on its bonds and swaps in order to mitigate a likely decline in net interest income. The worst case scenario for MTGE is that it will cut its dividend by 25% and it would still yield over 10% and we believe that would still provide a satisfactory yield to reasonable and rational mREIT investors who are interested in a best-in-breed mREIT. We reiterate that investors who are looking for growth in Net Interest Income per Share and Dividend Growth from mREITs are looking for needles in haystacks.
Although the company's reported comprehensive income per share of $4.03 for the period was more than 100% higher than any of its previous quarters, we don't have to waste much time identifying that this was due to the Fed's monetary easing activities pushing down bond yields, which pushes up bond prices. These actions helped contribute to $95.5M in unrealized gains on its agency MBS portfolio, $33M in unrealized gains on its non-agency MBS portfolio, $3M in unrealized losses on derivatives, $24.5M in realized gains on the sale of MBS securities and $36M in realized losses on derivative instruments. MTGE is known for its below average CPR rates for its mortgage portfolio and its Q3 CPR was 6.7% Actual and 12.7% forecasted. We are pleasantly surprised that MTGE's actual CPR prepayment rates have been significantly lower than forecasted CPR rates and we are also pleased that its CPR prepayment rates are much lower than its larger mREIT competitor Annaly Capital Management in addition to being lower than AGNC.
Source: American Capital Mortgage Q3 2012 Earnings Release
92% of AGNC's $7B MBS portfolio is backed by fixed-rate agency securities and 8% non-agency securities. AGNC's fixed-rate investment portfolio was comprised of 31% ≤15-year fixed-rate securities, 2% in 20-year fixed-rate securities and 59% in 30-year fixed-rate securities. Considering that AGNC's weighted average cost basis on its investment portfolio was 105.2% as of September 30, 2012, we can see that the company will need to maintain its focus on minimizing prepayment risk.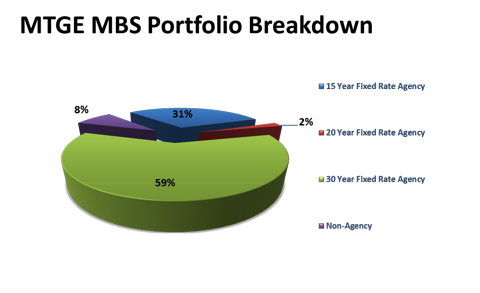 Source: American Capital Mortgage Q3 2012 Earnings Release
In conclusion, MTGE has solidified its position as our favorite mREIT especially because it is repurchasing $50M of its stock. With regards to mREITs managed by American Capital (NASDAQ:ACAS), we would prefer American Capital Mortgage Investment to AGNC because its premium to book value is within 1% of American Capital Agency's, MTGE's ability to invest in non-agency MBS securities and MTGE has a lower asset size than AGNC. We also like the fact that the increase in MBS prices and the mREIT massacre that took place from October 5-15th has resulted in MTGE trading at around its book value rather than the 5-15% premiums we saw over the summer. We also like MTGE and AGNC to Annaly because even though both have below average CPR rates, MTGE and AGNC's Forecasted CPR rate of 12.7% and 14% is better than Annaly's Actual CPR rate of 19%.
Disclosure: I am long MTGE. I wrote this article myself, and it expresses my own opinions. I am not receiving compensation for it (other than from Seeking Alpha). I have no business relationship with any company whose stock is mentioned in this article.
Additional disclosure: This article was written by an analyst at Saibus Research. Saibus Research has not received compensation directly or indirectly for expressing the recommendation in this article. We have no business relationship with any company whose stock is mentioned in this article. Under no circumstances must this report be considered an offer to buy, sell, subscribe for or trade securities or other instruments.