Was I Wrong about TRLG?
The short answer is "yes." After some insightful comments from readers of my last article, True Religion (NASDAQ:TRLG): Arbitrage Bargain or Value Trap, I've realized that I made an error in my valuation. As you will note, in the below table, I subtracted the present value of operating leases (3) from cash in arriving at my equity value. This was a mistake because my EBITDA margin (1) assumed that the company would make lease payments in the future as well. This failure to adjust the EBITDA margin resulted in a double counting of the lease obligations and therefore significant undervaluation of the business.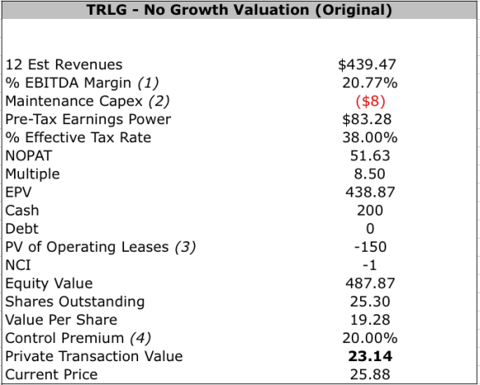 With this knowledge, I've revised the valuation. This time, I've excluded the present value of future lease obligations from the calculation entirely. I leave the trailing twelve month EBITDA margin as is and implicitly assume that the current rate of profitability remains constant going forward. Some would argue this is a rather bold assumption, as margins have been declining, but the fact that there has been continued top-line expansion makes the assumption on the whole relatively reasonable.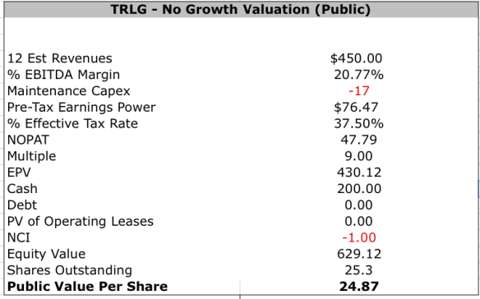 $19.28 versus $24.87 per share or a 29% increase over what I had calculated previously. It doesn't end there, though, because the market is obviously pricing some probability of a going private transaction (see below).
I've adjusted the maintenance capex lower, because I believe a private owner would be less focused on growth than the present management.
This charge is to account for the cost of paying out named executive officers due to the change in control provision. I've settled at $20mm, but it could be lower or higher depending on whether they terminate or retain the management. See the disclosure here for more detailed info.
I refer to this as "simple implied probability," because neither time value of money or dividend yield is taken into account.
Conclusion

As in most cases like this, the question of value boils down to how likely an acquisition is to occur. I'm not an industry expert, so I have little insight into what strategic combinations might make sense or should be expected. What I do know is with all that cash on the balance sheet, and interest rates at record lows, there must be a real possibility of finding a buyer for the firm, and in my estimation, Mr. Market agrees. Current prices imply a roughly 50% chance that True Religion will be acquired at close to $31.50 per share. Such an event would correspond to an upside potential of 18.75%. On the other hand, if you place little to no probability on an acquisition, you might reasonably expect TRLG to go back to its pre-announced trading level of $21.10, a 20.41% downside (if not worse).
All in all, it appears that the current pricing more or less fairly accounts for the possibility of going private transaction and is therefore, not terribly attractive from a value investing perspective. Having said that, even at my public valuation of $24.41, I don't feel investors are being sufficiently compensated for issues regarding executive compensation and weak insider ownership. Ceteris paribus, I think the stock looks attractive under $24.00, and without the possibility of a takeover, sub $21.00. Until then, I'd rather sleep well than get religion, that is to say, True Religion.
Disclosure: I have no positions in any stocks mentioned, and no plans to initiate any positions within the next 72 hours. I wrote this article myself, and it expresses my own opinions. I am not receiving compensation for it. I have no business relationship with any company whose stock is mentioned in this article.