Hi-Crush Partners (NYSE:HCLP) is a domestic producer of premium monocrystalline sand, a specialized mineral that is used as a "proppant" to enhance the recovery rates of hydrocarbons from oil and natural gas wells. HCLP operates as a Master Limited Partnership, and is currently trading at $20.59. The combination of HCLP's high dividend with the comparative advantages in its business model offers investors a powerful upside. Meanwhile, the company's low-risk structure and zero-debt balance sheet make Hi-Crush an investment opportunity with very limited downside.
Right off the bat, the most attractive aspect of HCLP is its 9% yield. In a market of record-low interest rates, this is significant for investors searching for a stable source of income. Yet in the analysis below, I'll avoid using this high yield as my primary justification for buying into Hi-Crush. After all, yield is worth very little if the company's business model is flawed. Instead, I'll outline why HCLP's long-term contracts and de-risked business model make this 9% yield sustainable.
Characteristics of a Master Limited Partnership
An MLP combines the tax benefits of a limited partnership with the liquidity of a publicly traded company. While MLPs come in all shapes and sizes, there are 3 basic characteristics to understand about this structure. First, an MLP must derive 90% of its income from what the IRS considers "qualifying sources." This generally refers to the production, processing and transportation of commodities like oil, natural gas and coal. The second feature of an MLP is that it is tax-advantaged. MLPs are not subject to corporate income taxes, which lowers their cost of capital and frees up more cash to distribute to shareholders. Finally, tax legislation compels MLPs to distribute 90% of their earnings to shareholders in the form of regular cash distributions. As a result, MLPs are noted for their very high yields.
How Hi-Crush Is Different: Limited Downside
Hi-Crush represents a shift away from the traditional MLP. While MLPs were historically E&P companies vulnerable to commodity price fluctuations, Hi-Crush is more similar to the natural gas fracking business model, and its business is characterized by stable, long-term contracts with established oilfield companies like Halliburton (NYSE:HAL) and Baker Hughes (NYSE:BHI). These contracts have a longer reserve life, and expose HCLP to much more limited volume risk. The disparity between Hi-Crush's business model and those of more traditional MLPs are illustrated in the table below: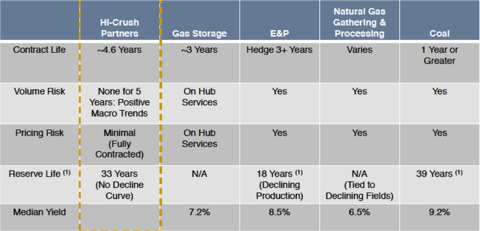 Click to enlarge
Yet even among these non-traditional MLPs, Hi-Crush offers more impressive fundamentals than its peers. As you can see below, Hi-Crush's profit margin outperforms the pack by a wide margin. Due to HCLP's shallow earth overburden at its Wyeville facility, the company is able to use surface mining equipment in its operations, which provides for a lower cost structure than underground mining operations. In addition, HCLP's processing and rail loading facilities are located onsite, effectively reducing the cost of trucking sand to either facility. These advantages result in lower per-unit production costs and higher profit margins, which will allow Hi-Crush to weather any market weaknesses better than its competitors. Meanwhile, the EV/EBITDA suggests the company is trading at a discount relative to its peers. Best of all, Hi-Crush carries zero debt on its balance sheet.

Click to enlarge
Powerful Upside: Company-Specific
The market appears to be overlooking the growth potential of Hi-Crush's cash distributions. Within a Master Limited Partnership, the general partner (GP), who is responsible for managing the operations of the business, is given Incentive Distribution Rights (IDRs). IDRs are structured when the partnership is formed, and they provide the GP with performance-based pay for successfully managing the MLP, as measured by cash distributions to shareholders. Generally, the GP receives a minimum of 2% of the cash distribution, but as payments to shareholders increase, the GP's percentage take increases as well, often to a maximum of 50%.
Here's where Hi-Crush differs: Unlike most of its peers, the share of Hi-Crush's cash distributions going to the GP is currently 0%. In other words, HCLP's parent company, acting as the GP, has an incredibly strong incentive to increase distributions to shareholders and to grow the business. This is an enormous opportunity for investors, and Hi-Crush's management will have plenty of room to executive this strategy as horizontal drilling and hydraulic fracturing continue to boost demand for raw frac sand.
Powerful Upside: Industry-Wide
Hi-Crush also stands to benefit from growth in the demand for proppants, which are used to keep hydraulic fractures open. The industry has grown as a result of the "fracking" boom in the U.S., and proppant demand has increased by 28% annually over the past 5 years. Looking forward, demand for Hi-Crush's raw frac sand is expected to outpace supply, which will fuel higher prices and continued industry growth:

Click to enlarge
Source: The Freedonia Group
Conclusion
A 9% yield is always nice, but it means nothing if the company's business model isn't sustainable. Equipped with a low-risk structure, zero debt, and a parent company with a strong incentive to grow the business, Hi-Crush justifies its impressive yield with the necessary combination of a powerful upside and limited downside. Hi-Crush offers investors the chance to capitalize on the booming hydro-fracking industry, and at a time when many investors are uncertain about how to correctly value a non-traditional Master Limited Partnership, this an appealing entry point to buy.
Disclosure: I have no positions in any stocks mentioned, but may initiate a long position in HCLP over the next 72 hours. I wrote this article myself, and it expresses my own opinions. I am not receiving compensation for it. I have no business relationship with any company whose stock is mentioned in this article.