Visa is a global payment technology company that connects consumers, banks and governments across more than 200 countries and territories, making it possible for them to use digital currency instead of cash and checks. It has one of the most advanced processing networks in the world, which has the capability of handling more than 10,000 transactions per second with reliability, convenience and security.
Although Visa, Inc. (NYSE:V) has again beaten consensus forecast, this time in the third quarter, this article will discuss whether that makes it a buy at this level.
Third Quarter Results
While Visa beat consensus forecast yet again, the earnings surprise this quarter was however much less than what it was in the second quarter. In the second quarter it beat analyst's EPS forecast by 7.59% ($1.56 against a forecast of $1.45). Third quarter EPS as per company results is $1.54 against a consensus forecast of $1.5, a surprise of 2.67%.

Source: www.nasdaq.com
The earnings surprise was very well reflected in the performance of the stock. In the trading session the day after results were announced, Visa shares rose by 4%.
Visa's revenue for the quarter was $2.73 billion, up 14.6% on the year, and operating income was $1.52 billion, which was up by 11.7% on the year. The strengthening dollar was instrumental in cutting its revenues by 1%.
Top Performing Stock
Visa, along with its major competitor MasterCard (NYSE:MA), has benefited from increased use of plastic money all over the world. Visa was among the four top performers for the week ending 10/27/2012. The three top performers ranked above Visa, LyondellBasell Industries N.V. (NYSE:LYB), SBA Communications Corporation (NASDAQ:SBAC) and Westlake Chemical Corp.(WLK ) gave YTD return of 62.49%, 55.91% and 94.71% respectively.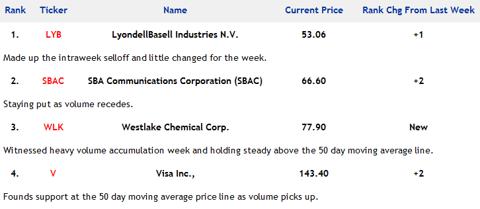 Source: volumewatchers.com
YTD return to investors in Visa is 40.41%.

Source: http://www.google.com/finance
In last one year, (November 08, 2011 to November 07, 2012) Visa has appreciated 53.89% with an income distribution amounting to $1.10 (note: this is for one year and not YTD) by way of five dividends, each amounting to $0.22 per share.
Financial Information
Visa has a market cap of $115.62 billion with average trading volumes of 2.88 million shares daily. With EPS of $1.87 for last four quarters, the price to earnings ratio of the company is 76.40. The company announced a 50% hike in its quarterly dividend, up from $0.22 to $0.33. The company has been continuously sharing its returns with shareholders. In October last year too, the company had increased its income distribution by 47% to $0.88 per share. A year earlier, in 2010, it hiked the dividend by 20% and in 2008 by 19%.
During the quarter, Visa bought back approximately 2.5 million shares for $324 million. A new share repurchase plan of $1.5 billion for Class A shares has also been approved by the board for October 2013.
Top-Down Approach for Investing
One of the common methods that investors use to find the right stocks to invest in is the top-down approach. It is an approach that involves looking at the health of the economy to decide whether or not to invest at that time or not. If the economy is doing right, the investor determines the strength of the top performing stocks of established dividend paying companies or growth stocks with low or no dividends.
While looking at top performing stocks it is crucial for an investor to evaluate whether there is a scope of further appreciation. If technical analysis favors a correction, then it is better to bide time and wait for the right moment. In case one is already invested, it is time to plan for profit protection.
Is Visa A Buy At This Level?
There is a bit of issue with the valuation of Visa. Visa is trading at fairly high multiples of 4-quarter trailing cash flow and expected 2012 consensus earnings per share estimates. The other worry is the weak US debit card volume, which fell by 6% during the quarter. These negatives, however, should be viewed along with expectations of a strong next calendar quarter and the ensuing holiday shopping season, provided the well talked about "fiscal cliff' does not spring surprises even before the year ends.
Now that the elections are over and President Barack Obama is back in office, the focus has shifted to the fiscal cliff. The S&P 500 Index registered its biggest daily percentage drop since June.
With the Republicans retaining control of US House of Representatives and the Senate under the control of the Democrats, investors have a reason to worry if no consensus is reached over the spending cuts and tax increases due next year. If no consensus is reached, it could put a spanner in the wheels of the economic recovery.
My personal view is that investors should wait and watch. There is still some steam left in the stock and I would suggest that investors buy at dips and accumulate the stock for the long-term.
Disclosure: I have no positions in any stocks mentioned, and no plans to initiate any positions within the next 72 hours. I wrote this article myself, and it expresses my own opinions. I am not receiving compensation for it (other than from Seeking Alpha). I have no business relationship with any company whose stock is mentioned in this article.