A Reuters article has reported that Statoil (NYSE:STO) is considering a bid for Whiting Petroleum (NYSE:WLL) for $65/share, or $7.6 billion.
Reuters referenced a post on Benzinga.com, citing unnamed sources that Whiting had hired Bank of America to handle the transaction. The Benzinga.com post was made after the market close on Tuesday, Nov. 6. The Reuters article came out at 3:16 a.m. ET this morning, Nov. 8. In the article, Reuters said that Statoil declined to comment.
Statoil became one of the top producers in the Bakken after it announced a takeover of Brigham Exploration (BEXP) for $4.4 billion in late 2011. Many thought Statoil got Brigham Exploration for a song.
Statoil has said it is looking to acquire further shale acreage in the United States to boost its North American production. Buying Whiting would certainly do that: Whiting recently announced Q3 2012 production of 82,615 BOE/D, up 17% over Q3 2011. (See a review of the Q3 earnings release here.) Whiting has over 700,000 net acres in the Williston Basin and also has around 80,000 acres in the up-and-coming Niobrara shale. (See a detailed review of Whiting's assets in my article "Who Will Take Over Whiting Petroleum?")
Statoil has a goal to raise its North American production to 500,000 boe/day by 2020 from less than 100,000 in 2011, with the majority of that increase coming from onshore acreage primarily in the Marcellus, Eagle Ford, and Bakken shale plays. Buying Whiting would be a big step toward reaching that goal.
A takeover of Whiting by Statoil would make it the largest oil producer in the Bakken. Statoil had previously announced plans to lease 1,000 railcars to transport Bakken crude.
Click to enlarge images.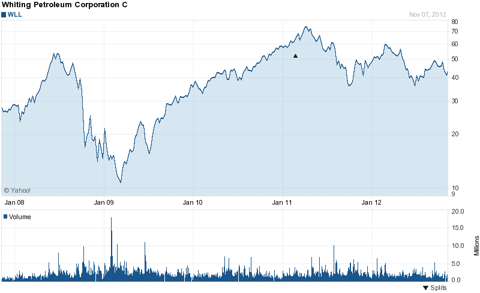 WLL = $42.04
Market Cap = $4.95 billion
P/E (TTM) = 12.6
EPS (TTM) = 3.32
Will Statoil actually follow through with a bid soon? It definitely is a possibility. Whiting is everything Statoil is looking for, and Statoil has the financial strength to easily fund the acquisition. Whiting's assets dovetail nicely with Statoil's Brigham properties. The real question is: Will large American oil companies once again stand by and allow Statoil to snap up a jewel of a company at a bargain price from right under their noses, just like it did with Brigham Exploration?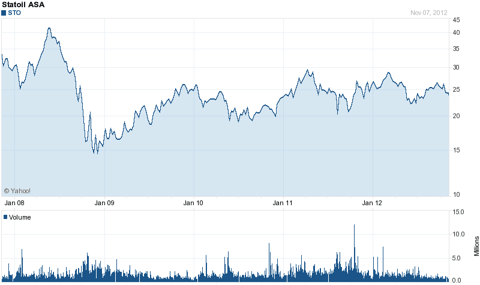 STO = $24.06
Market Cap = $76.5 billion
P/E (TTM) = 5.38
EPS (TTM) = $4.47
Dividend (Yield) = 0.91 (3.7%)
Regardless of a takeover, I like both stocks. Statoil for its once-yearly dividend, it's tremendous asset base, and production growth profile. Whiting is one of the top oil producers in the Bakken in terms of current production, production growth, and individual drilling well results. If Statoil does take over Whiting, the combined assets of Brigham Exploration and Whiting would make it a Bakken powerhouse.
Disclosure: I am long WLL, STO. I wrote this article myself, and it expresses my own opinions. I am not receiving compensation for it (other than from Seeking Alpha). I have no business relationship with any company whose stock is mentioned in this article.