Commodity Chart Of The Day
Weekly NOB Spread
(click image to enlarge)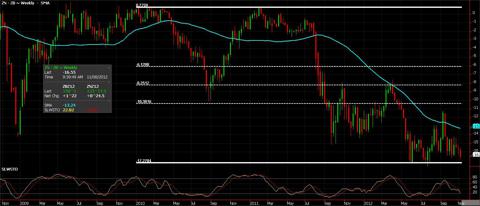 Click to enlarge
Let's assume an inverse relationship continues to play out with Treasuries and the stock market. My feeling is that the stock market will stabilize in the coming weeks and though remain range bound, trade higher after that. No, not a bull market, but a trade back near the levels seen in the fall. That being said, if securities move higher, we should see Treasuries trade lower.
As it stands now, both 30-year bonds and 10-year notes are near two month highs. Could we trade to their July highs? While I see it as a possibility, it's not likely, in my opinion. So the question is, how to structure a trade?
I want to gain light bearish exposure with clients without trying to pick a top at current levels. Hence, a NOB spread -- I will go with my bearish bias and short 30-year bonds, while at the same time going long 10-year notes 1:1. The idea is that 30-year bonds will move more and ideally, we chose the correct direction -- lower. This strategy accomplishes three things: it lowers your overall margin; it allows you to be flexible, giving the option of legging out of the trade; and assuming we are wrong getting short 30-year bonds, our losses should be marginally offset with the 10-year note position. If this trade works out and 30-year bonds in fact move lower, we are looking for a net profit, as the 10-year note leg will be a loss.
Risk Disclaimer: The opinions contained herein are for general information only and not tailored to any specific investor's needs or investment goals. Any opinions expressed in this article are as of the date indicated. Trading futures, options, and Forex involves substantial risk of loss and is not suitable for all investors. Past performance is not necessarily indicative of future results.
Disclosure: I have no positions in any stocks mentioned, and no plans to initiate any positions within the next 72 hours. I wrote this article myself, and it expresses my own opinions. I am not receiving compensation for it. I have no business relationship with any company whose stock is mentioned in this article.