Abbott Laboratories (NYSE:ABT) engages in the discovery, development, manufacture, and sale of health care products worldwide and operates in five segments: Proprietary Pharmaceutical Products, Established Pharmaceutical Products, Diagnostic Products, Nutritional Products and Vascular Products. With its wide lineup of patent-protected drugs and strong operations in all segments, the long-term growth outlook for ABT is optimistic and ABT will continue to enjoy a wide economic moat. Moreover, ABT's decision to split itself into two is likely to result in two well-positioned companies, one in drug and the other in diversified health-care, with strong competitive advantages. However, in the short-term, ABT is under some selling pressure after hitting a 52-week high and investors may want to wait until the technical trend starts to reverse before setting up the long position or leveraging the options strategy to acquire the stock at a discounted price.
Recent Development and Fundamentals Overview
On Oct. 17, 2012, ABT exceed its third quarter guidance with double-digit growth in EPS. ABT posted $1.9 billion net income and $1.30 EPS ($1.21 GAAP EPS), with a 10% increase compared to its $1.18 EPS during the same period a year ago, as reported by Marie Cabural from ValueWalk. Despite the missing of sales estimate, the Company reported a higher gross margin of 63.8%, as compared to the estimate of 62.0%. During the period, the Company spent $1.16 billion in R&D and the drug and medical devices maker announced the initiation of a Phase 3 HCV clinical trial for its interferon-free hepatitis C (HCV) program in genotype 1 (GT1) patients.
ABT also announced its plan to split the operations into two separate companies, where the split could occur in early 2013. The diversified medical products business will retain the Abbott name, and the newly formed company, AbbVie, will be a research-based pure-play pharmaceutical company. However, as stated by Miles White, Chairman and CEO of ABT, investors should not to "look for anything big" and "my focus is primarily organic," as reported by Bruce Japsen from Forbes.
On Nov. 5, 2012, as reported by Reuters, ABT subsidiary AbbVie Inc. announced the pricing of a $14.7 billion private placement notes offering. The offering details are as followed: $3.5 billion of 1.20% senior notes due 2015, $4 billion of 1.75% senior notes due 2017, $1 billion of 2.00% senior notes due 2018, $3.1 billion of 2.90% senior notes due 2022, $2.6 billion of 4.40% senior notes due 2042, and $500 million of floating rate senior notes due 2015 (the Floating Rate Notes, and, together with the 2015 Notes, the 2017 Notes, the 2018 Notes, the 2022 Notes and the 2042 Notes, the Notes). The proceedings will be used to fund the previously announced cash tender for certain of Abbott's outstanding notes.
From the fundamental perspective, the splitting of ABT should enhance its operating margin and net margin with increased focus and efficiency, where ABT's current operating margin of 16.1% ttm and net margin of 12.4% ttm are both trailing the industry average of 22.7% and 16.0% ttm. Investors should be comfortable with ABT's higher than average ROE of 19.2 and much lowered debt-to-equity of 0.5, as compared to the average of 6.0 in the industry of major drug manufacturers. ABT is currently fairly valued, despite higher than the average P/E, which can be justified with its diversified portfolio of patent drugs and its solid cash flow, supported by the strong balance sheet.
As written in my article of "3 Solid Healthcare Stocks To Ride The Baby Boomer Trend Through Options," ABT is another great company to capture the trend of aging baby boomers and increased drug shortage, accompanied by controlled supply.
Technical Analysis
On Tuesday, ABT closed at $64.82 with a 0.34% drop. The volume of 5.50M was 37% less than the average 30 day volume of 8.74M, where the reduced volume may be caused by the U.S. presidential election. ABT had dropped 10.56% after hitting a 52-week high of $72.47, before the Q3 earnings release on Oct. 17. As seen from the chart below, the MACD (12, 26, 9) indicator started to show a bearish sign on Oct. 17 and ABT sliced and closed below its 50-day MV of $67.52 on Oct. 18. Since then, ABT was trading below its 50-day MV and in the range of $64 - $66. The momentum indicator RSI (14) of 34.55 is also showing increased selling momentum and below 30 is considered as over-sold. The next major technical support for ABT will be at $62.30, the 200-day MV, followed by $59.55, S2 pivot point. If ABT can clear the major resistance of 50-day MV, the next resistance is $70.47, R1 pivot point, followed by $75.45, R2 pivot point.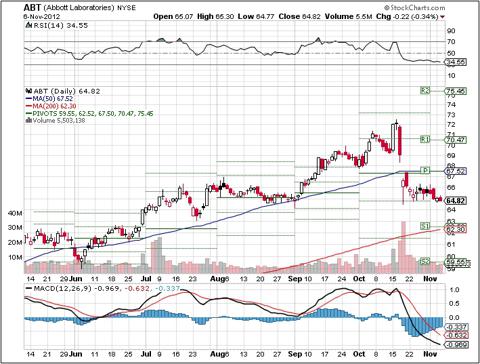 Options Play
With the near-term uncertainties due to the election effect and the continued selling pressure, we suggest ABT investors to wait and build the position slowly for this great long-term healthcare holding. If MACD starts to show a bullish signal and RSI (14) starts to increase toward 50, the middle line, investors can review the credit put spread options play as below to acquire ABT stock at a further discounted price if the options play fails to generate the profit. For example, if ABT stabilizes at $62 and when the above technical indicators start to show the bullish sign, a credit put spread can be set up by shorting 1x Feb. 2013 Put at the strike price of $60 and buying 1x Feb. 2013 Put at the strike price of $55.
Disclosure: I have no positions in any stocks mentioned, and no plans to initiate any positions within the next 72 hours. I wrote this article myself, and it expresses my own opinions. I am not receiving compensation for it (other than from Seeking Alpha). I have no business relationship with any company whose stock is mentioned in this article.