Walgreen (WAG) is among the leading drugstore chains in the U.S. Established in 1907, the Deerfield, Illinois,-headquartered company has grown into a giant network of drugstores. Walgreen sells consumer goods and services in more than 8000 stores spread across continental U.S. Besides the retailing business, Walgreen also operates Take Care Clinics to treat patients with basic medical needs. With a Beta of 1, the stock moves almost perfectly in line with broad market indices.
As of the time of writing, Walgreen stock was trading at $33 with a 52-week range of $28 - $37. It has a market cap of $32 billion. Trailing twelve month P/E ratio is 14, and forward P/E ratio is 9.9. P/B, P/S, and P/CF ratios stand at 1.7, 0.4, and 6.6, respectively. Operating margin is 4.8% and net profit margin is 3%. The company has only minor debt issues. Debt/equity ratio of 0.2 is well below the market average. Walgreen pays nifty dividends. Trailing yield is 2.8%. The forward yield is likely to be higher, as the company increased the quarterly dividends to 27.5 cents this year.
Walgreen has a 3-star rating from Morningstar. Out of three analysts covering the company, 1 has a buy, 2 have hold, and 1 has a sell rating. Wall Street has diverse opinions about the company's future. Average five-year annualized growth forecast estimate is 9.7%. Given the company's past growth rate of 3.5%, this is a pretty ambitious target.
What is the fair value of Walgreen given the forecast estimates? We can estimate Walgreen's fair value using a discounted earnings plus equity model as follows.
Discounted Earnings Plus Equity Model
This model is primarily used for estimating the returns from long-term projects. It is also frequently used to price fair-valued IPOs. The methodology is based on discounting the present value of the future earnings to the current period:
V = E0 + E1 /(1+r) + E2 /(1+r)2 + E3/(1+r)3 + E4/(1+r)4 + E5/(1+r)5 + Disposal Value
V = E0 + E0 (1+g)/(1+r) + E0(1+g)2/(1+r)2 + … + E0(1+g)5/(1+r)5 + E0(1+g)5/[r(1+r)5]
The earnings after the last period act as a perpetuity that creates regular earnings:
Disposal Value = D = E0(1+g)5/[r(1+r)5] = E5 / r
While this formula might look scary for many of us, it easily calculates the fair value of a stock. All we need is the current-period earnings, earnings growth estimate, and the discount rate. To be as objective as possible, I use Morningstar data for my growth estimates. You can set these parameters as you wish, according to your own diligence.
Valuation
Historically, the average return of the DJI has been around 11% (including dividends). Therefore, I will use 11% as my discount rate. In order to smooth the results, I will also take the average of ttm EPS along with the mean EPS estimate for the next year.
E0 = EPS = ($2.42 + $3.70) / 2 = $3.06
Wall Street holds diversified opinions on the company's future. While analysts tend to impose subjective opinions on their estimates, the average analyst estimate is a good starting point. Average five-year growth forecast is 9.7%. Book value per share is $19.31. The rest is as follows:
Fair Value Estimator

V (t=0)

E0

$3.06

V (t=1)

E0 (1+g)/(1+r)

$3.02

V (t=2)

E0((1+g)/(1+r))2

$2.99

V (t=3)

E0((1+g)/(1+r))3

$2.95

V (t=4)

E0((1+g)/(1+r))4

$2.92

V (t=5)

E0((1+g)/(1+r))5

$2.88

Disposal Value

E0(1+g)5/[r(1+r)5]

$26.23

Book Value

BV

$19.31

Fair Value Range

Lower Boundary

$44.06

Upper Boundary

$62.37

Minimum Potential

30%

Maximum Potential

87%
I decided to add the book value per share so that we can distinguish between a low-debt and debt-loaded company. The lower boundary does not include the book value. According to my 5-year discounted-earnings-plus-book-value model, the fair-value range for Walgreen is between $44 and $62 per share. At a price of $33, Walgreen is trading at a significant discount. The stock has at least 30% upside potential to reach its fair value.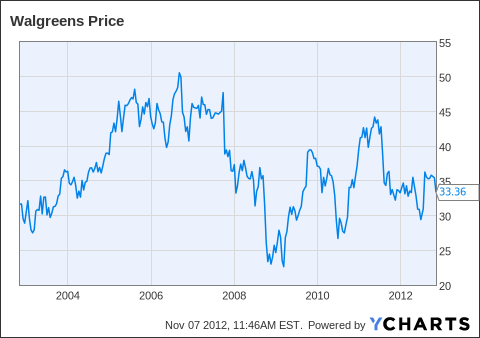 Dividend History
Walgreen has been a nifty dividend payer. The dividends are pretty stable and the company managed to boost dividends by more than 100% in the last 5 years. The recent increase moved the quarterly dividend to 27.5 cents from 22.5 cents. I expect the company to keep increasing its dividends as the payout ratio of 40% leaves substantial room for dividend growth.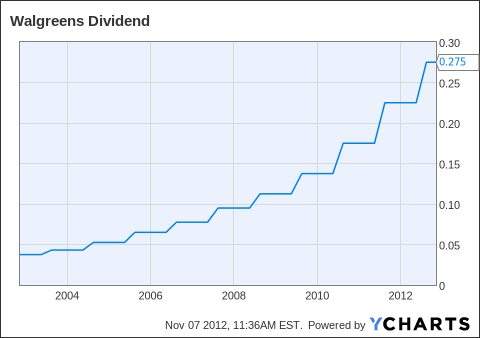 WAG Dividend data by YCharts
Competitors
Other drug retailers seem to be priced with a relatively high premium compared to Walgreen. CVS Caremark (NYSE:CVS) is the largest retailer in the U.S. Even though it offers a substantially lower yield of only 1.4%, it is priced with a forward valuation of 12.4 times the earnings. Another drug retailer Rite Aid (NYSE:RAD) had a quite roller-coaster year. The stock made it to above $2 in the middle of March. However, it kept sliding, and is currently trading 50% below its 52-week high.
Summary
Based on the historical valuation metrics, Walgreen is trading at a discount. The trailing P/E ratio of 14 and P/B ratio of 1.8 are significantly lower than the 5-year average P/E ratio of 15.2, and P/B ratio of 2.4. The stock looks like a deep bargain as it is trading with low valuation multiples.
Based on my FED+ valuation, Walgreen is substantially undervalued. The stock has at least 30% upside potential to reach its fair valuation range. Analysts also agree with me. In agreement to what my model suggests, their target price of $39 suggests about 28% upside potential. Note that, the traditional retailers are going through tough periods. While drug retailers are more resistant to competition from online outlets, they create a substantial risk for the industry's future.
Disclosure: I have no positions in any stocks mentioned, and no plans to initiate any positions within the next 72 hours.
Business relationship disclosure: EfsInvestment is a team of analysts. This article was written by one of our equity researchers. We did not receive compensation for this article (other than from Seeking Alpha), and we have no business relationship with any company whose stock is mentioned in this article.