Aspen Technology, Inc. (NASDAQ:AZPN), a leading software and services provider targeting process industries, reported solid fiscal first-quarter results on Nov. 1. This Zacks No. 1 Rank (Strong Buy) has now delivered an average earnings surprise of 213.0% over the past four quarters. The Zacks Consensus Estimates for 2013 and 2014 have each advanced in the past seven days, indicating strong growth for both years.
Solid First-Quarter Beat
Aspen Technology reported first-quarter earnings per share (EPS) of 5 cents, reversing a loss of 12 cents in the year-ago quarter and topping the Zacks Consensus Estimate by 600%. Revenues grew 39.6% year over year to $71.5 million on the back of strong growth in total license contract value. Cost control efforts were largely responsible for the operating margin expansion and the overall profitability of the company.
Earnings Estimates Trending Upward
Over the past seven days, the Zacks Consensus Estimate for fiscal 2013 moved up 40% to 14 cents, which suggests year-over-year growth of nearly 193%. Meanwhile, the Zacks Consensus Estimate for fiscal 2014 is up 2.6% to 40 cents over the same time frame.
Premium Valuation Makes Sense
Considering the company's growth prospects, a premium valuation appears justified. The stock has a PEG ratio of 18.0, compared with the peer group's (1.8). Aspen Technology is also trading at a P/S and P/B of 9.39 times and 22.85 times, respectively, representing premiums of 55.5% and 177.3%, respectively, from peer group averages of 6.04 times and 8.24 times, respectively.
Chart Shows Growth Potential
The 12-month EPS chart clearly shows that both share prices and earnings have remained volatile over the last few years. But the price movement has been in tandem with EPS growth over the last couple of years.
Currently, the share price is hovering around $27.00. Since consensus estimates show a smooth upward trend through 2015, share price increases should also be consistent.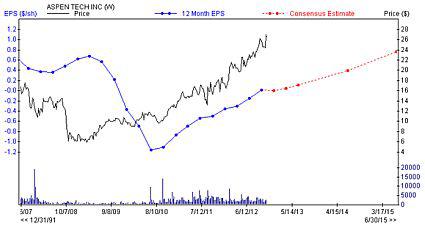 Founded in 1981, Massachusetts-based Aspen Technology provides process optimization software solutions that help in optimizing plant and process design, and in increasing operational efficiency and supply chain planning. The company operates through three segments, namely license, software maintenance and support (SMS) training and other, and professional services. The company has more than 1,500 customers, including manufacturers in process industries and engineering and construction firms that help in design and build process manufacturing plants.
Read the full analyst report on AZPN (email registration required).