Shareholders of Intuitive Surgical (NASDAQ:ISRG) have been rewarded with nearly a 15% return this year. This gain in stock price represents an increase of almost $3 billion in shareholder value and comes after several years of stock gains. Through this article, I will make the case that ISRG is a fundamentally strong company and the recent pullback in share price represents an excellent opportunity for purchasing into the company.
Growing Returns
In order to fundamentally analyze ISRG, I have relied heavily on two key metrics: return on assets and return on equity. Return on assets is the net income of the firm divided by average total assets across a given period. Return on assets is very helpful for analysis in that it tells the investor how efficiently management uses its assets to generate profits for the firm. Return on equity is the net income of the firm divided by the directly-invested shareholder equity. Return on equity provides the analyst an understanding as to how effectively management uses investments to bring income into the firm. The chart below shows 5 years of return on assets and return on equity data for ISRG.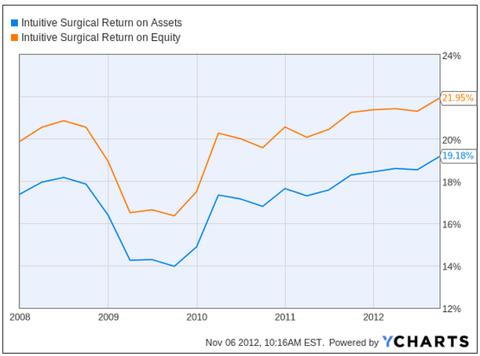 Click to enlarge
The first thing to note about ISRG's return on assets and return on equity is that these metrics are increasing. As time has progressed, ISRG has become better at using its assets and investments to bring profits into the firm. This progress is such that for the past 3 years, ISRG has increases its returns in every single year.
An important thing to understand about returns is that returns tend to drive share price. For example, a firm which is exhibiting growing returns will more than likely receive a growing share price from the market. This relationship is evident in ISRG. Between 2008 and 2009, return on assets and return on equity began to fall and the share price responded by decreasing nearly 70%. In late 2009, ISRG once again delivered growing returns and during the years of 2010 and 2012, the share price increased over 90%. This clear relationship between returns and share price movement allows us to make an intelligent and fundamentally-rooted investment decision in ISRG.
Over the past two quarters, ISRG has declined in share price by about 10%. This decrease in share price is noteworthy in that it comes despite an increase in return on assets and return on equity. As previously demonstrated, price and organizational returns tend to move in tandem. Since share price has declined and returns have increased, I believe that an investment opportunity is present. Investors seeking to purchase shares of ISRG will be placing capital with a fundamentally strong organization that is currently experiencing a pullback in share price.
Technically Speaking
Even though I believe that ISRG is a strong company and worthy of investment, I do not advocate immediately purchasing the shares. In order to make the most intelligent decision, I believe that investors should wait until the market favors an investment opportunity. By studying the trend direction and key levels of price support and resistance, I believe that we can better our odds of a successful investment. In the following chart, it can be seen that ISRG is currently in an uptrend. This means that any investment to the long side will more than likely be rewarded due to the fact that price, on average, is increasing. Even though we are currently in an uptrend, price is currently experiencing a pullback. Over the past three months, price has tested the important level of support at $480. Since price was able to rebound from this threshold, it means that the uptrend is temporarily confirmed and prices may continue upwards in the future.
Even though we have found support at $480, it is important to understand that the uptrend will not technically have entered a new phase until price overcomes the all-time high of around $600 per share. For conservative investors, I believe that this is the most appropriate location for participation. If price is able to overcome $600 per share, then I believe an investment is warranted in the security. For aggressive investors, I believe that the security should be purchased if it is able to overcome the six-month high of $570. If price overcomes $570, then it will have moved past a significant hurdle in continued upwards momentum. For all investors seeking to trade this security, I suggest that a stop-loss order be placed around $465. If price falls below $465, then the uptrend will have technically ended and key support will have failed.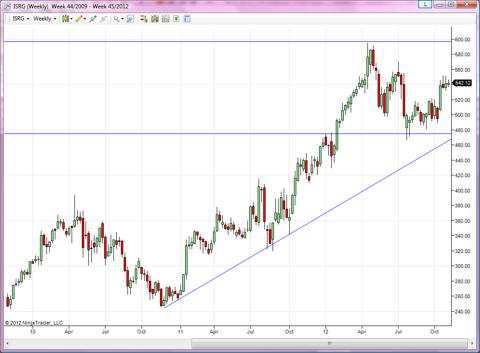 Click to enlarge
Disclosure: I have no positions in any stocks mentioned, and no plans to initiate any positions within the next 72 hours. I wrote this article myself, and it expresses my own opinions. I am not receiving compensation for it (other than from Seeking Alpha). I have no business relationship with any company whose stock is mentioned in this article.