American Electric Power Company, Inc., a public utility holding company, engages in the generation, transmission, and distribution of electric power to retail customers. It generates electricity using coal and lignite, natural gas, nuclear energy, and hydroelectric energy.
American Electric shares trade under the symbol (NYSE:AEP). The current yield is 4.3%, with EPS of $3.19. Yahoo Finance shows a target price of $45.74, and the market cap is $20.58 billion. Although shares of AEP look interesting at this price, the preferred shares trading under the symbol AEP-PA look even more interesting. Preferred shares have had a 52-week variance of $3.31, with a high of $29 and a low of $25.61. Since these are preferred shares, they can be called away, or redeemed, at any time with a set price of $25.00. The expiration date is 3/1/2068. AEP Preferred shares yield 8.75%.
(click images to enlarge)

The chart above demonstrates the current disconnect between the preferred and common shares. Historically, shares have traded relatively correlated. Currently, the gap has widened, with preferred shares dropping in value much faster than the common shares. I have been following American Electric Power as a potential investment post-presidential election. Although its power generation is mainly reliant on coal, American Electric Power has moved into other energy sources. My energy investment thesis calls for a move away from coal and toward natural gas, as well as higher electricity retail prices. American Electric Power is headed in the same direction.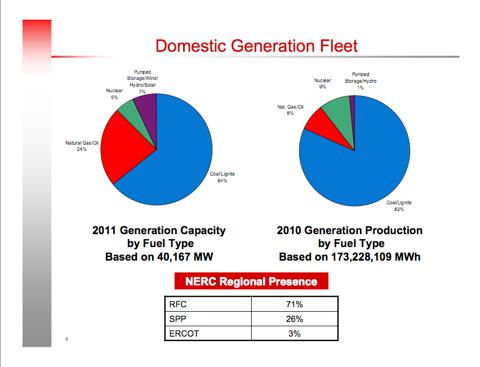 Recently, it was announced that senior notes will be redeemed in December. I believe this is what triggered the decline in preferred share pricing. Since preferred shares may be redeemed at any time for $25, there is a defined downside risk target. Shares could drop below the $25.00 level, offering an even more compelling entry point. With dividends yielding over 8% with quarterly payments of $.55 per share, the gap between the potential redemption at $25 and current pricing of $26 translates into a holding period of two quarters for the dividends collected to cover the price gap in share value. I view investments such as this as long term, so the break-even point of two months is acceptable. To be clear on this concept, I calculate the difference in the cost of acquisition and overlay future dividend payments. Since I know that $25 is the price for redemption, and I need to collect $1 in dividends for each share purchased to break even at today's prices if redemption does not occur, each quarter after the first two quarters puts the investment in positive territory.
Disclosure: I have no positions in any stocks mentioned, but may initiate a long position in AEP over the next 72 hours. I wrote this article myself, and it expresses my own opinions. I am not receiving compensation for it (other than from Seeking Alpha). I have no business relationship with any company whose stock is mentioned in this article.