After reaching an intraday high of $705.07 on Sept. 21, 2012, shares of Apple (NASDAQ:AAPL) fell as much as 21.2% to an intraday low of $555.75 on Nov. 7. Is such a drop justified by fundamental changes in the outlook for Apple? Or is the severity of such a drop unjustified, hence presenting a good buying opportunity?
Click to enlarge image.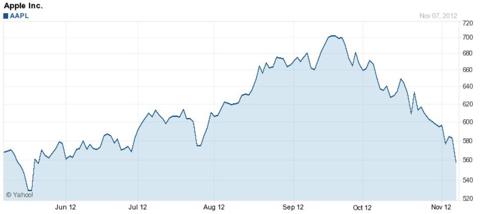 Source: Yahoo Finance.
1. Valuation
From a valuation perspective, analysts' earnings estimates for Apple have been lowered during the past 30 days, from $53.45/share to $50.13/share for the year ending September 2013, and from $61.20/share to $58.70/share for the year ending September 2014. Using Apple's intraday low price of $555.75 for Nov. 7, 2012, current earnings estimates would yield P/E ratios of 11.09 and 9.47, respectively.
Meanwhile with a high price of $705.07 for Sept. 21, and using earnings estimates from 30 days ago, that would yield P/E ratios of 13.19 and 11.52, respectively, for 2013 and 2014. Hence, despite the recent drop in earnings estimates, Apple shares are actually cheaper from a P/E ratio valuation perspective. If Apple shares were to maintain the same valuation they had in September, then with the drop in earnings estimates Apple shares would be trading at $592.5 from the perspective of 2013 new earning estimates, or $577.5 from the perspective of 2014 new earning estimates. Hence, at $555.75 it seems as if Apple shares are oversold by about 3.9% to 6.6%.
The analysts' earnings revisions were actually triggered by Apple's own earnings guidance of $11.75/share being substantially below analysts' previous estimates of $15.39/share for the quarter ending December 2012, as well as Apple's earnings miss by 8 cents for its September 2012 quarter, reporting earnings of $8.67/share vs. estimates of $8.75/share. Such revisions were also a result of unexpected supply shortages for key components, limiting the production of the iPhone 5. However, we view such shortages as short term and, in a sense, somewhat healthy due to the fact that product demand is exceeding short-term supply, hence preserving pricing power and inherent status premium associated with Apple products.
We also believe that current analysts' estimates are too low, and our own earnings estimate is substantially higher for the quarter ending December 2012, supported by our analysis of Apple's tendency to guide substantially below actual results. Hence, it is possible that Apple shares are even more oversold than what has already been implied in its forward P/E ratios.
2. Management Perception
Apple recently announced the departure of Scott Forstall, senior vice president of iOS software, and John Browett, head of Apple's retail stores. This has caused substantial worries in some circles, as illustrated in a recent article by Dan Crow, claiming that Apple is simply past its peak at this stage:
But the organizational structure that allowed Steve to wield power so effectively is now a huge liability. No-one could fill Steve's shoes, though some have tried -- notably Forstall. But not only has Tim Cook removed Forstall, he did so in the name of creating a more "collaborative" environment.

Apple however is the opposite of the open, collaborative, slightly disorganized Google. It worked precisely because it was a dictatorship. But dictatorships without their dear leaders tend to fall to infighting, intrigue and inefficiency. This could be Apple's future.
Despite the fact that Crow has worked at Apple and at Google as a matter of a fact (and that we have not), we actually disagree with such an assessment. Apple was able to withstand the departure of Steve jobs and its stock performed quite well, making new records one year following his passing.
The distinction between dictator and mentor can sometimes seem illusive to some. Jobs was indeed a strong leader, but many looked up to him as a mentor and an inspiration. If that was not the case, no one would have worked for him. Collaborative environments that lack a spirit of mentorship and aspiration are equally likely to fail. Following Jobs' death, Apple has proven that it is not a one-man company; it may take some time to adjust. Those who aspire to Jobs' old role for the power it wields, as opposed to the mentorship/guru guidance responsibility it entails, will and should be disappointed. Hence, although Jobs is no longer at Apple and although additional senior management changes have taken place, such changes have not deprived Apple of its identity of fostering leadership, mentorship, and constructive aspiration.
3. Margins
Following the release of its latest earnings, Apple also announced that it expects its gross margins to drop. On a product-by-product basis, such margins will likely drop for the iPhone 5 due to the early product introduction cycle associated with its launch. In addition, the iPad Mini is likely to have lower margins due to its lower price and prevailing competitive environment for smaller tablets.
However, iPad Mini sales are expected to be incremental. Hence, despite being a lower-margin product, the net result will be higher total gross revenues and higher net profits.
As for the higher costs associated with the early stage introduction of such products, the cost pressure will ease as the manufacturing process gains efficiency and component providers ramp up additional supplies. As Apple Insider reported concerning Piper Jaffray's Gene Munster:
Munster expects that following the transition period, Apple's margins will rebound to their normal levels in the March quarter.
Conclusion
What has changed for Apple is primarily the lowering of analysts' earning estimates, driven by supply shortages, expected lower margins, and the earnings miss for the quarter ending September 2012. In addition, investors may be nervous about current management changes. Despite such changes, we continue to believe that Apple shares are very attractive from a valuation perspective and are currently oversold. In addition, given our expectations for earnings in the next quarter to exceed expectations, investors who share our view may find the current sell-off to be an attractive buying opportunity.
Disclosure: I have no positions in any stocks mentioned, but may initiate a long position in AAPL over the next 72 hours. I wrote this article myself, and it expresses my own opinions. I am not receiving compensation for it (other than from Seeking Alpha). I have no business relationship with any company whose stock is mentioned in this article.