Persian Gulf countries may be awash in oil, but unprecedented demand for electricity is straining utilities in the region and posing near-term challenges to growth, said Moody's Investor Services in a special comment this week.
Economic and demographic growth in the so-called Gulf Cooperation Council, or GCC , countries is creating a strain on power supplies in the region, Moody's said, and significant additional capacity is needed to meet rising demand.
For example, the number of electricity customers has doubled in Dubai over the past decade,  while Saudi Arabia has seen a 59 percent increase in electricity customers over the same period.
Moody's believes that these exceptional growth trends are likely to challenge local utilities, which will need to install significant additional capacity to meet rising demand. Power shortages and temporary blackouts have already been seen in certain countries with particularly tight supply margins (Kuwait, Saudi Arabia), and these are likely to increase, particularly where utilities are operationally and financially unable to fully execute their expansion plans.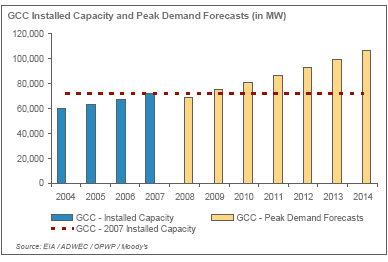 The four electric utilities rated by Moody's – Dubai Electricity & Water Authority, Abu Dhabi National Energy Company (TAQA), Saudi Electricity Company and Oman Power & Water Procurement Company – are benefitting from strong government support and investment.
The Middle East Economic Digest estimates that up to $50 billion could be spent in GCC countries by 2015 to generate 60,000 megawatts in additional power capacity. Ironically, the countries are investigating alternative energy sources for their power needs, such as nuclear energy and renewable energy, Moody's said.
For details, see here.