Valeant Pharmaceuticals (NYSE:VRX) is a stock followed by just 4 small boutique sell-side brokers and is one of my strongest medical stock picks. The company recently delivered strong double digit organic growth, record cash and EPS growth. The company's dermatology segment had an outstanding quarter. Valeant is also growing strongly outside the U.S. Several prominent investors increased or initiated a position in the stock. To detail specific names, portfolio managers like Glenn Greenberg, Wallace Weitz, Lee Ainslie and Joel Greenblatt have found several key positive items that led them to invest in the company's shares. The blog Warren Trades alerted about this stock and profiled as a strong hedge fund pick in its newsletter.
Valeant Pharmaceuticals is a strong force in the whole dermatology specialty. The company has just finished one of the most transformative deals since the 2010 Biovail merger. Despite this, the shares have not reflected the accretive potential that Medicis (MRX) brings to Valeant's dermatology platform. I like to invest in leaders and Valeant has one of the strongest positions across medical and aesthetic products. It also has a highly regarded dermatology saleforce and strong brand retention.
The recent Medicis deal can reasonably add up to $1.50 to EPS by 2016, adding significant value to VRX shares. While the deal is expected to close in 1H13 (anti-trust overlap is considered de-minimis), I believe investors will soon begin to recognize Valeant's position as one of the most powerful dermatology franchises in the space and the potential of the recent deal. In the recent earnings report, Valeant management detailed that the integration is ahead of schedule and continues to be a highly collaborative process. The 11 integration teams, which include Commercial, Medical, Dermatology, Commercial Esthetics, R&D, G&A, and Supply and Distribution, are being led by management from both Medicis and Valeant. As a result of this planning process, management expects to be in a position to significantly exceed the original projection of $225 million in cost synergies in the first six months after close.
I feel confident in Valeant's business model as the company does not incur in the risk of researching and developing new patents. The company prefers to spend money on acquisitions or partnerships over doing its own research. The company's strategy is to expand via acquisitions and partnerships with other pharmaceutical companies. Its business is focused in the United States, Canada, Europe, Latin America and Australia. The company has a partnership with GlaxoSmithKline (NYSE:GSK) for the development of Retigabine for the treatment of adult epilepsy patients with partial-onset seizures.
The strongest items in Valeant's recent earnings report were its strong growth and profitability metrics. Total revenue in the quarter was $884 million as compared to $601 million in the third quarter of 2011, an increase of 47%. Product sales for the third quarter of 2012 were $857 million as compared to $570 million in the same period in the prior-year, an increase of 50%. The company's U.S. dermatology segment grew 62% on a same-stores basis and 38% on a pro forma basis. This exceptional growth was driven primarily by strong sales of Zovirax, possibly as a result of a short-term stockout situation at the beginning of the third quarter and a very strong back-to-school acne season in September. The Zovirax stockout may have caused an increase of orders during the quarter, as the distributors worked to prevent a shortage of product in the future.
Valeant's main competitors are Dr. Reddy's Laboratories (NYSE:RDY), Allergan (NYSE:AGN), Johnson & Johnson (NYSE:JNJ), Merck (NYSE:MRK) and Watson Pharmaceuticals (WPI). Although Valeant's trailing P/E ratio of 297x makes it look overvalued, an analysis of the company's forward valuation puts things in a better perspective. The company has a forward P/E ratio of 11.1 and a PEG of 0.7. This shows that Valeant is actually undervalued when looking one to five years into the future.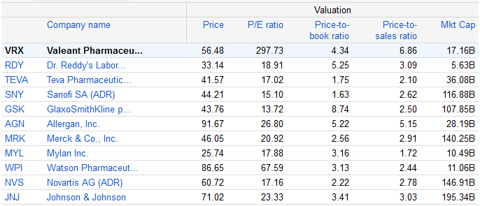 In conclusion, while I think that Valeant's current 297x P/E ratio does not represent a value opportunity, it is one of the medical stories I find most compelling. With several quarters of consecutive revenue growth, a solid business strategy, strong balance sheet fundamentals and growing institutional interest, the stock could keep its current uptrend.
Disclosure: I have no positions in any stocks mentioned, but may initiate a long position in VRX over the next 72 hours. I wrote this article myself, and it expresses my own opinions. I am not receiving compensation for it (other than from Seeking Alpha). I have no business relationship with any company whose stock is mentioned in this article.