Mylan (NASDAQ:MYL) has proven that the patent cliff is an opportunity rather than a crackup for savvy drug makers. The generic drug specialist saw its revenue jump by 10% to $1.5 billion in the third quarter. The profit increase was driven largely by increased sales in North America.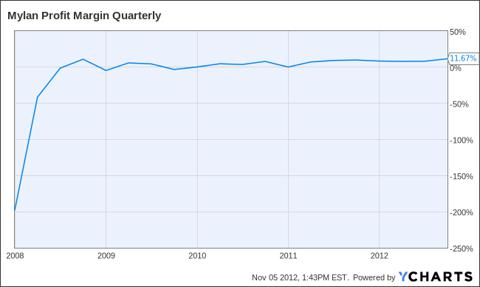 Mylan has even been able to adjust its earnings forecast upwards to between $2.50 and $2.60 a share. Part of the reason for Mylan's profit surge was its launch of a generic version of Diovan HCT, or valsartan/hydroclorothiazide, a hypertension medication from Novartis (NYSE:NVS).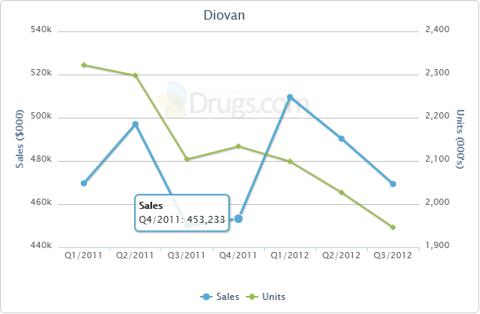 Diovan is number twenty four on Drugs.com's list of the top selling drugs in the United States. Sales of the drug increased by 12.44% in the first quarter of 2012 but fell by 4.29% in the third quarter. The demand for such a drug is growing. The U.S. Centers for Disease Control estimates that between 35% and 41% of Americans over 45 suffer from high blood pressure.
Mylan has been able to translate its success at creating generic drugs into increased revenue. Its quarterly rate of revenue for share has been increasing steadily over the past year. The company's business model of creating low-cost generic alternatives to name brand prescriptions is a winner.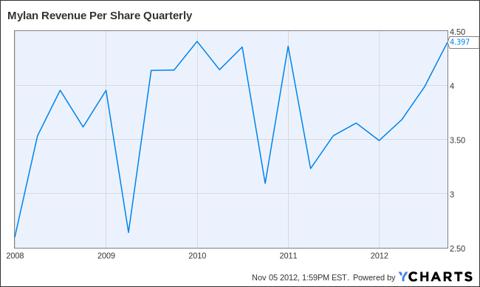 Mylan is actually doing better in this category than the biggest generic drug maker, Teva Pharmaceutical (NYSE:TEVA). Teva's quarterly revenue per share ratio has been falling steadily since the beginning of the year.
Naturally, the big question that value investors will ask is: Can Mylan continue to grow its generic business and profits over the next few years? The most likely answer is yes, even though some analysts expect the generic drug business to fall. Interestingly enough, Mylan's management is hedging its bets by increasing research and development to develop branded injectable products. These specialty drugs now make up around 16% of Mylan's business.
Mylan's CEO, Heather Bresch, has also said she would like to acquire some smaller drug makers. Part of the reason for this strategy might be that, in an ironic twist of fate, Mylan itself faces the patent cliff in 2015. Teva is reportedly developing a generic version of Mylan's popular, injectable allergy treatment, EpiPen, that will come out in 2015.
The most likely answer is that Mylan can continue to grow its generic business and make up for losses from EpiPen. After all, there is no reason why Mylan itself cannot simply start marketing a generic EpiPen.
Yet the loss of EpiPen may not affect this stock much because Mylan's business outside the United States is growing. The company's sales in Europe, the Middle East and Africa grew by 7.2% in the third quarter. Unfortunately, price cuts in Europe and a strong U.S. dollar cut into Mylan's generic revenues.
Mylan is definitely a value buy and - at prices like the $25.75 a share seen on November 5th, 2012 - a bargain. This stock is underpriced, and it is in a strong position to go up. The only potential threats to its revenues are competition and a management team determined to move outside the core business. Ms. Bresch seems determined to move into the specialty drug business and away from the company's profit center. Worse, she might be getting acquisition happy with those increased profits.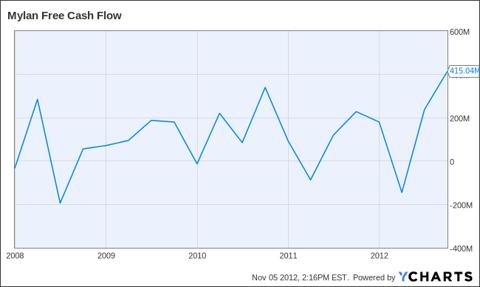 Mylan is currently making a lot of cash, and its cash flow seems poised to increase. Unfortunately, that extra cash flow is what fuels CEO dreams of acquisition and growth into new areas. There is a strong possibility that Mylan will end up wasting a lot of that cash on efforts to become "a real pharmaceutical company" with high research and development costs. If that happens, Mylan will no longer be a value buy.
The lack of focus on the core business might create an opening for aggressive Indian generic pharmaceutical companies, such as Dr. Reddy's Laboratories (NYSE:RDY), Ranbaxy Laboratories (RBXZY) and Sun Pharmaceutical Industries. These companies are making a major push into the lucrative North American and Japanese pharmaceutical markets.
Despite these concerns, Mylan is currently a smart value buy because it is the right company in the right place at the right time. The demand for pharmaceuticals is growing just as large numbers of drugs fall off the patent cliff. An aging population, insurance plans that mandate generic drug use, and increased numbers of Americans with health insurance because of Obamacare will increase the market for generic pharmaceuticals. These factors make Mylan one pharmaceutical stock to buy and hold for the foreseeable future.
Disclosure: I have no positions in any stocks mentioned, and no plans to initiate any positions within the next 72 hours. I wrote this article myself, and it expresses my own opinions. I am not receiving compensation for it (other than from Seeking Alpha). I have no business relationship with any company whose stock is mentioned in this article.