VIX - Market Sentiment:
S&P futures drifted higher, attempting to digest the worst day in the markets in over a year. Futures traded in a fairly tight range heading into the open, moving just 7 handles top to bottom. Unfortunately, this level did not hold, and markets continued to sell off for a second day in a row. Yesterday, the NYMO Oscillator closed with a reading of -28.28 -- a 33 point decrease from the previous day. Given the orderly reduction in stock prices and panic that has yet to set in, I do not expect this level to breech the -60 level today, let alone -80. Remember, oversold market is -80 or 80, so once we get below -80, consider putting all that cash to work in the form of S&P ETF (NYSEARCA:SPY) calls or 2x ETF (NYSEARCA:SDS) puts, as snapbacks can be nasty.
The spot CBOE Volatility Index (VIX) was little changed at first, moving between the 19 and 18.40 level. Volatility ETF (NYSEARCA:VXX), 2x ETF (NASDAQ:TVIX), and alternative 2x ETF (NYSEARCA:UVXY) traded very well today, as they actually tracked the futures very well. Those investors who were short volatility ran for cover, buying shares in good size blocks in early trading. Those who follow me and my trades on Twitter know there was not much of a play today unless you were short Apple (NASDAQ:AAPL), as volatility continues to rise in many selective stocks, but not the market overall. The only thing keeping VIX futures up today was a big buyer of the Jan 23-29 call spread bought 10K times.
VIX futures are below:
Yesterday
· November VIX futures 18.40
· December VIX futures 19.05
· January VIX futures 20.33
Today
· November VIX futures 18.65 (Traded as high as 19.20 before selling off)
· December VIX futures 19.30
· January VIX futures 20.55
Options Paper:
We've had quite a few winners in recent days caught on the sonar reports, including CBS Corp (NYSE:CBS), Rackspace (NYSE:RAX), Silver ETF (NYSEARCA:AGQ), Gold Miner ETF (NYSEARCA:GDX), to name a few. Today, in a brutal tape to find specific directional paper was difficult, as many put sellers or buyers were met with heavy call selling or buying to offset the tell. One direction was on Apple, where a definite reversal of sentiment came in, with more than 24M worth of net puts purchased on the ask, and 4.6M worth of calls sold on the bid. See chart below, provided by LiveVol:
(click image to enlarge)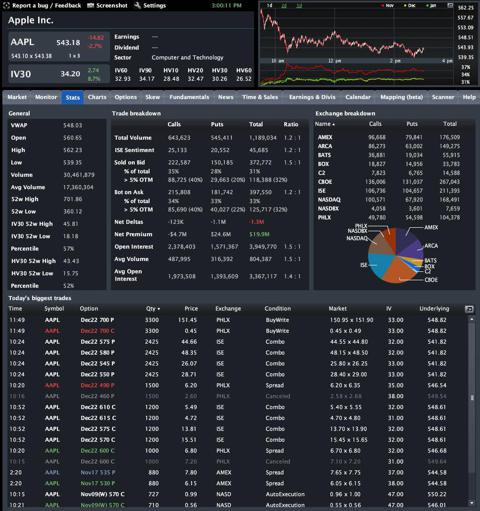 One bullish play today was done in beaten up tech name Intel (NASDAQ:INTC). Today, more than 2.4M options were purchased in this name, mostly in the November and December 20-23 strike calls. Considering just how bad the tape has really been of late, this is interesting, as calls outpaced puts more than 3:1 on the day, with very heavy volume on the call side. INTC has been sold down of late after rumors AAPL would drop its processors for the Mac Pro line. Options in this name continue to increase in volatility, so be careful for those trying to chase for performance, as spreads would be the best in this situation.
Another tech name today saw some bullish paper as well when computer maker Dell (NASDAQ:DELL) saw a single block of January 2015 15 strike calls bought for 1.02. This is the first bullish play I have seen in a PC name in quite some time, as tablets and the almighty AAPL continue to eat away at margins and market share. Today, more than 33K options traded in this name, with calls outnumbering puts more than 2.1. I do not like this space, so I'm going to pass, but it is good bullish paper nonetheless.
Popular ETFs and equity names with bullish/bearish paper:
Bullish Option Flows - OTM calls bought on offer
Advance Auto Parts (NYSE:AAP) Again, large OTM call buyers 94% on offer
Genco (NYSE:GNK) 81%
Clearwire (CLWR) 74%
Humana (NYSE:HUM) 72%
CROCS (NASDAQ:CROX) 65%
Bearish Option Flows - OTM puts bought on offer
Dole Food (NYSE:DOLE) Of the 4306 OTM traded puts, 4303 were bought on the offer and calls were sold to finance
McMoRan (NYSE:MMR) 57% of puts bought on ask
Hovnanian (NYSE:HOV) 56%
Groupon (NASDAQ:GRPN) 46%
Disclosure:
· I am long: AAPL, AGNC, APC, KERX, SDS, WLL
· I am short: FE, FXE, FXY, SPY
· Trades today:
Bought AGQ
Closed CBS long
Sold some WLL, AAPL, SPY puts and SDS hedges
I wrote this article myself, and it expresses my own opinions. I am not receiving compensation for it (other than from Seeking Alpha). I have no business relationship with any company whose stock is mentioned in this article.
Disclaimer: The opinions in this document are for informational and educational purposes only and should not be construed as a recommendation to buy or sell the stocks mentioned or to solicit transactions or clients. Past performance of the companies discussed may not continue and the companies may not achieve the earnings growth as predicted. The information in this document is believed to be accurate, but under no circumstances should a person act upon the information contained within. I do not recommend that anyone act upon any investment information without first consulting an investment professional as to the suitability of such investments for his or her specific situation.