Are you one of the millions of Americans checking the status of your retirement funds more often than you check the time these past few weeks? Planning for retirement probably seems like a more daunting task than ever, so many financial services companies have developed online tools to help investors of all ages determine how to reach individual retirement savings goals. The benefits are twofold – investors receive quick retirement planning insights while financial services companies can use their various tools to help promote specific financial products.
Fidelity myPlan Snapshot: Fidelity's myPlan Snapshot combines simplicity and speed. It can be completed in less than a minute with information that most individuals know off hand (e.g. age, annual income, monthly savings). Once an individual reaches the summary page (below) they are able to see where their current savings and investment track will likely put them financially once they reach retirement age, even taking into account possible future market conditions. Using the interactive slider bars, an individual can easily run through hypothetical scenarios to see how increased monthly savings or a change in investment strategy will impact future returns.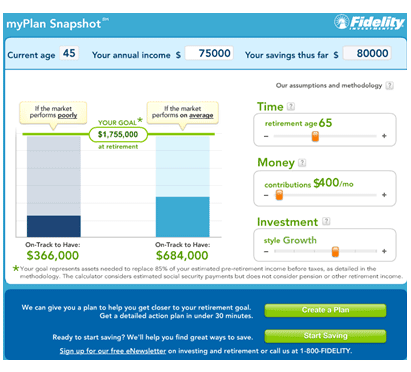 TD Ameritrade's Wealth Ruler:TD Ameritrade's (NASDAQ:AMTD) Wealth Ruler is a similar retirement tool to MyPlan Snapshot but with a more in-depth and detailed setup. With a similar output as MyPlan (see below), it also allows for measured adjustments based on savings, retirement age, and investing style. However, while myPlan asks five basic questions, users of Wealth Ruler are asked to input each investment product they own as well as input expenses that will likely be incurred over the long haul. While these features likely make it a more precise representation of future savings, it is definitely not as simple as Fidelity's myPlan Snapshot.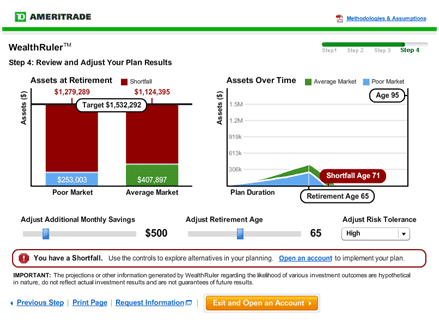 Vanguard: Instead of constructing a stand alone tool such as Fidelity's or TD Ameritrade's, companies like Vanguard have created tools that are integrated within information-focused pages. There is very little information required to use this tool, but the tradeoff is receiving little information in return. Tools like this also do not allow for contingencies such as a change in retirement age or projections based on certain market conditions. It seems clear that companies that provide calculators of this variety are not using them as tools to drive conversion. They are more likely viewed as additional research provided to current and potential customers.
With the varied tool offerings, the question remains – Are the tools an effective way to drive business? And the answer is a resounding Yes; IRA shoppers that used an online retirement tool between January and June 2008 were 50% more likely to start an application than those who did not use a tool.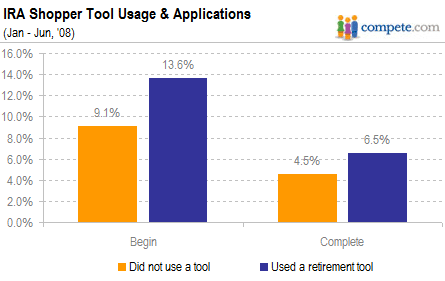 Stand alone tools such as Fidelity's tend to be more successful at engaging shoppers than those tools used simply as another information source. In the future, it would be even more impactful if companies were to provide more comparative measures to help benchmark their products against the competition. Implementing the use of similar tools could make a powerful statement and gain a competitive advantage for the financial services company in a time when they likely need any edge they can get.