The story of Lee Enterprises (NYSE:LEE) is as interesting as an investigative piece reported by the local newspaper in town. Recently emerged from a prepackaged Chapter 11 bankruptcy in January 2012, it is now a newspaper publishing company trading at a minuscule market size of $77.3 million, and carries close to a billion dollars in debt.
In April, the market was blindsided as The Wall Street Journal reported that famed value investor Warren Buffettto purchased $85 million worth of Lee Enterprises' loans at about 65 percent of the loans' original principal value. Subsequently, the U.S. Securities and Exchange Commission dropped a bomb on the investing world in June as it denied Buffett's holding company, Berkshire Hathaway, from withholding the fact that the investor had also simultaneously amassed 1.66 million shares of Lee in the first quarter of 2012. Today, Berkshire has doubled its stake in the company, and controls more than 10 percent of the company's equity stake.
What does a $200 billion company like Berkshire Hathaway see in a $77 million company like Lee Enterprises?
In our continued discussion on the newspaper industry, we explored in our latest article the trends of The New York Times Company -- a newspaper that targets the broader national market. In contrast, Lee Enterprises is a collection of 51 newspapers in small and mid-sized markets that, altogether, have an approximate 1.3 million readers daily. Its major markets include the Midwest, Mountain West, and West regions of the United States.
Similarly to the broader newspaper industry, Lee Enterprises is experiencing a severe decrease in its revenue from newspaper advertising. However, while some industry players have been able to recoup their loss of advertising income from expanding their circulation through digital products, Lee Enterprises has been struggling to meet the challenge with both declining advertising and circulation revenues.
(click images to enlarge)

In the last five years, advertising revenue has decreased significantly by $328.6 million, while circulation revenue has also dropped by $22.5 million. Although circulation has taken on a higher proportion of its revenue base (as evidenced by the graph below), Lee Enterprises is still geared more toward generating revenue through advertising than its industry peers such as The New York Times (circulation at The New York Times is 52% of total revenue, compared to 24% at Lee Enterprises).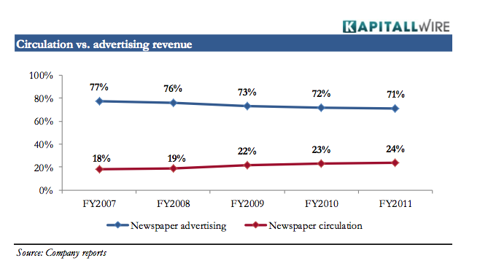 Luckily for its long-suffering shareholders, Lee Enterprises has been busy making up lost ground, and recently informed investors that it has introduced digital subscriptions in 36 markets. Furthermore, it is also planning to charge a digital access fee for all of its newspapers by the end of the year. Here is a brief selection of digital access plans that have already been put in place: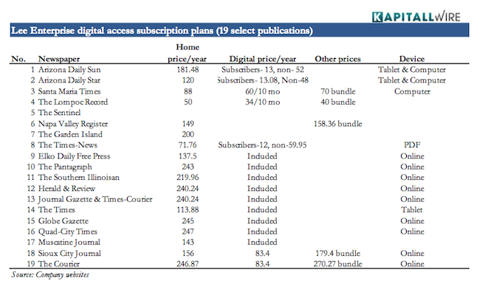 However, as evidenced in the table above, most local market newspapers provide free online access included in home subscriptions and therefore, do not generate any revenue from online content. In addition to this, electronic access is for the large part confined to online access meant for PCs, and does not create content specifically for ease of use on tablets or phones. With this in mind, one might venture to say that these local market newspapers are currently unable to transition into the digital market. They do not have the resources to create attractive online content, not to mention content that is exclusive to the online format.
If the majority of these local newspapers begins to charge for online access, their limitations would severely restrict its practical use, and would conceivably fail to generate a significant amount of revenue. In contrast, The New York Times is able to generate a noticeable amount of revenue due to its attractive formatting for various types of devices and its exclusive online content. This includes videos, blogs, interactive content, and updated versions of previously published articles.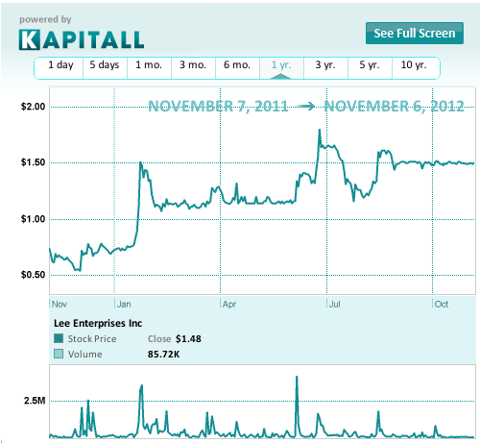 In conclusion, while Buffett has found Lee Enterprises to be an interesting addition to his growing collection of newspaper companies (the Washington Post, Omaha World Herald, and 60+ others bought from Media General), an individual investor might not be wise in following the footsteps of the Oracle of Omaha in owning a share of this business.
It is true that local newspapers are probably the best poised to survive the digital age due to the specific and niche nature of their reporting coverage, and it is also not inaccurate that Lee Enterprises generates one of the highest EBITDA margins (23% in FY2011) in the industry. However, the heavy indebtedness of the company, coupled with bankruptcy agreements that require it to divert any excess cash flow into repaying debt, means that it might be some time before shareholders will get to reap any rewards from the business.
Disclosure: I have no positions in any stocks mentioned, and no plans to initiate any positions within the next 72 hours.
Business relationship disclosure: Business relationship disclosure: Kapitall is a team of analysts. This article was written by SiHien Goh, one of our writers. We did not receive compensation for this article (other than from Seeking Alpha), and we have no business relationship with any company whose stock is mentioned in this article.