When thinking about the performance of Berkshire Hathaway (BRK.B, BRK.A) and its famous CEO Warren Buffett, we are reminded of an apocryphal quote about Detroit Tiger Hall of Famer Ty Cobb. When Cobb was asked why he could only hit for a .290 batting average against modern pitchers when he hit for a career record .366 batting average over his 24-year career, Cobb stated it was because he was 72 years old. That's how we see Warren Buffett and Berkshire Hathaway. We don't see Buffett, Combs and Wechsler repeating the 19.8% returns Berkshire enjoyed from 1964-2011 due to its size and the fact that it has already bought up many of the most desirable investment opportunities out there. However, we think that Berkshire will continue to chug along to solid growth and performance as if it was one of its Burlington Northern Santa Fe railcars. We were particularly impressed with the performance of BNSF, which generated the best combination of revenue and profit growth recently and was within $76M of overtaking Berkshire's insurance operations as its most profitable business for the quarter. Berkshire generated nearly $7.2B in increased book value during the period, which resulted in a 4.07% increase in book value during the quarter. Berkshire's share price is now trading at a 17% premium to its book value.
Burlington Northern Santa Fe
BNSF saw solid performance during the quarter and year to date. BNSF Q3 2012 revenues increased by 8% versus the prior-year period and 8% year-to-date versus H1 2012 levels. Q3 revenue growth was due to increased volume for consumer products (4% volume growth) and industrial products (14% growth) coal volume (4% growth) and agricultural products (3% growth). Industrial products volume increased primarily as a result of increased shipments of petroleum products, as well as increased sand shipments. We believe that Buffett's opposition to the Keystone Pipeline helped ensure that BNSF would be able to benefit from the fracking activity in the Bakken formation. BNSF increased its railroad car volume by 5% year-over-year in Q3 and its revenue per car by 2% even when taking into account 4% reduction in fuel surcharges. BNSF enjoyed positive operating leverage which kept costs from rising by 2.65% in the quarter and 4.2% for YTD 2012. This positive operating leverage enabled the division to generate 22% profit growth in the quarter versus the comparable quarter last year.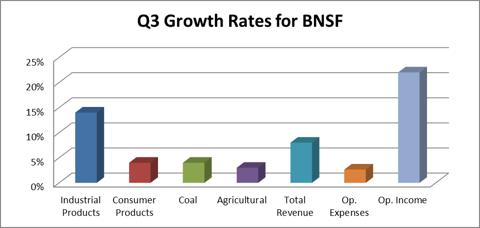 Source: Berkshire Q3 2012 10-Q
Berkshire Manufacturing, Service and Retailing
Berkshire's Manufacturing, Service and Retailing businesses' revenue grew by $2.5B in Q2 2012 versus Q1 2011 and reached a total of $20.95B. This was driven by the August acquisition of Meadowbrook Meat Company by McLean Company and the inclusion of Lubrizol revenues in this quarter versus last year. The Lubrizol acquisition was announced on March 14th, 2011 and completed on September 16th, 2011. Lubrizol generated $1.5B in revenue for Berkshire's Manufacturing operations in Q3 2012 versus $246M in the 15 days Berkshire owned Lubrizol in Q3 2011. Forest River RVs generated 29% revenue growth on the strength of higher prices while revenue declines were posted at CTB, Scott Fetzer and ISCAR Metalworking.
MidAmerican Energy Holdings Company
Berkshire owns an 89.8% ownership interest in MidAmerican Energy Holdings Company. MidAmerican's revenues and operating income saw a slight growth in the quarter and in the year-to-date periods versus last year's levels. Real estate brokerage revenues are also included in this segment and saw strong 27% revenue growth due to a 15% increase in sales transactions closed as well as inclusion of newly acquired businesses. Berkshire's HomeServices of America subsidiary recently announced that it was acquiring the Prudential and Real Living real estate brokerage franchises from Brookfield Asset Management (NYSE:BAM).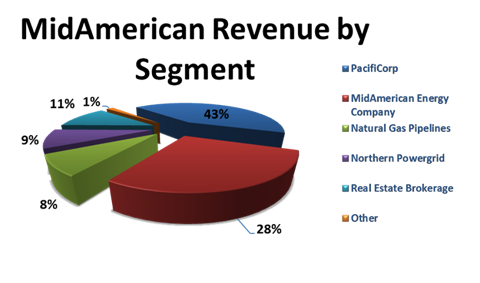 Source: Berkshire Q3 2012 10-Q
Revenue growth at the PacifiCorp regulated utility operations was offset by revenue declines from MidAmerican Energy Holding's non-regulated businesses due to the declines in natural gas prices. PacifiCorp's revenue growth was primarily due to higher retail revenues of $105 million for the third quarter and $229 million for the first nine months. The increases in retail revenues were principally attributable to higher prices approved by regulators of $82 million for the third quarter and $191 million for the first nine months. In 2012 PacifiCorp also experienced higher customer load in Utah due to the impacts of hot weather, partially offset by lower industrial customer load in Wyoming and Oregon as certain large customers elected to self-generate their own power. We can see why Berkshire bought PacifiCorp from Scottish Power in 2006 as all the states it operates in have population growth rates over the last decade which exceeded the US average national population growth rate over that time period.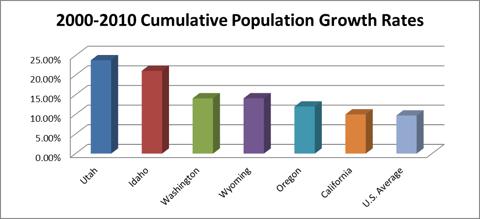 Source: U.S. Census 2010
Berkshire Finance and Financial Products
Manufactured Housing and Finance revenues have been stagnant during the quarter and the first 9 months of 2012 as higher unit sales volumes have been offset by lower average selling prices. Pre-tax earnings from the division have shown strong growth rates exceeding 40% in each period due to increased manufacturing operations efficiencies, lower insurance claims and reduced credit losses
Furniture/transportation equipment leasing revenues and pre-tax income were flat during the quarter and the YTD 2012 period as strength in its CORT furniture leasing business was offset by weakness in its XTRA transportation equipment leasing operations. CORT's growth was due to increased rental income and higher operating margins. XTRA's weakness was due to flat revenues, higher depreciation expenses and lower foreign currency gains.
Investment and Derivative Gains/Losses were positive in Q3 2012 versus the losses in Q3 2011. The company benefited from the absence of $2.44B in derivative losses from last year and booked $917M in investment securities gains this year.
Berkshire's Insurance Operations
GEICO's performance continues to be the stabilizing force for Berkshire's insurance operations. GEICO generated solid high single-digit revenue growth during the quarter and year-to-date periods. GEICO's revenue growth was coupled with losses growing at a much lower rate than revenues and this enabled GEICO to generate strong double digit underwriting profit growth during the periods.
General Re's revenues were flat during the quarter and year-to-date periods but saw reduced catastrophe losses and this enabled the division to generate a 4% growth in underwriting profit for Q3 2012 and a $417M gain year-to-date.
Berkshire Hathaway Reinsurance Group's performance during the quarter was good news and bad news. The good news is that it was able to generate double digit revenue growth in each of its product reporting segments, but the bad news was that it suffered a $102M underwriting loss due to losses on its retroactive reinsurance and other multi-line property/casualty operations.
Berkshire Hathaway Primary Group is the smallest division of Berkshire Hathaway's insurance operations and it saw strong revenue and underwriting profit growth on the strength of increased volume of workers' compensation insurance from the Berkshire Hathaway Homestate Companies and premiums from Princeton Insurance Company.
Berkshire Hathaway Insurance's Investment Income sagged by 6% during the quarter and 8% YTD 2012 due to the redemptions of Berkshire's preferred stock holdings in Goldman Sachs (NYSE:GS) and General Electric (NYSE:GE), as well as low interest rates on its liquidity holdings.
In conclusion, we are satisfied with the performance from Berkshire Hathaway. We see our investment in the company as not only a diversification away from traditional stocks and bonds, but also being able to utilize a high-quality asset manager to gain access to private equity businesses that are not leveraged to the hill in order to pay dividends to some self-styled "Master of the Universe." We were impressed that Berkshire has been able to increase its book value by $12.5B in the first six months of 2012 and we believe that as it continues to do so, we will see the value in Berkshire realized by the investment community on behalf of Berkshire's investors. We believe that even though Buffett has slowed down a step relative to his younger and that Berkshire will not be able to enjoy the 19.8% compounded annual growth it enjoyed from 1964 to 2011, we expect that it will be able to exceed that of the S&P due to its strong portfolio of diversified businesses.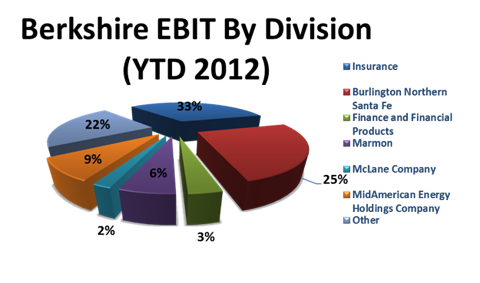 Source: Berkshire Q3 2012 10-Q
Disclosure: I am long BRK.B. I wrote this article myself, and it expresses my own opinions. I am not receiving compensation for it (other than from Seeking Alpha). I have no business relationship with any company whose stock is mentioned in this article.
Additional disclosure: This article was written by an analyst at Saibus Research. Saibus Research has not received compensation directly or indirectly for expressing the recommendation in this article. We have no business relationship with any company whose stock is mentioned in this article. Under no circumstances must this report be considered an offer to buy, sell, subscribe for or trade securities or other instruments.