We are all familiar with the ongoing saga of Green Mountain Coffee Roasters (NASDAQ:GMCR) -- its meteoric rise and subsequent fall. Most investors are also intimately aware by now of the increased competition as Starbucks (NASDAQ:SBUX) introduced its brewer, the Verismo, after making deals with GMCR to sell its branded coffee packaged in K-cups.
Today, GMCR announced a new, fancier brewer called the Rivo aimed squarely at taking back exactly the segment Starbucks is trying to woo away -- the upper end single serve brewer market. Both brewers are capable of making lattes and such, but the primary difference between the two devices is that the GMCR machine uses fresh milk as opposed to milk pods inserted into the device.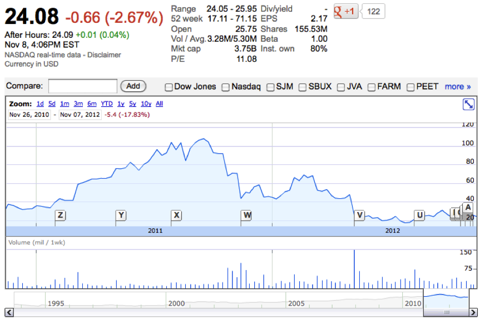 Given that the Verismo receives a 57% latte approval rating on the Starbucks site, I do not really hold out a lot of hope that the Verismo is going to replace the Keurig. It appears from the reviews that most customers who have bought the device did so with the intention of making a Starbucks in-store quality drink at home, and they are generally being disappointed.

The Rivo will initially be marketed through Bloomingdale's stores, highlighting the intent to swing right back at the Starbucks attempt to swipe some of its market share. The ability to use fresh milk as opposed to the expensive and messy pods will likely be a plus for consumers making those complaints about the Verismo. I am curious to see what type of reviews GMCR will get for the Rivo, especially as the device is being released just in time for the Christmas marketing season and the price point is near that of the lower end Starbucks machine.
The bottom line is that Starbucks continues to remain a profitable company, while Green Mountain Coffee Roasters is facing some difficulties regarding investor sentiment, concerns over patent expirations, and increasing competition. This new twist in the ongoing struggle for single-serve dominance is unlikely to be the last punch thrown.
Disclosure: I am long GMCR, SBUX. I wrote this article myself, and it expresses my own opinions. I am not receiving compensation for it (other than from Seeking Alpha). I have no business relationship with any company whose stock is mentioned in this article.