Suncor Energy (NYSE:SU) reported its third quarter 2012 results on October 31, 2012. These were very good results that showcased the company's growth story. In the latest quarter, Suncor saw growing oil sands production, record cash flows, and made progress on several of its growth projects. This was achieved despite the fact that the company suffered from maintenance-related downtime. Here are the highlights from the third quarter:
Suncor had operating earnings of $1.303 billion. This works out to $0.85 per common share. This compares favorably to the $1.258 billion that Suncor reported in the previous quarter. This does represent a decrease from the prior-year quarter, however.
Suncor reported net earnings of $1.555 billion, representing a massive increase of 367% over the preceding quarter. It also compares favorably to the $1.287 billion of net earnings that Suncor recorded in the prior-year quarter.
Cash flow from operations set a new record of $2.74 billion. This represents a 16.9% increase over the second quarter and compares favorably to the $2.721 billion that Suncor brought in during the prior-year quarter.
Suncor had record oil sands production of 378,900 barrels per day. The company had total production of 535,300 barrels per day.
Last quarter, Suncor's results suffered due to a writedown of its Libyan assets. Libya, of course, was one of the first countries to see its government overthrown by the Arab Spring movement that began in late 2010. An eight month long civil war began in February 2011. This plagued the country until October of last year but tensions and insurgencies continue to this day. These conflicts forced foreign oil companies to shut down Libyan production and evacuate the country. Companies have now begun to return to the country as the environment has grown more stable. Suncor is one of those that have returned. Suncor's Libyan operations produced an average of 39,800 barrels of oil equivalent per day in the third quarter. The company is also working to restart exploration drilling in the nation and expects to have that operation back online in the first quarter of 2013.
Suncor is the largest operator in Canada's resource rich Athabasca oil sands region and it is this presence in the region that will be driving Suncor's growth going forward. Suncor's production from this region reached its all-time record high this quarter due largely to the ramping up of production and new production coming online.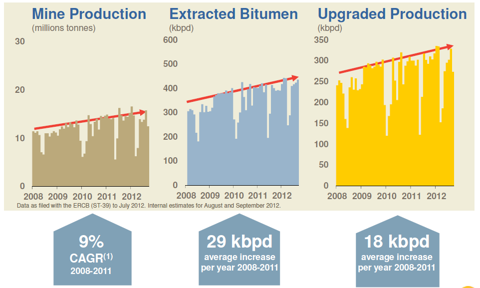 Source: Suncor Energy
Suncor's oil sands operations have delivered a 9% compound annual growth rate from the period 2008 to 2011 and the company looks set to repeat that performance in 2012. In its third quarter presentation (PDF), Suncor provided its outlook for each of the regions where it produces. The company expects its oil sands operations to produce between 325,000 and 340,000 barrels of oil equivalent per day. The midrange of this range would indeed represent 9% production growth from the company's actual 2011 production of 304,700 barrels of oil equivalent.
In my analysis of Suncor's second quarter results (linked above), I discussed Suncor's progress on one of its growth projects, Firebag Stage 3. The company realized its first barrel of oil from this project in 2011 and had been ramping up production ever since. Suncor completed this project in the third quarter as its central processing facilities for this stage reached their full design capacity. Suncor is now directing its efforts to Stage 4 of the Firebag project and expects to realize its first barrel of oil from this phase in the fourth quarter of 2012. This is a full three months ahead of schedule! Stage 4 of this project will provide further growth for Suncor. The company expects the entire Firebag complex - all four stages - to produce approximately 180,000 barrels of oil equivalent per day. Considering that the complex is currently producing 113,000 barrels per day, there is still likely to be strong growth here.
Suncor also has several other projects that will service to provide future growth.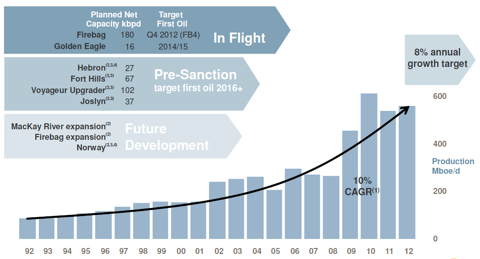 Source: Suncor Energy
The largest of these projects (excluding Firebag Stage 4) are the Voyageur Upgrader and the Fort Hills Mine. These are both in the pre-sanction stage and, as such, will not produce any oil until 2016. Therefore, other than the ramp up of Firebag, Suncor does not have any further near-term growth projects other than the Golden Eagle development which will produce approximately 16,000 barrels of oil equivalent per day at full capacity. This is barely enough to move the needle at the company. However, this project portfolio looks like it can provide 8% annual growth between now and the end of the decade. If Firebag Stage 3 is any indication, it will take the company at least a year to bring Firebag Stage 4 up to full capacity but production from it will be increasing every quarter until reaching its full capacity. So, between that, Golden Eagle, and the projects that come online after 2015, Suncor should be able to deliver steadily increasing production. Revenues and profits should follow as long as oil prices stay relatively steady. A rapid fall in oil prices could overpower production growth in a worst-case scenario.
Oil sands producers typically have higher production costs per barrel of oil than more conventional producers and Suncor is no exception. I discussed this cost issue in my second quarter analysis. Suncor made great progress on its cost reduction goals during the third quarter. In fact, Suncor's cost containment was nothing short of remarkable! Earlier this year, Suncor stated that it expected production costs to be more than $35 per barrel for the first three quarters of this year. The company achieved a cash cost of production of $33.35 per barrel in the third quarter, representing the lowest level that Suncor has achieved since 2009.

Source: Suncor Energy
Even more remarkably, Suncor achieved these cost reductions even with the enormous costs of its planned maintenance activities applying upward pressure on these costs. This has a few advantages for the company. First and foremost, higher costs mean that Suncor needs to sell its oil at a higher price in order to cover its costs and still earn a profit. However, Suncor, like all oil companies, is a price-taker. The firm is selling a commodity product into a market dominated by traders. Therefore, the lower the company's costs, the less likely it will be to see prices fall so low that it cannot cover its costs. Secondly, the lower the costs, the greater the company's margins and the more revenue will translate into profit. Higher profits are obviously good for investors. Indeed, these lowered costs seem to have had a positive effect on the stock price following earnings which will be discussed later.
Suncor was also successful at controlling costs in other areas. All oil companies spend enormous amounts of money developing and preparing fields for production. There are also even more costs after production has started. This is why energy is a capital-intensive industry. Suncor focused on this area very intensely over the latest quarter and was able to find areas in which to cut costs without sacrificing equipment or production performance or quality. The rapid progress and execution on the Firebag Stage 4 project, discussed earlier, has allowed management to confidently predict that the project will be completed under budget. This saves the company about $200 million from its initial projections. Additionally, the company has also found other places to reduce its spending on both growth and production-sustaining capital expenditures. The total amount of reductions in planned spending is $850 million. This money can be diverted to other purposes. Suncor did not explicitly state what it would do with these savings in lieu of capital expenditures. The company only said that it would be used to "improve the returns to shareholders." There are a number of things that the money could be used for that would serve this purpose including acquiring more oil properties, paying down debt, or even put into the bank to be saved for future growth projects.
Mr. Market was clearly impressed with this very good earnings report and has amply rewarded the stock following the announcement.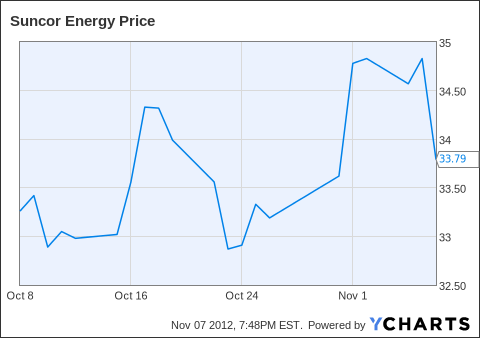 Suncor's stock fell following the election in the U.S. This was likely due more to market noise and increased concerns about the impending fiscal cliff facing the U.S. that many economists believe could push the United States into a recession if it is left unresolved. This fall of the stock price has created a better entry point into the stock. Investors who believe that Congress will delay dealing with the fiscal cliff until the last minute may want to hold out for a better price. However, Suncor does present an excellent opportunity here to diversify away from the U.S. dollar and get strong growth potential at the same time.
Disclosure: I am long SU. I wrote this article myself, and it expresses my own opinions. I am not receiving compensation for it (other than from Seeking Alpha). I have no business relationship with any company whose stock is mentioned in this article.