As a long time Arena Pharmaceuticals (NASDAQ:ARNA) bull, it is rewarding to begin to see updates from the company that detail the future for the franchise and how it mirrors many of my thoughts as to what the underlying opportunity could be. On this week's earnings call for Q3, Arena gave some very important, although subtle, indications of where both Eisai and Arena will be taking the Belviq opportunity in 2013 and beyond.
As investors know, Arena and Eisai continue to wait for the DEA to file their recommended distribution schedule (likely IV) into the Federal Register for a 30-day public comment period. In the meantime, the companies have been working closely to determine the path for Belviq label expansion to increase the market opportunity. This requires careful analysis to determine what could dramatically increase the uptake for the current twice-daily formulation along with the future indications to expand the overall market and lock up additional years of exclusivity.
When I originally started buying ARNA in 2008, I did so based on the market premise of lorcaserin being able to act as a fenflurimine replacement to usher in a "safe" version of the wildly popular FenPhen combination. FenPhen was the best selling weight loss drug therapy of all time, with an estimated 18M annual scripts at its peak in 1996 before fenflurimine was pulled from the market in 1997 after being linked with valvulopathy. Arena Pharmaceuticals was formed in 1997, with, I believe, a goal of finding a highly selective 5ht2c agonist that could become a safe fenflurimine replacement without impacting the 2b receptor associated with valvulopathy. This is exactly what Arena scientists did with lorcaserin, which was finally approved as Belviq 15 years after the company started and almost $1B dollars later.
After the release of Arena's BLOOM-DM trials, I completely shifted my investment thesis for Arena. No longer is ARNA a great investment based on the BelPhen possibility; it is a great investment because of its ability to be an important tool for glucose control given the average HbA1c reductions of .9%, something equivalent to most secondary diabetes drugs. So no longer do you have a great tool for weight loss, but you have a great tool for treating those with Type II diabetes and Metabolic Syndrome, a combined patient population of 100M Americans.
On this week's investor call, we heard some extremely exciting news that has received little fanfare so far. Jack Lief, Arena's CEO stated the following: "Our research and development will establish BELVIQ as a safe and effective treatment in combination with agents such as phentermine and metformin. BELVIQ will also be developed as a treatment for additional indications such as smoking cessation..." This is the most important piece of news for Arena longs since the FDA approval of Belviq.
In 2010, I opined on Arena performing a simple drug drug interaction study to document that Belviq and phentermine are safe and effective when taken together. This does not need to be a long study and could be accomplished in as little as 12 weeks for dosing. Craig Audet, Arena's SVP and Head of Global Regulatory Affairs stated that the phentermine trials are among their highest priorities and they are aggressively pursuing this. Arena must vet out their ideas around the trial to get agreement from the FDA before providing investors with more details. Rather than a BelPhen combo pill, I think you will see Belviq as labeled today, with a pill in the morning and night combined with a dose of phentermine in the morning for potentially 12 weeks. This will demonstrate both the effectiveness and the safety when used in combination. The average weight loss for FenPhen patients was close to 15%, and since Belviq is more selective than fenfluramine, you could see even more impressive results, with the added benefit of patients remaining on Belviq for weight loss maintenance. Patients could then cycle in phentermine to break through weight-loss plateaus. If these studies are successful and Arena can get press around them, you could see a massive uptake of Belviq in late 2013 into 2014. With the weight loss market potential far greater than in 1997, you could see over 20M scripts a year written for BelPhen if the studies are positive and word gets out. However, this is all upside, and Belviq is a great drug by itself; that should not be lost on investors.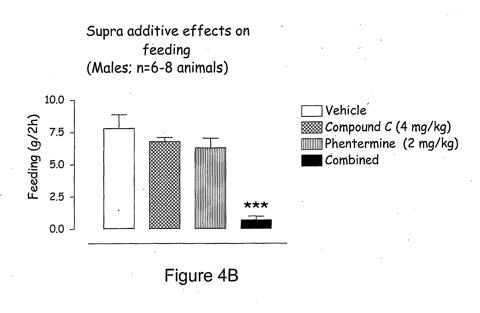 Click to enlarge
Similar studies to show Belviq's potential for early diabetics combined with Metformin are also extremely important for expanding the early Belviq market. Metformin is the standard first course treatment for Type II diabetics. Given the overall goals of reducing HbA1c and weight loss, the potential of using both Belviq and Metformin together is compelling. It will likely add to the pressure for all carriers to cover Belviq for this class of patient, and you could see millions who fall into this category. Diabetics in this case wouldn't need to lose 5% of their weight to stay on Belviq but just help them not gain weight while reducing HbA1c significantly, which even non-weight loss responders accomplished in the BLOOM-DM trials.
In addition to the insight for these new combination trials, we could see trials begin in 2013 to expand Belviq's potential for smoking cessation. At Arena's Advisory Committee meeting this year, I spoke with a couple of people from the National Institute of Drug Addiction (NIDA,) who where there to view the proceedings. They expressed their excitement about lorcaserin's potential to be used as a novel treatment for drug addiction, including nicotine. In 2011, Duke University published a study demonstrating lorcaserin's potential as a smoking cessation drug. The following graph shows how effective lorcaserin was in these non-clinical trials.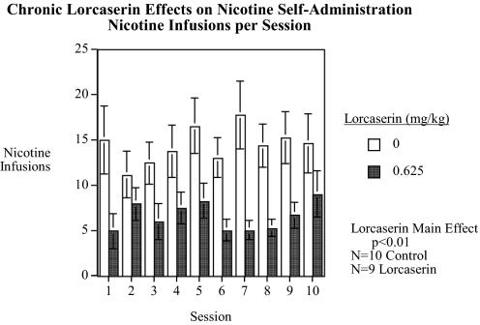 Click to enlarge
Arena also announced a partnership with Ildong Pharmaceuticals at the same time as earnings to market Belviq for the South Korean market. Ildong will be responsible for seeing Belviq through the regulatory process there and then ultimately marketing the drug. They will pay Arena a percentage of net sales for finished product ranging between 35-45%. I believe this is a great demonstration of Arena's global go-to-market strategy for Belviq, where they will partner locally to expedite getting through the local regulatory environment and speed up the global sales potential. Look for Arena to continue with these partnerships, especially in markets where there is a language barrier and local expertise needed to navigate the regulatory process, including China, India, the Middle East, and Russia. I believe Arena will wait for European approval of Belviq before partnering for Europe, sometime in Q2 2013.
In summary, I am disappointed in the current valuation for Arena given Belviq's potential as a novel drug, but I am more bullish than I have ever been as to the long term prospects for the Belviq franchise and Arena's ability to create massive earnings potential from it. I stand by my assessment of the potential and Arena's ability to follow in the footsteps of Alexion (ALXN,) Celgene (NASDAQ:CELG) and Gilead (NASDAQ:GILD) to become the next big revenue producing biotech. With positive studies behind Arena for using Belviq in combination with phentermine, metformin and then for smoking cessation, it is a franchise with endless possibilities.
Disclosure: I am long ARNA. I wrote this article myself, and it expresses my own opinions. I am not receiving compensation for it. I have no business relationship with any company whose stock is mentioned in this article.