One of the worst -- OK, probably the worst -- calls I've made here on Seeking Alpha was a bearish piece on Adams Resources (NYSEMKT:AE) back in January, when I wrote confidently that "Adams Resources Has Outrun Its Value." Less than three months later, the stock had nearly doubled, rising from $38 per share to $75.13 in early April.
And then, just as quickly, the stock crashed, falling below $30 per share in about 10 weeks. Weak first quarter earnings may have accelerated the drop, but it remains difficult, if not impossible, to explain the volatile ride of the low-float (2.1 million shares), thinly traded (three-month average volume of just 7,400 shares, according to finviz.com) stock.
What is clear, with the stock having settled down to close Thursday at $29.50, is that AE remains an interesting play for long-term value investors. To begin with, the fundamentals are outstanding. Trailing 12-month earnings are an even $6 per share, putting its P/E just above 5. The company also has a strong balance sheet, with $7.63 per share in cash and no debt, and a tangible per-share book value of $29.08.
There is likely one reason that stock seems so undervalued -- much of its recent earnings power has come from the company's Marketing segment, which has profited from its ability to move cheaper Texas oil to other markets. Essentially, the company is profiting from the Brent-WTI spread, as Adams itself wrote in its most recent 10-Q:
Comparative field level operating earnings increased in 2012 with the noted volume additions and improved unit margins. Unit margins first began to widen during the third quarter of 2011 when South Texas sourced production started selling at a discount to world crude oil prices due to its relative abundance in relation to the infrastructure available to deliver such oil to market. Favorable unit margins continued into 2012, although they are expected to diminish as additional industry infrastructure is developed in the South Texas region.
Adams has written for several quarters that it expects the spread to diminish, but the spread between Brent crude and WTI (West Texas Intermediate) has risen of late, reaching over $20 per share as of this writing. Several projects, notably the reversal of the Seaway pipeline from storage in Cushing, Oklahoma to Texas, have been expected to decrease the Brent-WTI spread. That reversal showed just how serious the glut had become, in that the Seaway is now sending oil from where it is stored to where it is produced (and, of course, shipped).
The demise of the Brent-WTI spread has been predicted for some time now, and many hedge funds have been burned by betting on its narrowing. It hasn't happened, and in fact as of late, the spread has continued to increase: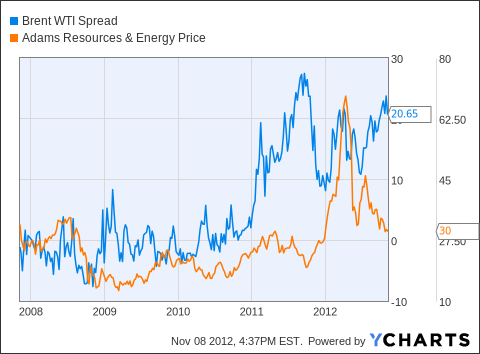 Brent WTI Spread data by YCharts
Note that AE's share price has decreased sharply as the spread has widened; perhaps the stock market is correctly predicting that the Seaway project, along with other pipelines coming online in the near future, will bring the Brent-WTI spread closer to its historical norms.
Perhaps. But, in the meantime, Adams should report third quarter earnings in the next few days (the company has not released a specific date) and the widening spread should improve earnings year-over-year. The company has also traditionally announced its annual dividend in early December -- the 2012 payout should be released shortly as well. The company has increased its dividend in eight of the last nine years -- it was maintained at 50 cents per share in 2009 -- and any increase over 2011's 57 cent per share payout should boost its yield over 2 percent. With any sort of increase, yield should increase over 2 percent. With CEO K.S. "Bud" Adams -- also owner of the NFL's Tennessee Titans -- owning 50.1% of the stock, the dividend could be boosted ahead of the second Obama term and its potential affect on investment tax rates.
If the spread does narrow, Adams' earnings may normalize, but even a return to 2011's $2.05 per share in earnings makes the stock pretty reasonably valued. Add in the short-term potential of solid earnings and/or a dividend raise, the downside protection from the balance sheet and value of the assets, and a multiple bottom for the stock around $30 per share that has held since mid-June, and Adams looks like an excellent small-cap value play for long-term investors.
Disclosure: I have no positions in any stocks mentioned, and no plans to initiate any positions within the next 72 hours. I wrote this article myself, and it expresses my own opinions. I am not receiving compensation for it (other than from Seeking Alpha). I have no business relationship with any company whose stock is mentioned in this article.