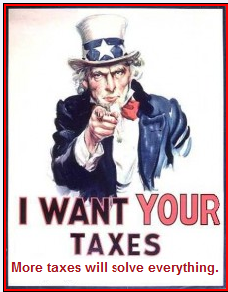 It's pretty simple: raise taxes and before they take effect investors, especially insiders, will lock up what gains they might have and book them. Current low levels of capital gains and dividend tax rates are under assault. I guarantee you, as lawmakers see these market declines increase, a softer tone may begin to appear. If not, then they're committing investment suicide. Currently, Harry Reid indicated that the country has given a mandate to Obama to raise taxes. At the same time, John Boehner has stated vaguely that some common ground could be found by eliminating some "loopholes." Either way, taxes would rise.
As this story noted, Bernanke & Co. might take QE3 to $1 trillion if the fiscal cliff is unsettled.
Stock investors are selling first and asking questions later. Permabulls, especially those with fees at stake, are spinning for investors to buy. We're nearly 70% in cash in our lead portfolio and long some income sectors. We will stay this way until the dust clears and more certainty builds.
It didn't help that equity leaders like Apple (NASDAQ:AAPL) continue to free fall, and even trusty McDonalds (NYSE:MCD) posted its first sales decline in nearly a decade.
The politics of the moment are murky, and the only voice of reason, from my perspective, came from Ron Paul Thursday. He was defeated early by the plutocracy of left and right, but his words today make the best sense:
"People do not want anything cut," he said. "They want all the bailouts to come. They want the Fed to keep printing the money. And they don't believe that we've gone off the cliff or are close to going off the cliff. They think we can patch it over, that we can somehow come up with some magic solution. But you can't have a budgetary solution if you don't change what the role of government should be. As long as you think we have to police the world and run this welfare state, all we are going to argue about is who will get the loot."
Paul was defeated perhaps because he didn't come across as telegenic or "cool" but more significantly, because he would have screwed the vested interests (plutocracy) on both the left and right.
Greeks voted last night to accept the austerity agreed upon with the troika. The vote took place while the rioters were sleeping. But, they'll be back. How long this will hold together is anyone's guess. One thing is true: TPTB in the eurozone will do everything and anything to keep this house of cards together.
Jobless Claims (355K vs. 370K expected, and prior 363K) were better, but Sandy skews this week's data and next. So, it's not a valuable data point.
The dollar (NYSEARCA:UUP) was stronger, but so too was gold (NYSEARCA:GLD), which is an odd pairing. Commodities (NYSEARCA:DBC) (NYSEARCA:USO) were somewhat stronger, as perhaps investors are looking for "real" things. With most commodity tracking ETFs, they're heavily weighted by energy, and news of an Iranian air strike on a U.S. drone (on news from last week) helped boost oil. Bonds (NYSEARCA:IEF), (NYSEARCA:TLT) and (NYSEARCA:TIP) continued to gain in strength as stocks fell.
Volume was once again elevated as selling intensified. Breadth per the WSJ was still quite negative, as stocks are now short-term oversold.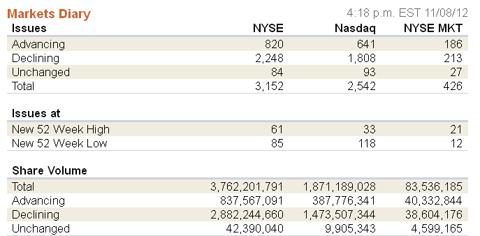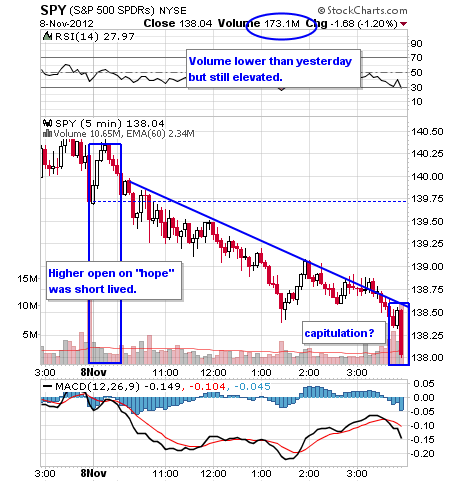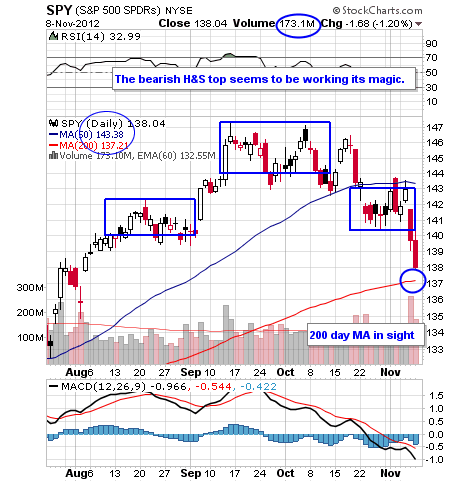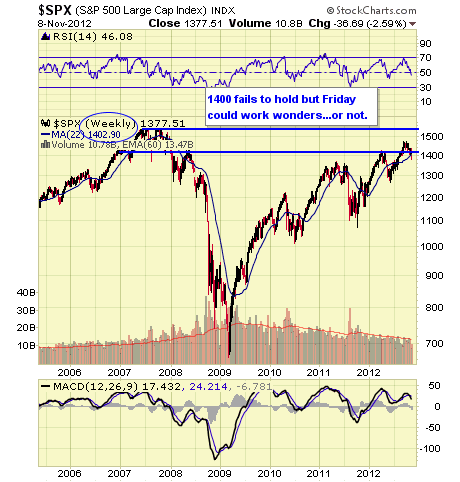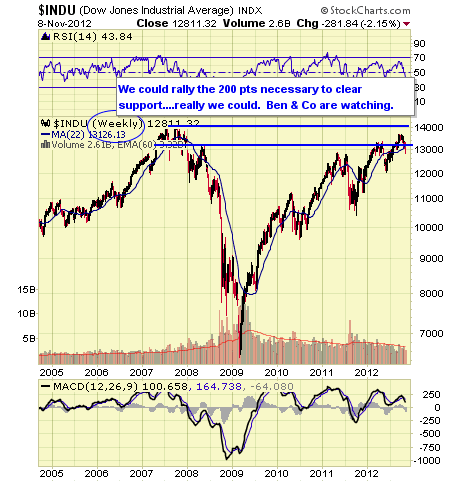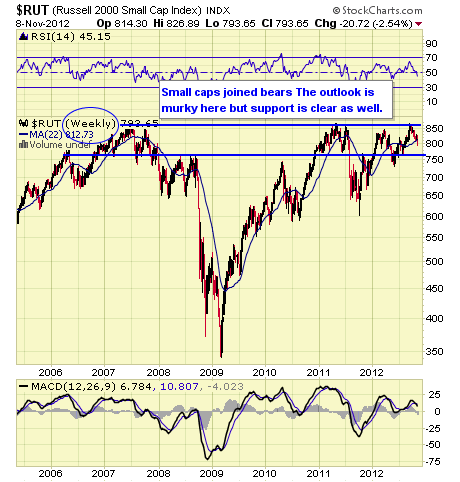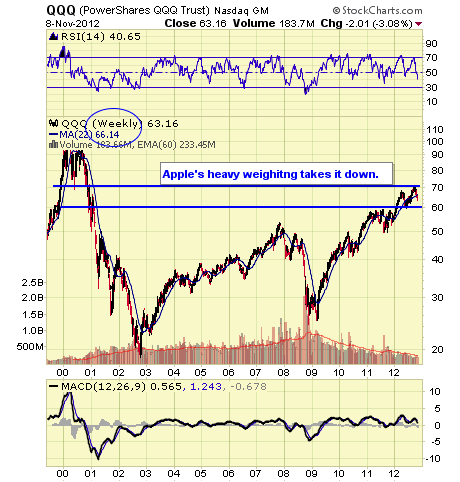 Continue to U.S. Sector, Stocks & Bond ETFs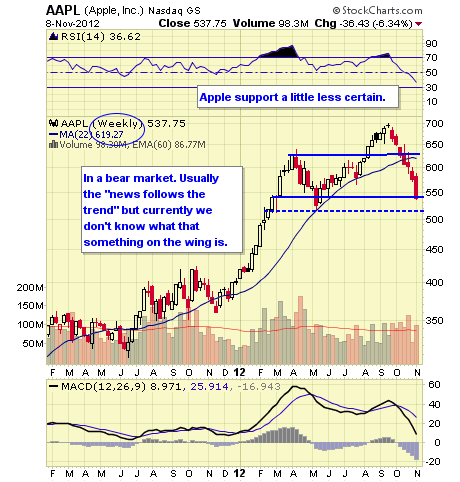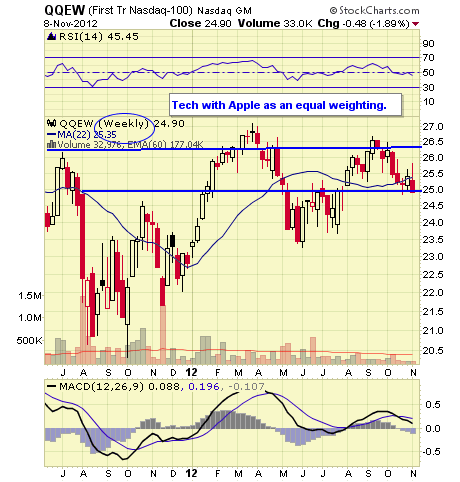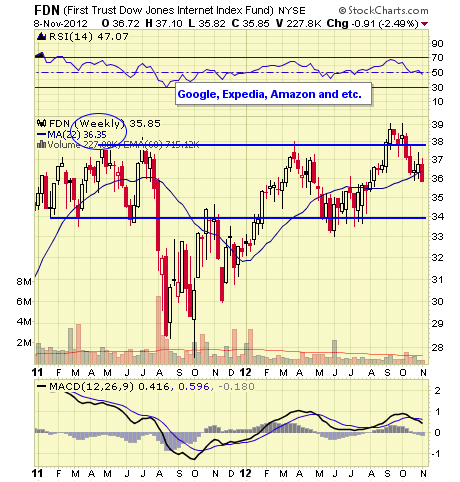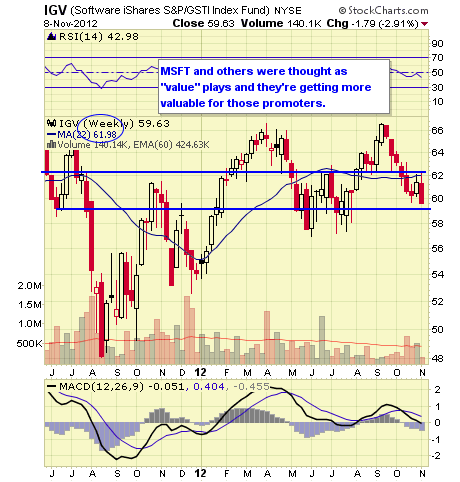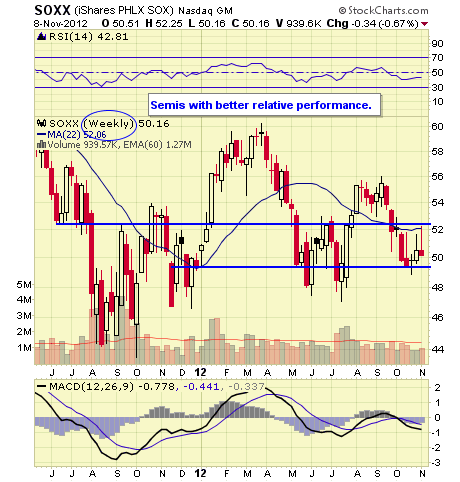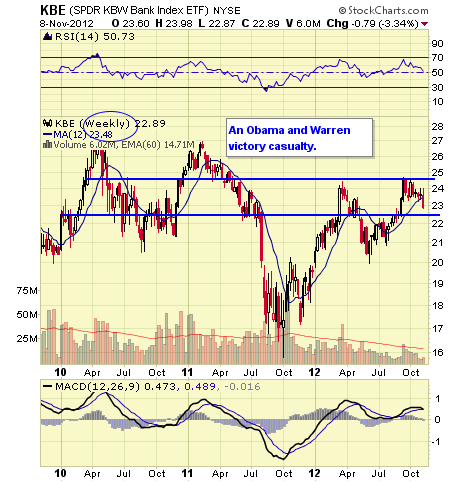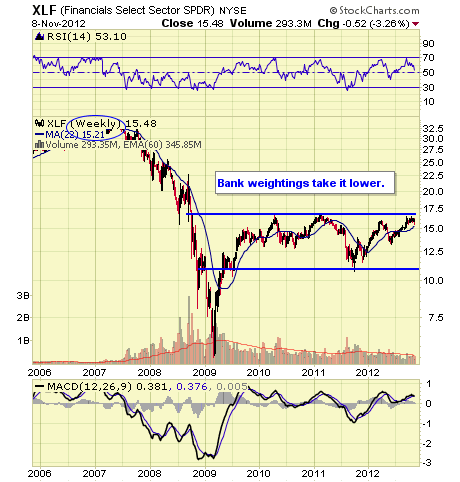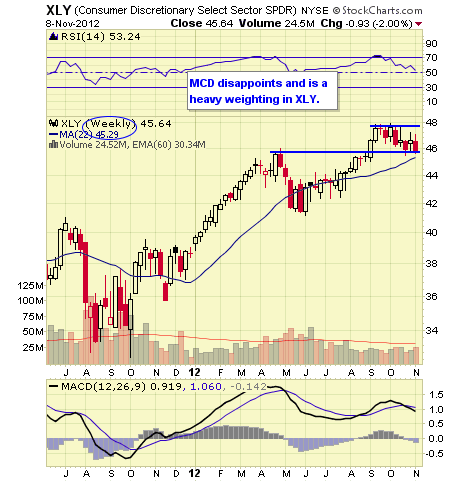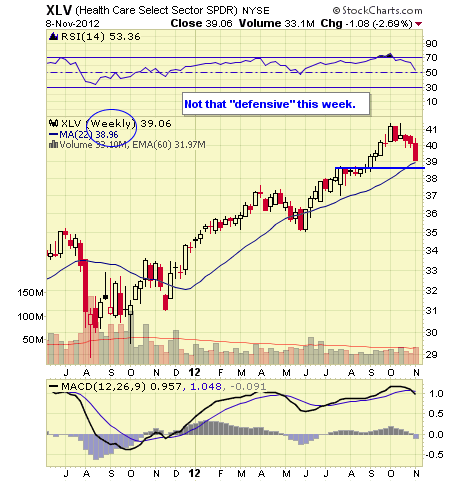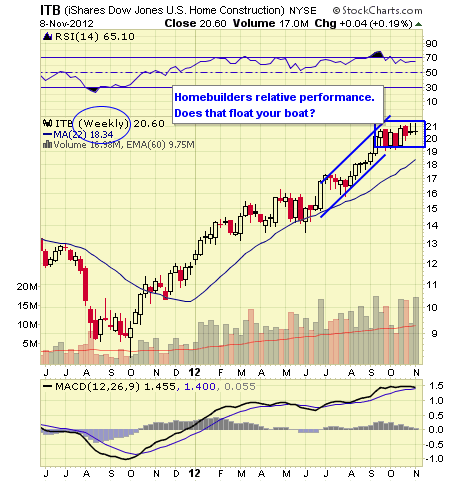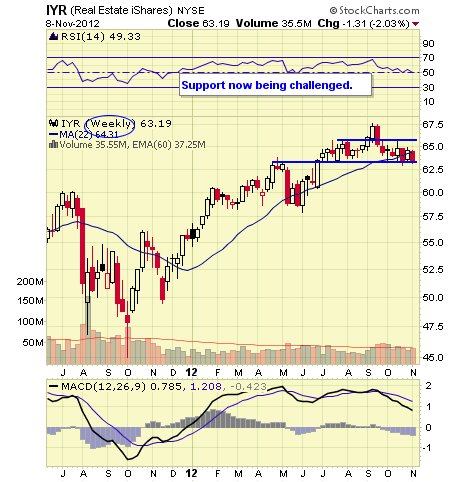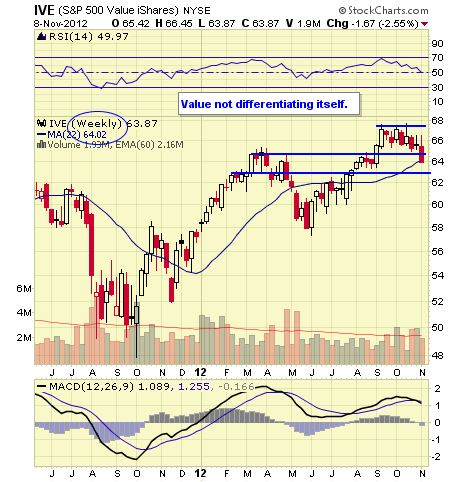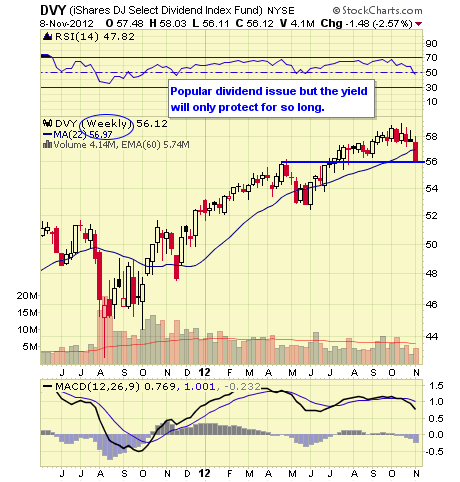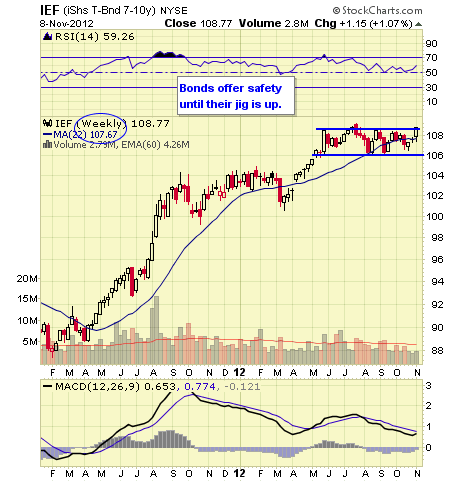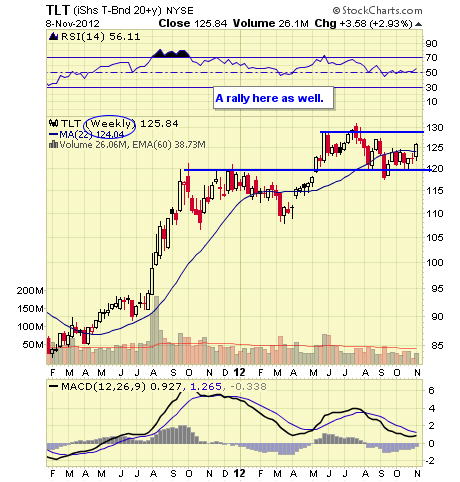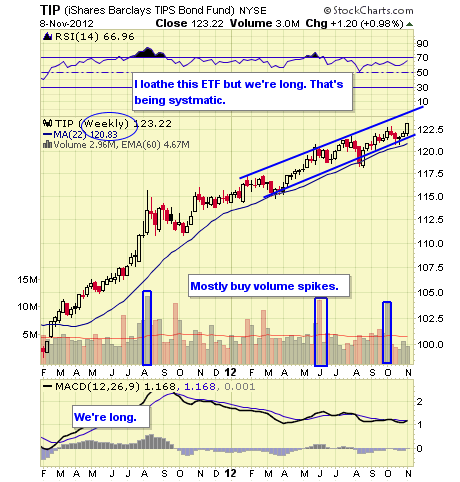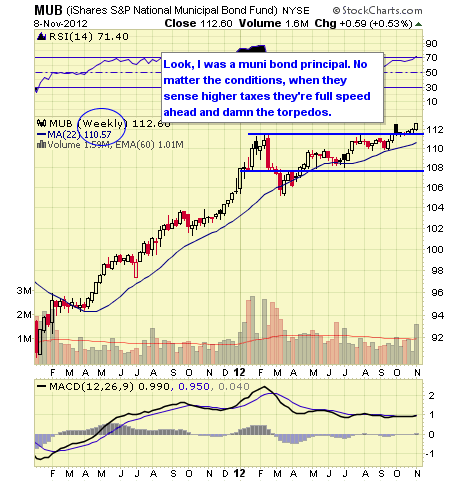 Continue to Currency & Commodity Market ETFs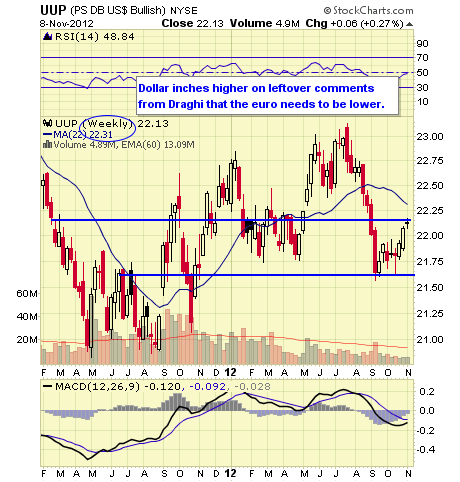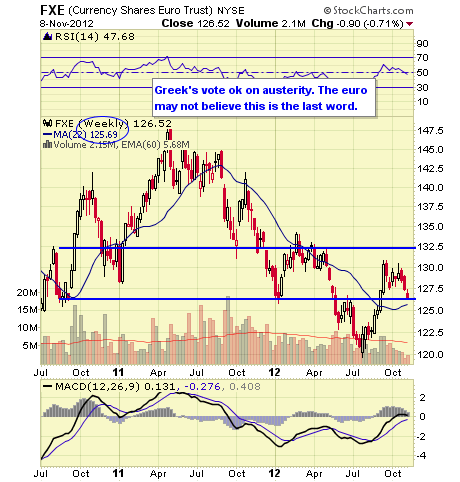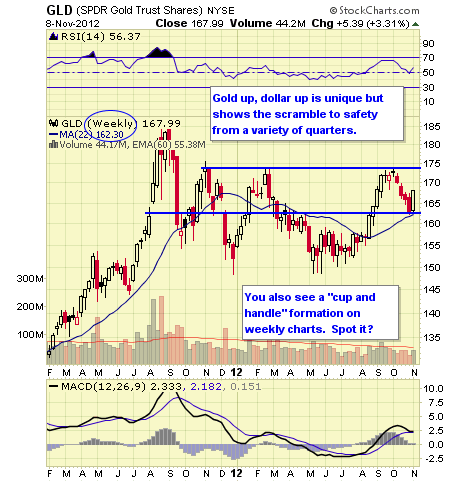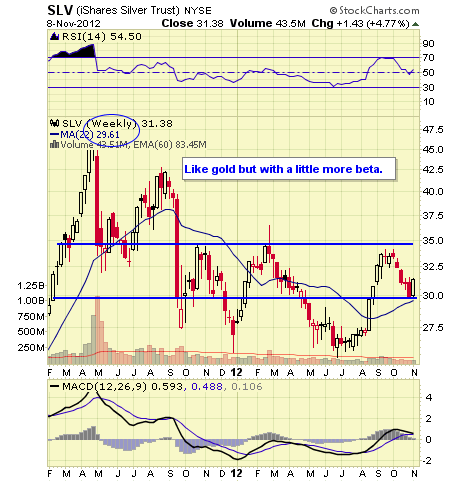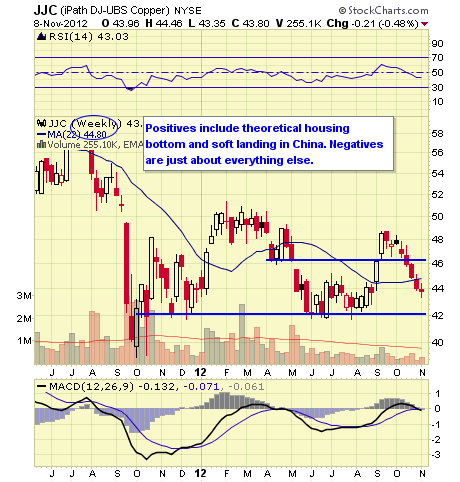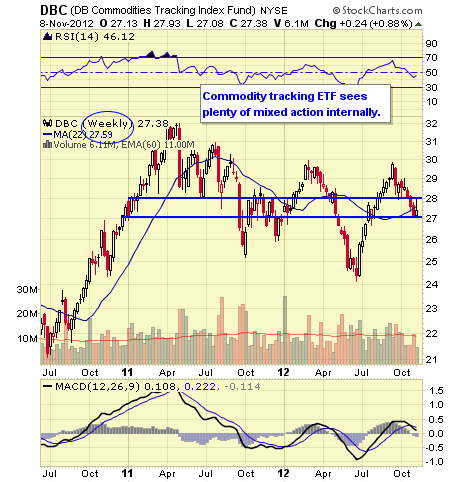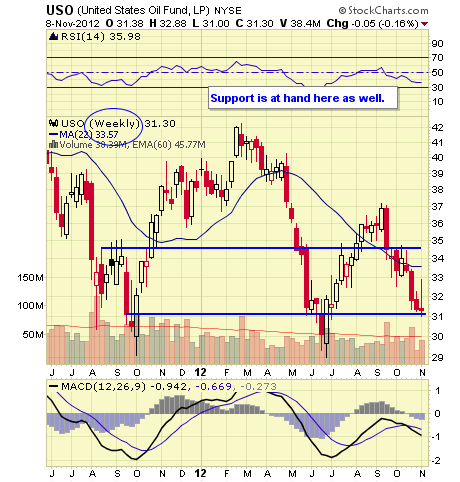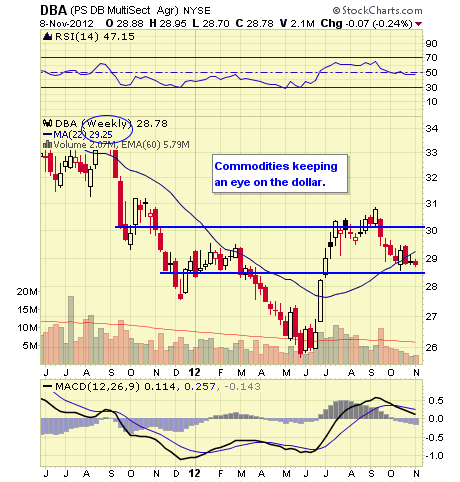 Continue to Overseas Sectors & ETFs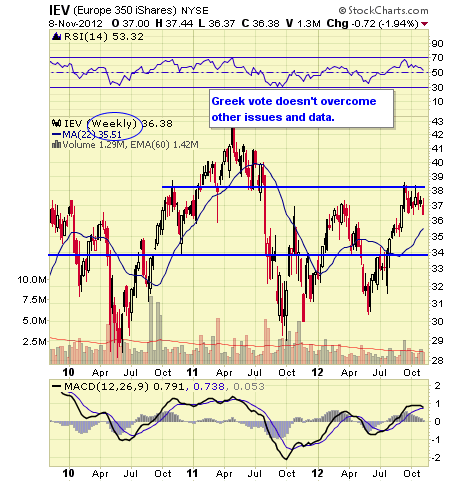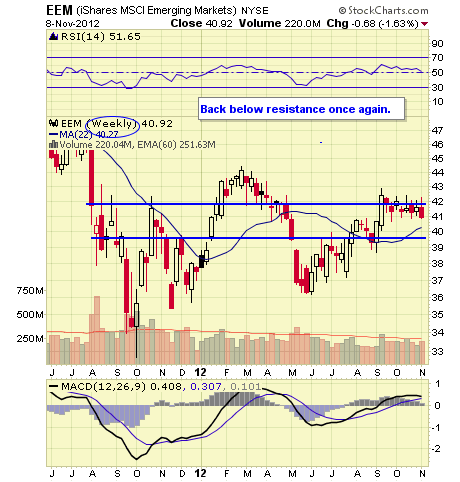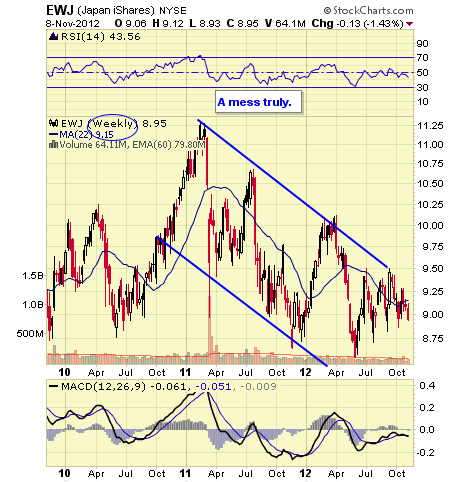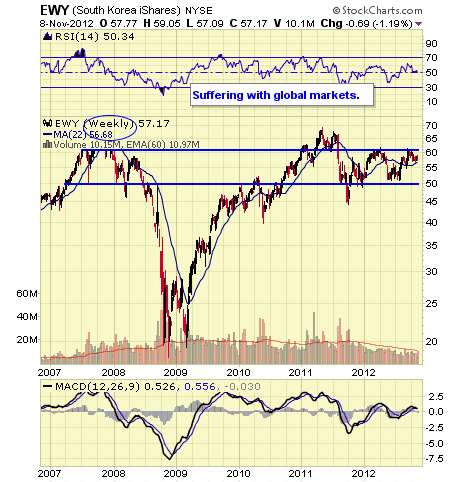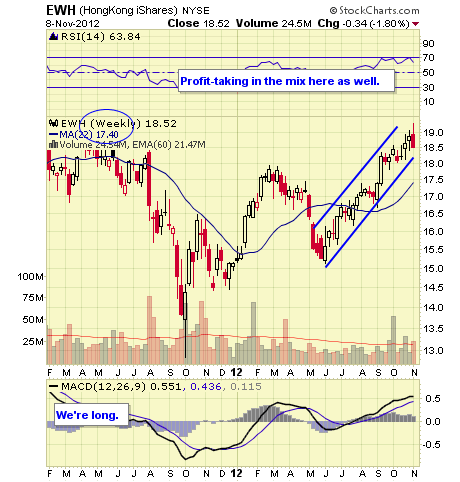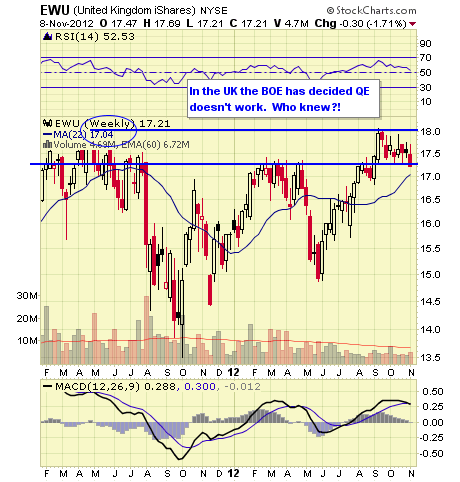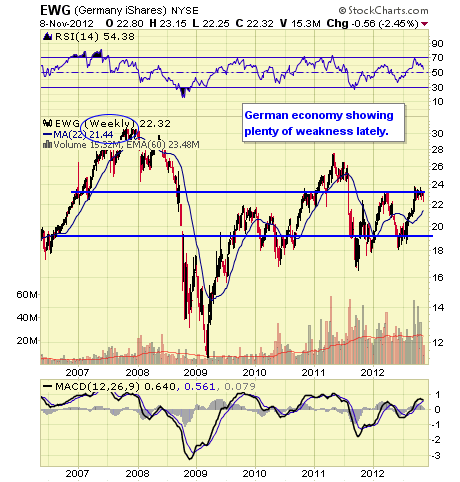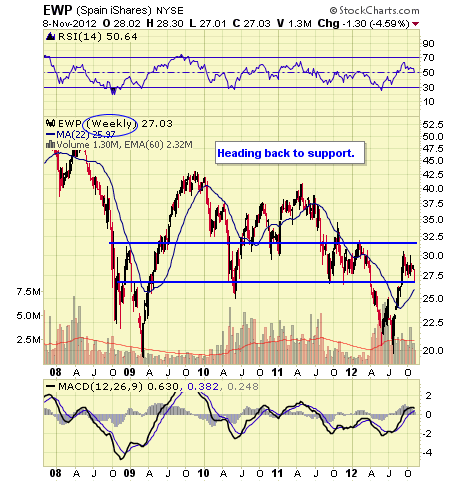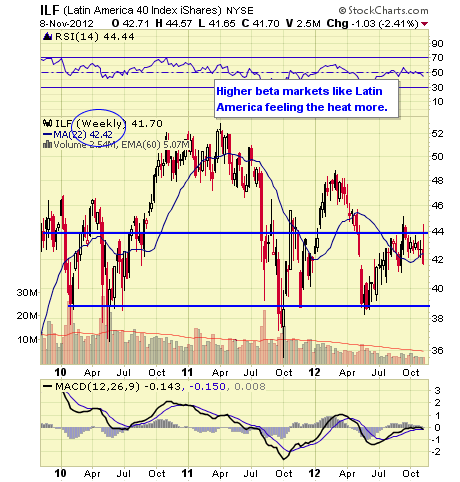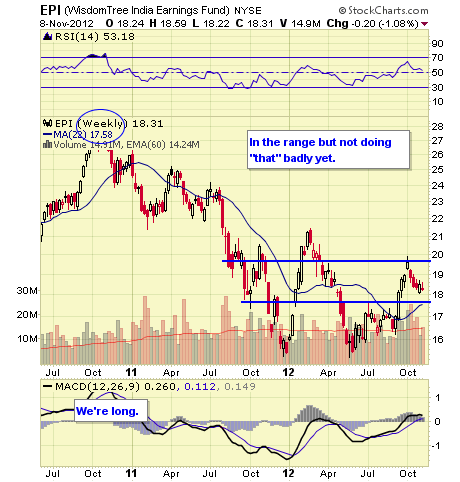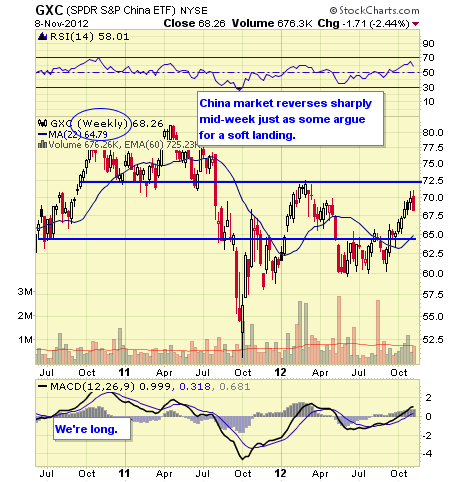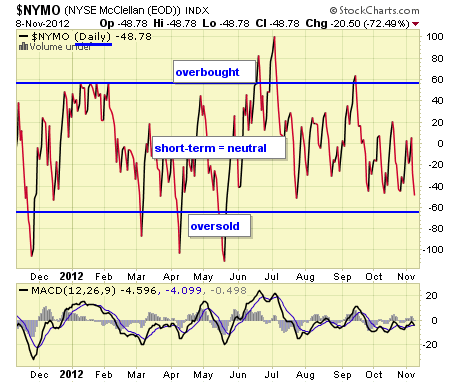 The NYMO is a market breadth indicator that is based on the difference between the number of advancing and declining issues on the NYSE. When readings are +60/-60, markets are extended short-term.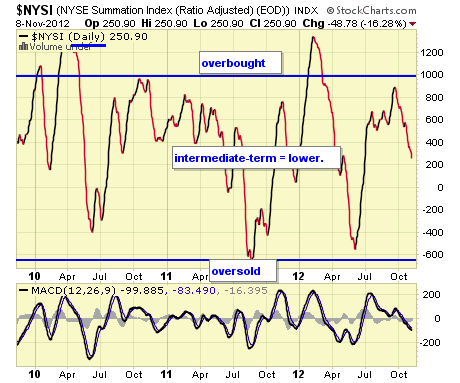 The McClellan Summation Index is a long-term version of the McClellan Oscillator. It is a market breadth indicator, and interpretation is similar to that of the McClellan Oscillator, except that it is more suited to major trends. I believe readings of +1000/-1000 reveal markets as much extended.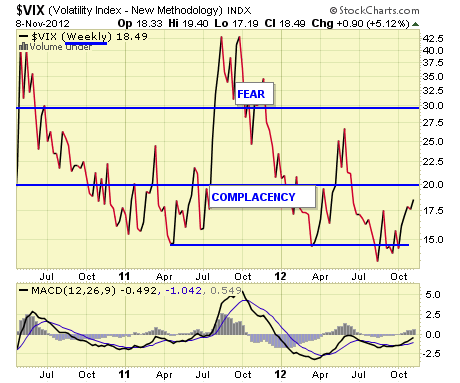 The VIX is a widely used measure of market risk, and is often referred to as the "investor fear gauge." Our own interpretation is highlighted in the chart above. The VIX measures the level of put option activity over a 30-day period. Greater buying of put options (protection) causes the index to rise.
Concluding Remarks
Taxes matter, and investors don't like them. That's the takeaway from the current action.
Friday is Consumer Sentiment, which usually is well in tune with stock prices. But the data will be a little too old to be meaningful, perhaps.
I'm still a Ron Paul supporter, even though he was trashed by TPTB and MSM. Eventually, people will turn to his principles as noted in here again.
Disclaimer: The ETF Digest maintains an active ETF trading portfolio and a wide selection of ETFs away from portfolios in an independent listing. Current "trading" positions in active portfolios, if any, are embedded within charts: Lazy & Hedged Lazy Portfolios maintain the follow positions: VT, MGV, BND, BSV, VGT, VWO, VNO, IAU, DJCI, DJP, VMBS, VIG, ILF, EWA, IEV, EWC, EWJ, EWG, & EWU.
The charts and comments are only the author's view of market activity and aren't recommendations to buy or sell any security. Market sectors and related ETFs are selected based on his opinion as to their importance in providing the viewer a comprehensive summary of market conditions for the featured period. Chart annotations aren't predictive of any future market action rather, they only demonstrate the author's opinion as to a range of possibilities going forward.
Disclosure: I have no positions in any stocks mentioned, and no plans to initiate any positions within the next 72 hours. I wrote this article myself, and it expresses my own opinions. I am not receiving compensation for it. I have no business relationship with any company whose stock is mentioned in this article.