Shipping Lines Sail Uncertain Seas - WSJ.com.
The article linked above from WSJ.com (subscription required) started me thinking about the ongoing prospects for the shipping related companies I follow. The gist of the article is that container shipping rates have fallen up to 75% reaching unprofitable levels. The Baltic Dry Index has fallen by 2/3 over the last several months, hitting the bulk shippers. The Claymore/Delta Global Shipping ETF (NYSEARCA:SEA) has fallen by 50% in the two months since it was launched. The three shipping stocks I follow here have also fallen so I wanted to revisit each and look at the prospects going forward.
First up, oil tanker company Nordic American Tanker (NYSE:NAT). NAT leases all of its Suezmax tankers on the spot market. The company has kept its expenses very low and pays out virtually all of its free cash flow as quarterly dividends. Dividends fluctuate with the spot tanker rate and vary wildly from quarter to quarter ranging from 40¢ to $1.88 during the last 4 years. Over its 10 year history the dividend has provided a greater than 10% yield. NAT share price has fallen from over $40 in late July to the current $27. The company has given guidance that 3rd quarter dividend will be in the same range as the 2nd quarter's $1.60. Earned Suezmax tanker rates for NAT averaged $64,900 for the 2nd quarter and I calculate rates for Q3 will come in near there. Early October spot rates are still in the $60k per day range, so tanker rates have not fallen like the cargo shipping.  Since the future dividends of Nordic American are unpredictable, I consider this stock an accumulate proposition when share prices fall.
Ship Finance International (NYSE:SFL) has exposure to both the dry bulk and container shipping sectors. Of the current 73 ships in the company's fleet, 11 are dry bulk and 13 are container vessels. These ships account for 14% of the asset value of Ship Finance. Over 80% of SFL's revenues are derived from their oil tankers and offshore vessels. Ship Finance leases their vessels to shipping companies on long term, bare boat leases. They get the first dollars their ships earn and should continue to get their lease payments unless one of their customers goes completely under.
For the 2nd quarter, SFL had $1.57 in free cash flow to easily cover their 58¢ dividend. About $1.20 of the cash flow is from their long term leases and the balance is from the profit sharing agreement with Frontline (NYSE:FRO). A recently announced deal to buy and lease back a pair of deep sea drilling rigs with SeaDrill will add an additional 90¢ per quarter starting Q2, 2009. I believe the current 16% dividend is secure and will grow over the next several quarters. The only problem I foresee is possible difficulty obtaining financing for future deals. The graphic below shows the different banks that Ship Finance does business with and we are all guessing as to when access to additional funds for companies like SFL will be possible. Please note, they are in no need of any additional financing at this time. I think SFL is a great value at the current share price.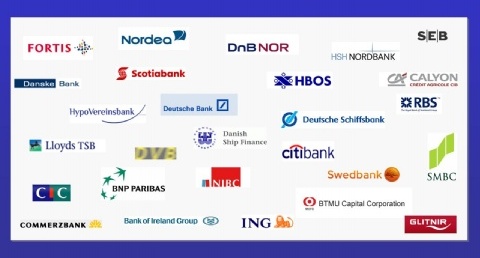 Star Bulk Carriers (NASDAQ:SBLK) is a much more speculative pick in this sector. Star Bulk is a year-old start up with a fleet of 12 bulk carriers. The company plans to keep all of their vessels on longer term contract and are currently booked 90% through 2009 and 60% through 2010. The current 35¢ quarterly dividend appears to be well covered by earnings. Of course, any kind of hiccup in their contracts would kill this company's cash flow. If earnings have been maintained when the 3rd quarter results are announced, the current stock price is going to look like a great value. This is a high risk opportunity that may end up with a 24% yield plus stock price appreciation if the company's contracts are solid.
SFL and NAT are components of my site's Income Portfolio. NAT and SBLK are included in the Opportunities Portfolio. These portfolios are for the hypothetical tracking of stocks I am interested in.
Disclosure: I have long positions in NAT and SFL