Company Had Three of the Top Four Best-Selling Games in North America and Europe for the First Nine Months of 2012
Company Raises 2012 Net Revenues and EPS Outlook
"For the quarter ended September 30, 2012, the company delivered record GAAP net revenues of $841 million..."
"For the quarter ended September 30, 2012, Activision Blizzard delivered record GAAP earnings per diluted share of $0.20..."
"[We] expect to deliver record non-GAAP operating margins and the highest non-GAAP earnings per share in our company's history. We now expect non-GAAP earnings per share will increase more than 18% year over year..."
Those are some of the highlights from Activision Blizzard's (NASDAQ:ATVI) third quarter earnings release after hours Wednesday. The quarter beat analyst estimates - the company raised non-GAAP earnings guidance for 2012 to $1.10 per share. And, surprisingly, the stock dropped, falling about 1.2% to close at $11 per share after opening higher in early trading.
The drop leaves Activision Blizzard's valuation at surprisingly low levels, and must leave shareholders wondering what exactly the company has to do to move its share price. The company trades at exactly 10 times its 2012 non-GAAP guidance; and it still has over $3 per share, some 28% of its market capitalization, in net cash on the balance sheet. For a market leader in any industry, such a valuation would seem almost ludicrous on its face, let alone a company like Activision Blizzard, which has navigated the video game industry since making games for the Atari 2600 in the early 1980s.
Of course, there are reasons for both Activision Blizzard's current valuation and its weak intraday performance Thursday. The video game industry is seeing sales decline dramatically, with year-over-year declines over 20% in several months this year (although digital downloads are growing). Subscribers to the company's World of Warcraft role-playing game have been declining, lowering revenues at a long-time cash cow for ATVI. There have been no new gaming consoles released for some time, and there are fears that mobile and tablet gaming could cannibalize traditional console game players - fears accentuated by recent rumors of a gaming-focused tablet from Microsoft.
As for the Q3 report, some of the bottom-line beat came from a lower tax rate, thanks to a one-time tax benefit (h/t The Motley Fool), while the strong release of Diablo III created a strong boost the company simply can't expect every quarter. As analysts digested the details of the report and the company's post-earnings conference call, they may have seen some weakness behind the gaudy headline numbers.
Still, neither ATVI's drop Thursday nor its low valuation - its enterprise value is less than 8x its trailing 12-month free cash flow of $1.15 billion - makes a whole lot of sense. Yes, there are challenges facing the industry, but Activision Blizzard is the undisputed leader, and has adapted its business model for decades now. Yes, WoW subscribers have been a concern, but subscriber count actually rose by nearly one million, thanks to sales of 2.7 million copies of the Mists of Pandaria expansion pack. And, yes, the resounding success of Diablo III won't be replicated every quarter, but a new Call of Duty edition premieres next week, which will boost Q4 results. Publishing unit CEO Eric Hirshberg said on the conference call that "the game has the potential to be biggest selling game of all time," with pre-orders strong. Hirshberg also dismissed near-terms concerns about mobile cannibalization, pointing out that while the company is developing in the mobile space, the space has a long way to go. "Mobile and tablet gaming are an exciting way to broaden our franchises but are not yet financially meaningful," he told analysts. (Just ask Zynga (NASDAQ:ZNGA).)
In short, Activision Blizzard is continuing to do what it has done for years: churn out blockbuster franchises, leverage them into merchandising and expansion pack revenues, and consistently create earnings and cash flow for its shareholders. As I noted back in May, Activision Blizzard has slowly but surely grown its share price for years now, with very little volatility (its beta is just 0.53, according to finviz.com), and its margins have steadily improved as well, beyond this year's projected record non-GAAP operating margin:
(click image to enlarge)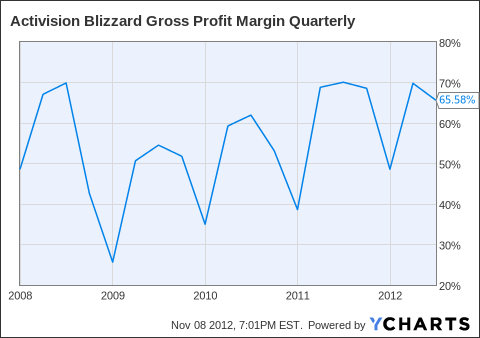 ATVI Gross Profit Margin Quarterly data by YCharts
Past performance, of course, does not guarantee future success, and there is little doubt that the gaming world is in for a transition. But it seems highly unlikely that video gamers will just disappear, which begs the question: whose games are they going to play? Hard-core gamers used to in-depth graphics, role-playing, or strategic games aren't going to play games from the "creatively...[and] morally bankrupt" Zynga. ATVI's largest competitor Electronic Arts (NASDAQ:EA) continues to struggle, and its Star Wars: The Old Republic multi-player game - which was supposed to peel off customers from World of Warcraft - now offers free access to its beginning levels. THQ (THQI) is facing fears of a bankruptcy filing. Take-Two Interactive (NASDAQ:TTWO) can't get its games out on time.
Gaming may change, but it seems certain that it will continue to exist in some form, and right now Activision Blizzard holds a competitive position that would be the envy of any company in any industry. It is, without a doubt, the best in breed. There is no company in the world that can consistently create blockbusters the way Activision Blizzard has. Meanwhile, the idea that gamers content to pay $60 for a console game or $12-$15 a month for access to WoW - both very low costs relative to the tens and often hundreds of hours of entertainment received - will switch to free games on their mobile phone or tablet simply to save a few bucks vastly overestimates the quality of mobile games right now. And it vastly underestimates the ability of Activision Blizzard, the clear market leader, to adjust to those trends.
What investors are getting with ATVI is a best-in-breed company selling for less than 8 times its trailing free cash flow + net cash. The stock pays a small annual dividend that has been raised each of the past two years after being instituted in 2010 - a similar raise in 2013 could push the yield near 2%. The company has also repurchased nearly $3 billion worth of stock since 2009, adding to its shareholder-friendly credentials. There are risks to the company's business model, but there is also no company on Earth better suited to adapt to the changes coming in the video game industry. With a strong operating history, a focus on shareholder returns, and a low valuation, Activision Blizzard is poised to succeed. At some point, the market will figure that out.
Disclosure: I have no positions in any stocks mentioned, and no plans to initiate any positions within the next 72 hours. I wrote this article myself, and it expresses my own opinions. I am not receiving compensation for it (other than from Seeking Alpha). I have no business relationship with any company whose stock is mentioned in this article.