Earlier this year, we compared Apple (NASDAQ:AAPL) to Nokia (NYSE:NOK), asking much the same question as the above headline. And the answer has stayed much the same, only much more imminent. While both companies have had nearly opposite success since the dotcom bubble, there is reason to believe that NOK's direction will soon begin to change. It was less than a year ago that people began to really recognize one of Steve Jobs' final gifts; a smartphone that not only dominated in sales and customer satisfaction, but also in margins. This, among other things of course, took AAPL to new heights after an already successful past decade. NOK, on the other hand, has fallen from grace after being an industry titan. NOK was late to join the smartphone game, and NOK has repeatedly hit new lows. NOK has had negative earnings with discouraging regularity. They have only retained 10% of institutional investors and only 9 out of 63 analysts recommend NOK as a "buy" according to the Wall Street Journal.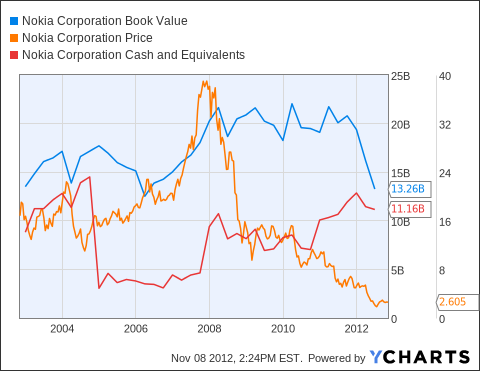 NOK Book Value data by YCharts
In spite of an essentially lost decade for NOK, there is still hope that could transform into confidence soon. To paraphrase NOK CEO Stephen Elop in a recent interview (the full 15min interview is a great summary of NOK and the smartphone market in general), right now may be the turning point that people talk about in future references to the rebirth of the company. And there is convincing evidence to see why it may be the case:
1. NOK has been restructuring for years. They have accepted their failures early (unlike former peers like RIMM) and cut costs while also readjusting their sights on offering competitive smartphones.
2. NOK is finally beginning to put out products that can truly compete. They have features like wireless charging and exemplary screens and cameras packed into form factors that have rarely been criticized. They take maps seriously, and all of this is being priced lower than the competition. And to top it off, it is all hitting the shelves in time for the holidays this year.
3. NOK never lost the culture of innovation; take a look at the company's R&D and this is obvious. Earlier this year, they put out a smartphone with a 40-megapixel camera, and in the next year or two, we will start to hear more about smartphones with flexible displays among other things.
4. NOK is cheap. While nobody wants to jump into a value trap, this may be the point where NOK drops the trap and begins to present value. This is not suggesting that investors should buy NOK for their nearly 10% dividend, but rather because the price to book value is at around .8.
5. The dominance of the iPhone is finally in question. The smartphone arena has more options than ever, and companies like NOK have finally put forth worthy competition, while Apple's iPhone has lost a bit of edge.
6. The smartphone market is maturing quickly but still growing, so it is not too late for NOK to enter the market.
7. Nokia has a great deal of cash for the size of the company, which means it can afford it if demand builds slowly.
8. NOK still has a strong presence in secondary lower-price markets, and a secondary line of smartphones to serve them. As smartphone prices go down and the market becomes more commoditzed, NOK can utilize its already strong ties and a good reputation in this area, whereas companies like Apple will be new.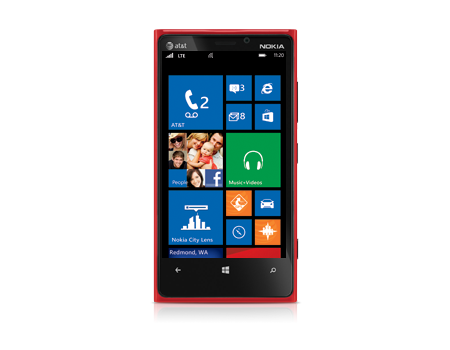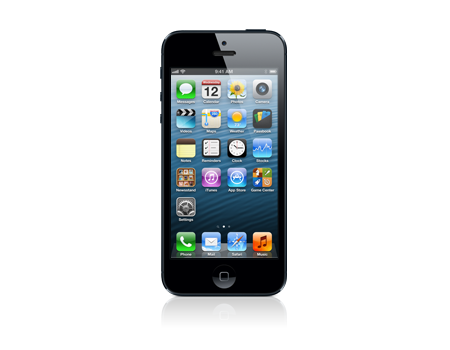 The above list and AAPL's recent 20% decline does not denote that AAPL is in a precipitous permanent decline or that NOK will climb 1000% in 2013. AAPL is still making fantastic products; in fact, this could be a great point to buy AAPL considering that they typically have a holiday surge to accompany their product cycle (this year macroeconomic and governmental factors will weigh heavier than usual). It is not time to trade AAPL for NOK, but it is time to start seriously looking at trading something else for NOK. It is a bit like a tinkerer who has finally begun making elegant mechanisms after years of making simple tools of utility. NOK has great phones now, but their Windows Phone 8 OS provided by a partnership with MSFT must also gain traction. The OS is a long way from Google's Android and Apple's iOS. But the Windows Phone 8 reviews have been good so far, and there are a flurry of products hitting the market with it. NOK is still only for those comfortable with heavy risk; it is still speculative. But the transition from speculative to savoir-faire can happen very quickly in tech. And that 10% dividend might serve as a bit of a hedge to any further declines. This is a great time for investors to start paying closer attention to NOK. Elop was not just tooting his own horn when he said that this could be a historical turning point for NOK. It would not be surprising to see an underdog of tech once again become a darling of the industry; it would not be the first time, just look at Apple.
Disclosure: I am long AAPL. I wrote this article myself, and it expresses my own opinions. I am not receiving compensation for it (other than from Seeking Alpha). I have no business relationship with any company whose stock is mentioned in this article.
Additional disclosure: I may initiate a long position in NOK in the next 72 hours.