Green Mountain Coffee Roasters (NASDAQ:GMCR) is trading at price-to-earnings multiples below other coffee companies, while its growth trajectory is among the best of its peers. For this reason, it is a compelling buy opportunity. It is not as trendy as other brands or stocks, but its valuation is compelling.
Single-serve coffee was once a staple of coffeehouses, but has since made the move to households across the U.S. The market is led by Keurig, which operates under Green Mountain Coffee Roasters - but other coffee companies are likely to close its lead. More competitors are entering the market with their own versions of single-serve coffee machines.
Single-Serve Coffee Brews Competition
Green Mountain Coffee Roasters is no longer the only game in town. Starbucks (NASDAQ:SBUX) launched a single-serve Verismo machine, which can make espresso and coffee. The Esio Beverage Company has licensed Wal-Mart (NYSE:WMT) to sell its machine that can make both cold and hot drinks. A new player, commercial beverage equipment maker Bunn, is entering the market. Bunn's home machine is named MyCafe, and will be compatible with Keurig's single-serve cups. These competitors risk Green Mountain's leadership in the single-serve coffee market, threaten price competition, and narrower margins.
Despite the competition, Green Mountain remains the leader in the market, attributing its success to customer loyalty and the quality of its products, among others. Green Mountain took over half the retail market in 2011, which was lower than its market shares in previous years.
Computing Future Valuations from Growth Projections
Fortunately, the market may have overreacted by dumping GMCR shares. This could be a buying opportunity.
Investors should buy stocks trading at prices which make them good deals. A poor company trading at a dismal price may be an excellent trade. Green Mountain Coffee Roasters is a good company trading at low valuations. Its metrics are provided with other coffee companies:
| | | | | | |
| --- | --- | --- | --- | --- | --- |
| Ticker | Company | P/E | Earnings Growth Est. | P/S | Historical Sales Growth |
| GMCR | Green Mountain Coffee Roasters | 11.7 | 20.6% | 1.1 | 63.7% |
| | McDonald's | 16.6 | 9.1% | 3.2 | 5.3% |
| | Caribou Coffee Company | 23.8 | 22.7% | 0.7 | 6.7% |
| SBUX | Starbucks | 28.9 | 18.1% | 3.0 | 7.2% |
| | Dunkin' Brands Group | 43.9 | 17.0% | 5.0 | NA |
Source: Finviz.com
Future valuation multiples of GMCR and its peers were modeled by combining expected growth and trailing valuation multiples. Graphs of future price-to-earnings and price-to-sales ratios based on analyst earnings growth estimates and historical sales growth follows: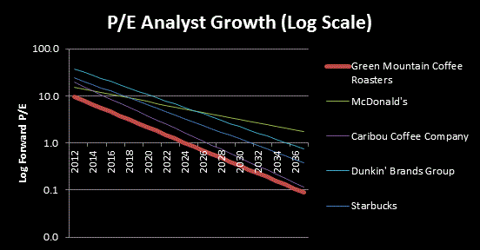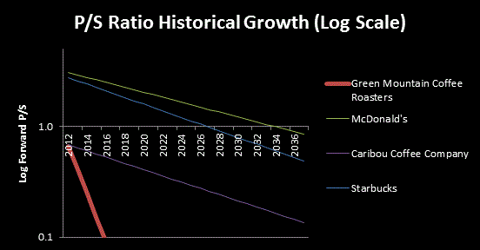 These projections illustrate the dominance of current valuations for Green Mountain Coffee Roasters. Its valuations start low and they keep getting smaller at a rate that beats or meets its peers. At these rates, the only price multiple that would overtake it would be the price-to-earnings multiple of Caribou Coffee. Their P/E ratios would converge in 2052.
Ridiculous? I agree. I don't expect these rates to continue for more than a couple years. Over the long term I expect convergence. This would send shares of GMCR up to its peer valuations and their valuations down nearer to the multiples of GMCR.
Green Mountain Coffee Roasters is not trading at low valuations because it lacks high analyst estimates for growth or historically lacked growth. On the contrary, it has a growth that rivals or trumps its competitors. Instead it appears that Green Mountain Coffee Roasters is being punished for falling from grace. Investors are afraid that its larger competitors (e.g., Starbucks) will compete it into oblivion. This is unreasonable given its market presence, healthy operations, and good analyst forecasts.
This is a case of the market pricing a good company at a terrible price because it is no longer a darling growth story. That's okay: the stock of a good company trading at a terrible price is a buying opportunity.
Please read the article disclaimer.
Disclosure: I have no positions in any stocks mentioned, and no plans to initiate any positions within the next 72 hours. I wrote this article myself, and it expresses my own opinions. I am not receiving compensation for it (other than from Seeking Alpha). I have no business relationship with any company whose stock is mentioned in this article.