As mentioned yesterday, the market tell everyone was watching today was the Lehman Bros. CDS auction. The results were not unexpected with the bidding coming in at 8.625 cents on the dollar.
The market continued to slide lower for most of the day, with the VIX volatility index reaching an eye-popping ~72%+
As I hinted yesterday, LIBOR may have topped because today it is down very slightly (at least it didn't go up!). The overnight LIBOR rate is down to 2.47% from Thursday's 5.09% - the chart below is for 3 month LIBOR. But the TED spread continues to creep up. What makes this wealth erosion devastating is that we are stair-stepping down in the stock market, rather than free-falling in full crash mode.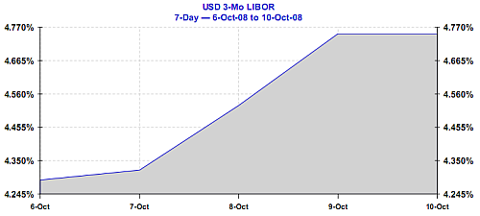 Click to enlarge
Something that has been pushed off the radar by the financial crisis is the dismal state of both Ford (NYSE:F) and General Motors (NYSE:GM). There was a time when Wall St. looked at GM as a barometer of the economic health of the US. The stock is now trading at single digit levels it was during the 1950's when the Dow was trading at the 200 level.
Iceland, as you've heard, is now bankrupt and is listed on eBay. Their currency is worthless as banks refuse to even touch it.
Headlines are shouting: "The End of American Capitalism" and worse. Rothschild is purported to have said:
"It requires a great deal of boldness, and a great deal of caution, to make a great fortune."
The trick is to be bold when everyone else is fearful and to be fearful when everyone else is bold. If you can do that, then come back and teach me.
If nothing else, all this will make for a great story for your grandchildren, in some Mad Max distopian future.