Kinder Morgan Energy Partners LP (NYSE:KMP) is a pipeline transportation and energy storage company in North America and one of the largest master limited partnerships. KMP operates more than 37,000 miles of pipelines for oil and natural gas transport and owns 180 terminals that can handle and store liquids, gases, and dry-bulk materials, such as coal. With KMP's presence in many segments and dominance in some, KMP routinely generates cash flow well in excess of its capital costs, supporting its wide moat rating. In the business of oil and gas midstream operation, the larger the asset footprint, the greater the opportunity set for new investment, thus allowing KMP to maintain their competitive position. With the recent pull-back, investors might want to take a look at this stock with strong cash flow and review the options strategy in this article which allows the investors to purchase the stock at a discounted price while potentially gaining from the continued short-term selling.
The Recent Analyst's Call and Fundamentals Overview
On Nov. 7, KMP's neutral rating was reiterated by Zacks with a target price of $87.0. As quoted directly from Reuters,
"We are maintaining our Neutral recommendation for Kinder Morgan following the third quarter 2012 results. The partnership delivered positive performances across each of its business segments. But more importantly, management hiked its quarterly cash distribution rate by 9% year-over-year. We expect Kinder Morgan to seize attractive investment opportunities in the near term, particularly in the Eagle Ford and Haynesville shale plays. However, the partnership remains vulnerable to macro conditions, unstable oil & gas prices and interest rate fluctuations. Therefore, we see limited upside potential and are sticking with our prior recommendation," as wrote by Zack's analyst.
From the fundamental perspective, KMP's operation efficiency can be shown by its higher than the average operating margin of 27.4%, ttm, and net margin of 14.3%, ttm, as compared to the averages of 11.1% and 4.7%. Nonetheless, the growth remains a concern for KMP with -11.2 and -49.5 for the revenue growth and EPS growth for the average of past 3 years, which are below the industry averages of 7.1 and -6.5. The Company's ROE of 12.9 is higher than the average of 10.8, but its debt-to-equity of 1.5 is slightly higher industry average of 1.4, as data gathered from MorningStar. With the current economic condition, KMP will have a tough time for growth. However, KMP's dividend remains safe with its consistent cash flow.
Technical Review
KMP closed at $82.30 with 1.53% loss on Wednesday, where Dow Jones dropped 2.36% and S&P declined 2.37% following President Obama's winning. The volume of 802,592 was 57.4% more than the 30 day average of 510,053 shares. KMP had been trading in the range of $73.95 - $90.60 in the past 52 weeks. The MACD (12, 26, 9) indicator had been showing a bearish sign since Oct. 21 and the MACD difference continued to diverge. With yesterday's drop, KMP had broken and closed below its 50-day MV of $82.57. The momentum indicator, RSI (14), is also showing increased selling pressure. As seen from the chart below, KMP's next major support will be at $80.48, its 200-day MV. If KMP can rebound back above its 50-day MV, the next resistance will be $85.42, R1 pivot point, followed by $87.17, R2 pivot point.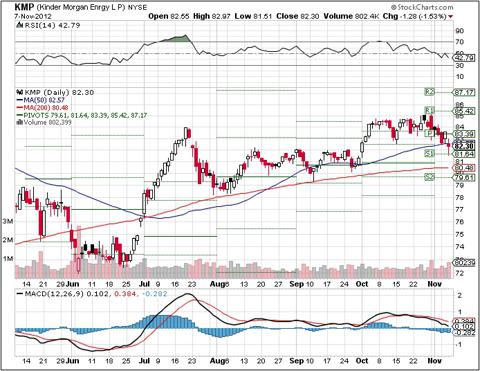 Source: StockCharts.com
Options Play
The long-term cash flow for KMP is secured while KMP maintains its competitive advantages in the oil & gas midstream industry. However, the short term selling pressure may continue. Below, we will review an option strategy for traders and investors who are bullish on KMP's long-term outlook or who are interested in KMP's strong, consistent cash flow while trying to capture the short-term bearish trend. The options setup will involve the following:
Short 1x Mar. 16, 2013 Put at the strike price of $77.5
Buy 1x Mar. 16, 2013 Put at the strike price of $72.5
Buy 1x Dec. 22, 2012 Put at the strike price of $77.5
With this options play, we can capture the short-term downside profit with December, 2012 out-of-money put while we can also enjoy the longer term profit if KMP stays above $77.5 by Jan. 19, 2013. However, if KMP fails to stay above $77.5 upon options expiration on Mar. 16, 2013, we will acquire KMP stock at a discounted price below $77.5. The short-term Dec. put can be closed when the technical trend for KMP starts to turn bullish. For investors who are interested only in the long-term setup, a simple credit put spread will work out the best to acquire the stock at a further discounted price and with a limited downside risk.
Disclosure: I have no positions in any stocks mentioned, and no plans to initiate any positions within the next 72 hours. I wrote this article myself, and it expresses my own opinions. I am not receiving compensation for it (other than from Seeking Alpha). I have no business relationship with any company whose stock is mentioned in this article.
Additional disclosure: Short-term Bearish and Long-term Bullish