With the 2012 elections now over, it is now likely that income tax rates on dividend income will increase dramatically. This will hurt stocks that investors seek out for their dividend income; however, as Andrew J. Duffy, CFA, President & Senior Portfolio Manager for Ascent Investment Advisors, LLC, explains (in an email to me earlier this week):
The Bush tax cuts will likely expire at the end of the year and all current "qualified dividends" (i.e., on non-REITs) will once again be taxed as ordinary income. REITs have always been taxed that way so they will once again be on a level playing field.
And while institutional investors may have preferred to have a financial leader like Mitt Romney in the White House, the "more of the same" administration has promised rates to remain low and that benefits the higher yielding equity groups such as REITs. As Andrew Duffy, CFA explained (by email):
Expect rates to stay low which will make the REIT dividend that much more attractive vs. the 10 year (already lower) and corporates, and continue to provide a low cost of debt tailwind for commercial real estate and REITs.
For many REIT investors that tailwind works best for the sectors that are generating the lowest risk with the highest returns. Office REITs, which typically don't pay high dividends (3.3%), remain concerning as the fundamentals remain weak due to continued weakness in job growth.
With little new construction in the pipeline, Retail REITs have benefited and the decline in retail vacancies can now appropriately be called a trend towards recovery. Retail rent growth has been measured, but at least follows a positive trajectory as well. While the worst may now be over for Retail REITs, risks remain given the fragile state of the economy as a whole.
Healthcare REITs are predominantly considered a defensive sector due to the non-cyclical nature - namely, people do not tend to change their healthcare spending patterns depending on the economy. Accordingly, healthcare REITs indirectly participate in the defensive nature of their tenants through their lease payments.
Before the election, there was considerable uncertainty about the future of the Affordable Care Act. This all went away with the re-election of President Obama. As a result, health systems and doctors will now be able to move forward with the certainty they need to make major decisions such as leasing, capital expenditures, and other investments.
The Affordable Care Act is projected to add an additional 35 to 45 million insured patients into the marketplace. These individuals are expected to increase their utilization of health services which should bode well for hospitals and physicians volumes - a net positive for hospitals and the owners of on-campus medical office buildings.
These additional patients are expected to be somewhat funded by Medicare and Medicaid cuts to providers. In total, the increased volume for hospitals and physicians are expected to offset any reimbursement cuts. However, skilled nursing facilities are expected to face difficulties from the cuts.
So, as explained by Andrew Duffy, CFA (be email):
This (Obama's re-election) will be viewed as a positive for healthcare REIT stocks with meaningful exposure to hospitals medical office buildings and lab space - which James Alpha Global Real Estate Investments (MUTF:JAREX) has overweighted.
Some Healthcare REITs to Consider
Many leases in the healthcare sector are long in duration and triple net, meaning the tenant is responsible for taxes, insurance, and common area maintenance fees. The triple net feature allows for a more predictable cash flow stream because the building owner is not burdened with having to pay for the variable costs. Often a triple net lease will contain contractual annual rent escalations, providing the REIT with steady cash flow growth over time.
Due to the non-cyclical demand for their product and above average costs to relocate, healthcare tenants also prefer long-term leases to make their expenses predictable. As investors, this serves as a defensive governor on earnings because landlords are less likely to be forced to renew leases at a time when the market is weak. Consequently, rents do not fall as much as in other real estate sectors during economic downturns and, alternatively, they do not rise as much during economic upswings.
Ventas Inc. (NYSE:VTR), an S&P 500 company, is one of the leading healthcare REITs today and also the largest owners of senior housing and healthcare assets. Its diverse portfolio of more than 1,400 assets in 47 states (including the District of Columbia) and two Canadian provinces consists of seniors housing communities, skilled nursing facilities, hospitals, medical office buildings and other properties.
Since the beginning of 2011, Ventas has completed about $13 billion of acquisitions, including $1.7 billion year-to-date. Since the second quarter, Ventas has closed on over $400 million of investments in mostly private pay assets, including 36 high-quality medical office buildings or MOBs, on-campus or affiliated with AA-rated hospital system.
With access to an outstanding combination of internal and external sources, Ventas is well-positioned to take advantage of opportunities in the highly fragmented and growing $1 trillion healthcare real estate market. Ventas has a current market cap of $18.747 billion and the company has, over the past ten or so years, focused on recapitalizing its balance sheet by practicing sound financial stewardship. On a recent earnings call, the company's Chairman and CEO, Debra A. Cafaro said:
At quarter end, we maintained a fortuitous balance sheet at 29% that's enterprise value. We currently have $1.6 billion in available liquidity. Our strength in liquidity allow us to take advantage of opportunities and be a safe haven for investors in a disrupted market.
Ventas is currently paying a 3.91% dividend yield and the company's annual dividend growth has been 10% over the past 10 years (see recent article I wrote on Make More Dough By Watching REIT Dividends Grow). That dividend and dividend growth is an important component to Ventas's consistent superior total return to shareholders (year to date total return is 18.71%).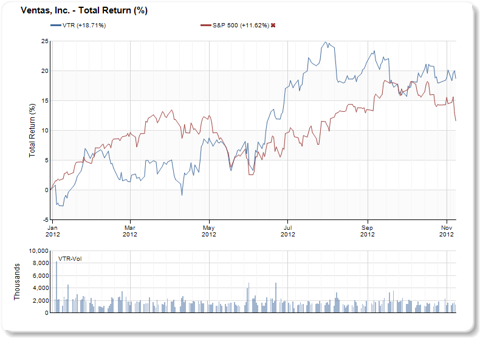 Healthcare Trust of America (NYSE:HTA), based in Scottsdale, earlier this year (June 2012) listed its shares on the New York Stock Exchange. The HTA portfolio consists around 12.5 million square feet in 27 states. The current market capitalization is $ 2.15 billion and the company boasts a dividend yield of 5.74 % - almost three times the sector average.
HTA is focused almost exclusively on the Medical Office Building sector. Within the healthcare sector, medical office is considered to have the lowest risk profile. It has the lowest exposure to government reimbursement. It also is driven by traditional real estate fundamentals and is not dependent upon the success or failures of a single operating company. Additionally, it allows HTA to concentrate all of its efforts on maintaining and building relationships with health systems and developers in this sector.
This is significantly different than the model of the larger, diversified healthcare REITs (like VTR referenced above). Each of these invests in a disparate set of businesses, from skilled nursing and assisted living facilities, to medical office and even life science buildings. HTA is dedicated to only one asset type, medical office buildings.
In a recent telephone conversation, HTA's CEO and co-founder, Scott Peters, explained the advantages of the healthcare model:
One expected result of the Affordable Care Act is the continued consolidation and integration of the healthcare space. Hospitals and health systems are being forced to act like businesses to provide integrated care at a low cost. In many cases, this includes a shift of patient care to a more cost-effective setting, like medical office buildings.
HTA offers a very compelling opportunity to investors. The REIT is an investment grade company (S&P BBB-) in a defensive asset class with 91 percent occupancy (up 10 bps from Q2). This compares favorably to other healthcare REIT peers, most of whom are offering dividends below 5 percent. HTA's 3-month total return is 9.56% (remember the company listed in June 2012).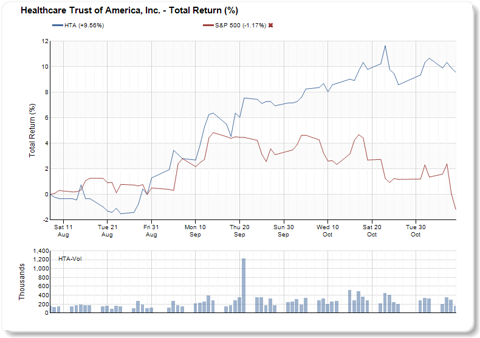 Omega Healthcare Investors Inc. (NYSE:OHI) invests principally in long-term healthcare facilities. The Maryland-based REIT has a market capitalization of $2.48 billion and its current dividend yield is 7.95%. As of the latest quarter (Q3), the company owned or held mortgages on 460 skilled nursing facilities, distributed among 47 third-party operators, located within 33 states.
As I mentioned above, the skilled nursing operators (like Omega) are exposed to more reimbursement cuts; however, Omega's risk management practices (S&P BBB) are a lot stronger as the company's conservative balance sheet management (83 percent of assets unencumbered) and significant cushions on covenants (leverage ratio not to exceed 60 percent) suggests that Omega can easily weather any modest downturn ahead from cuts to Medicare and Medicaid.
Year-to-date Omega has completed $258 million in new investments with a combined cumulative return in excess of 10% and the company has around $375 million on its revolver available for new investments.
Omega reported third quarter FFO available to common stockholders of $56.7 million, or 52 cents per share, compared to $44.5 million, or 43 cents per share, in the year-ago period. AFFO totaled $58.7 million, or 54 cents per share, up from $49.2 million, or 48 cents per share, a year ago. The company also raised its full-year guidance in its earnings report.
Omega has maintained and increased its dividend yield for over 10 years and the year to date total return is 23.42%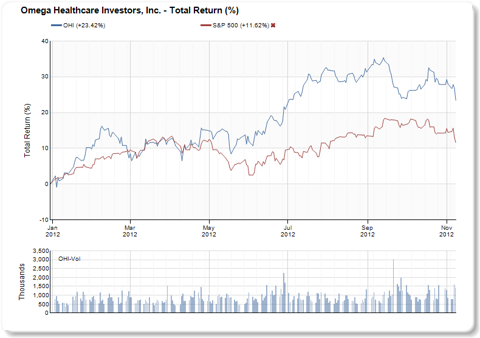 Healthcare is a Good Bet
The three healthcare REITs mentioned in this article offer unique operating platforms and the common thread is that they all should capitalize on the attractive tailwinds of low interest rates and the new certainty of the Affordable Care Act.
Finally, remember that the dividend yield has two components: security of the current dividend and expected dividend growth. During the credit crisis of 2008-2009, the capital markets closed to most US companies, including REITs. Without the ability to access capital amidst declining rents, many REITs had to cut their dividends to enhance financial flexibility. Remarkably, Omega Healthcare (and just a few other REITs) did not cut their dividends during the period known as the great recession.
As noted above, Ventas has done an excellent job at rebuilding trust by boosting its dividend yield (from a modest decline of 11% in 2008) and Healthcare Trust of America is in the early stages of becoming a reliable and repeatable source of durable dividends.

See other articles written on VTR, HTA, and OHI.
Source: SNL Financial
Additional Source: Andrew Duffy, CFA is a Senior Portfolio Manager with James Alpha Management, LLC, a diversified asset management firm specializing in identifying, seeding, and growing alternative investments for institutional and individual investors.
Milestone: This is my 200th article in 23 months of contributing for Seeking Alpha.
Disclosure: I have no positions in any stocks mentioned, and no plans to initiate any positions within the next 72 hours. I wrote this article myself, and it expresses my own opinions. I am not receiving compensation for it (other than from Seeking Alpha). I have no business relationship with any company whose stock is mentioned in this article.