Are you a Sirius XM (NASDAQ:SIRI) investor? Do you plan on holding your position for at least the next year or preferably for two years? Do you make regular purchases monthly, quarterly, or even yearly to add to your positions?
If you answered "yes" to all of the above, you're a lot like me. So let me explain to you why I will be seeking to add to my position in Sirius XM in the coming sessions.
The first thing to consider is the two days of terror we have faced in the overall market. President Obama won a second term, and the markets seemed unwilling to be supportive of the people's vote, dropping large percentages over the past two days.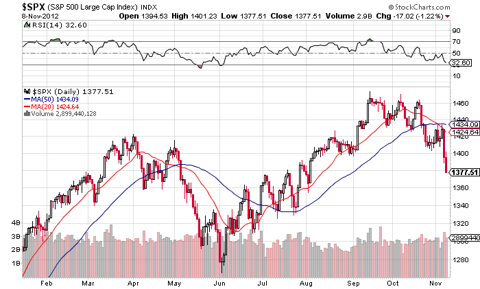 There is a lot of fear out there right now as investors enter a bit of a panic mode looking for answers to two questions "why?" and "where will it stop?"
The answer to "why?" is being filled with lots of opinion. The "fiscal cliff," the election results, impending changes to capital gains taxes, and even hurricane Sandy are being blamed for the past two days of losses. I say "who cares?" Hurricane Sandy has passed, the election is over, and effects of impending changes to capital gains taxes should be brief and temporary. The fiscal cliff? While I am of the opinion that it may be best to suck it up and drive right over it, I do not expect the government to allow that to happen.
The answer to "where will it stop?" will differ from person to person, but in my opinion this drop will be sharp and brief, possibly bringing indexes down another 3% to 5% to find support. How brief? Two weeks. Keeping my own politics out of the equation I see this drop as an over reaction to the election, and as soon as investors gather their wits about them and realize that nothing has really changed, money should begin to pile back in again.
Sit back, relax, and let fear present you with a buying opportunity in the short term, and that's exactly what you are being presented with in a quality stock with a bullish story like Sirius XM.
What many investors in Sirius XM should understand by now, is that the stock is in a unique position moving forward because of a few factors. The following things should limit downside to the stock, or at the very least keep dips brief :
Sirius XM as a company is performing well, exhibiting growth and showing strength moving forward on the back of increasing automobile sales.
Liberty Media (LMCA) is in a position to take its stake in Sirius XM beyond 50% pending FCC approval which could come any day now. To do this Liberty Media will be a net buyer of hundreds of millions of Sirius XM shares in order to go to control, due to a change of control clause in the $1.875 convertible notes that should activate once Liberty Media goes beyond 50%.
It is expected that Liberty Media will initiate share buybacks with Sirius XM cash flow and use Sirius XM's low levels of debt and good credit rating to borrow at low rates to fuel a multi billion dollar share buyback.
A company with strong performance does not by itself shield from downside in share price. Consider that Sirius XM has performed well for years, yet dipped to $1.27 in October 2011 as the overall market crashed out. Justified? Not really, and the quick rebound and subsequent run up to the $2.40's show something important. Those who bought on fear are up over 100% to date.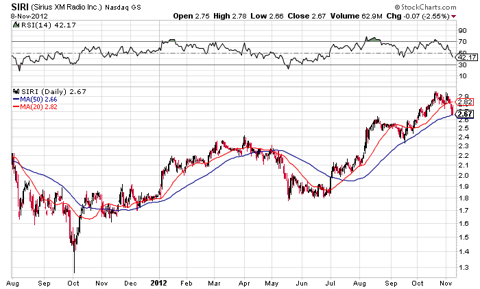 So what's different this time?
That question leads to points two and three. First to consider is Liberty Media's position in Sirius XM. While it currently owns just under 50% of Sirius XM, Liberty Media still must purchase additional shares. Basically sometime "soon" there should be a large amount of buying pressure coming through for Sirius XM shares. With Liberty needing to both exceed 50% and then purchase more shares to cover at least half of the shares to be issued by the $1.875 convertible notes, this creates a potential outstanding demand of over 200 million shares to be purchased by Liberty Media. That's over $500 million due to flow into the stock, in my opinion, in the next 6 to 8 weeks once the FCC gives the green light. Buying pressure of that magnitude should, at the very least, create consolidation in shares of Sirius XM and could potentially create significant gains in the share price.
Point three, or impending share buybacks, are the third line of defense to drops in the share price. Why? Because share buybacks are very likely to be in the billions of dollars, surpassing a billion shares or more. Just like Liberty Media purchasing hundreds of millions of shares, the effect of billions of shares being repurchased makes shorting Sirius XM or selling one's long position, unattractive. Consider that shorting a company which will soon have billions of cash flow into its stock, even in a down market, could be financial suicide and in my opinion is an extremely risky venture.
Even considering all of these things, the share price of Sirius XM could have additional downside. Despite Sirius XM's strengths and lines of defense it is not immune to the overall market, and it is certainly not immune to over reaction as has been seen in the past. Investors would do well to keep that in mind.
I'm not trying to guess the bottom. I expect the recent market downturn to be brief as stated in my recent article regarding money flows, and likewise I expect the dip in Sirius XM to be brief as well. I'm looking to add to my position in the $2.60's. If it dips briefly to the $2.50's or $2.40's? So be it. Long term, I believe these prices are going to look like a steal, just like $1.27 looked a bit over 1 year ago, and just like $0.88 looked a bit over a year before that. I believe if you were looking for an opportunity to add to your own Sirius XM position, or even to buy your first shares, current pricing looks extremely attractive.
Disclosure: I am long SIRI. I wrote this article myself, and it expresses my own opinions. I am not receiving compensation for it (other than from Seeking Alpha). I have no business relationship with any company whose stock is mentioned in this article.