In a quarter that has mostly produced disappointing earnings reports for tech investors, Nvidia (NASDAQ:NVDA) mostly delivered results after the bell Thursday that should delight their shareholders. This cheap stock also looks like it ready to move higher on the back of these numbers.
Key highlights from Nvidia's earnings report:
The company reported 39 cents a share in EPS, three cents better than consensus estimates.
Revenues came in at $1.2B, $100mm over expectations.
The big news was Nvidia will issue a dividend payment for the first time and it will be 7.5 cents per share per quarter, for a yield of 2.4%.
The consumer products division, which includes the "Tegra" microprocessor line for tablets and smartphones, saw revenue jump 36%, and 28% year over year, to $243.9MM.
Gross Margin was 53.1% for the quarter, up from last quarter's 52% figure.
The company did guide a bit light for next quarter's revenue forecast which was the only bump in the results.
NVIDIA Corporation provides graphics chips for use in smartphones, personal computers and tablets worldwide.
4 additional reasons NVDA is a solid bargain at under $13 a share:
The median price target held by the 30 analysts that cover the stock

is

$16.25 a share. S&P has a "buy" rating and a $48 target on HFC.
The company has a fortress balance sheet with over $3B in net cash on the balance sheet. This amounts over 35% of market capitalization and provides ample ammunition for future dividend increases.
The stock is selling near the bottom of its five year valuation range based on P/S, P/E, P/CF and P/B.
In addition to its new dividend, the stock has a nice floor with strong long term technical support at the $12 level (See Chart).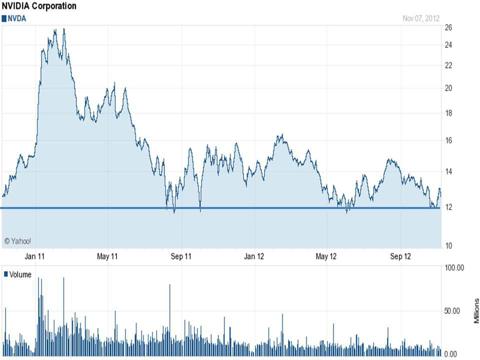 Disclosure: I am long NVDA. I wrote this article myself, and it expresses my own opinions. I am not receiving compensation for it (other than from Seeking Alpha). I have no business relationship with any company whose stock is mentioned in this article.