When the stock market is going up investors want a stock that will produce capital gains. When the market is moving sideways, investors want high dividend income. And when it is going down, they want safety of principal. It is hard to find a stock that will perform well in up, down, and sideways markets. WABCO Holdings (NYSE:WBC) is the kind of stock that can produce above average results during a bull market when the market is being fueled by cyclical and secular growth forces that are positive. However, it has nothing to offer the investor in the way of a cash dividend return because it there is no such dividend. In down markets the stock tends to underperform due, in part, to the no-dividend consideration. With these thoughts in mind I will render an opinion on WABCO later in this article. But first I want the reader to know why it is necessary for me to do the analysis the way that I do:
A bond is a debt certificate and a stock is an equity certificate. Before an investor buys a bond at par he should ask "What can go wrong?" If everything goes right he will get back an interest rate of return while holding the bond. And, he will also get back his principal on the bond's maturity date. But if things go wrong he will be stuck with a loss; therefore he must avoid risk. With a stock it's different and when determining its suitability as an investment the investor should ask "What can go right?"
It is the successful assumption of risk that produces significant investment gains in the form of dividends and/or capital gains. (1) The dividends I receive as an investor are those declared by the company's management. Therefore, I need to know about the merits of the corporate development program that make dividend payments possible. Those merits also affect the way the investment community (aka Mr. Market) prices the stock. And (2), when things go right (or wrong) the capital gain (or loss) I achieve results from a favorable (or unfavorable) response by Mr. Market and the price at which I am able to sell it. He is the adjudicator who re-prices the stock daily and he doesn't ring a bell when the price is topping or bottoming. Therefore, (3) due diligence dictates that I rely on both fundamental and technical analysis when making investment decisions: the former tells me "what" stock to buy (or avoid) and the later tells me "when" to buy or sell it. Neither discipline can provide all of the answers for picking winners in the stock market; but the two together can be better than either alone.
The remainder of this article will be presented in two parts: the first deals with fundamental analysis and the second, with technical analysis.
Fundamentally, what's right and wrong with the company?
WABCO Holdings is a well-entrenched company that (according to the company's website) "provides technologically advanced products for commercial truck, trailer, bus, and passenger car manufacturer worldwide. It develops, manufactures, and sells braking, stability, suspension, and transmission control systems primarily for commercial vehicles. Its products include pneumatic anti-lock braking systems, electronic braking systems, automated manual transmission systems, and air disk brakes; and various conventional mechanical products, such as actuators, air compressors, and air control valves for heavy-and medium-sized trucks, trailers, and buses. The company also supplies electronic suspension controls and vacuum pumps to the car and sport utility vehicle markets. In addition, it offers replacement parts, diagnostic tools, training, and other services to commercial vehicle aftermarket distributors, repair shops, and fleet operators; and remanufacturing services. The company also serves truck, bus, and trailer original equipment manufacturers, commercial vehicle aftermarket distributors for replacement parts and services, and car manufacturers." WABCO (an acronym) was previously known as the Westinghouse Air Brake Company.
Insiders own about 0.1% of the 63.9 million shares outstanding and they were net sellers of 210,000 shares during the past six months, with the latest sale date being November 1st at a price about a point above the current price of $59.08. On October 15 institutions owned 94.5% of the company's shares and during the past six months they were net sellers of some 10.3 million shares (that amounts to 16% of all shares). There was a short interest in WBC of 1.2 million shares on October 15 (that's almost 2% of the shares outstanding).
According to information in the just released Q3 earnings report, management's guidance for full year 2012 sales was adjusted downward to minus 4 or 5% in local currencies; three months ago it was looking for a lesser decline of 2 or 3%. Its guidance for full year 2012 diluted earnings per share on a U.S. GAAP basis is $4.54 to $4.64. The stock is followed by 10 analysts and their average GAAP estimate for 2012 is $4.45; the high estimate is $4.60 and the low, $4.27. For 2013 their average estimate is $5.37, with the high being $5.75 and low, $4.76. The stock at $59.08 is priced at about 13 times this year's earnings estimate and 11 times that for 2013. The company does not pay a cash dividend so there is no dividend yield. It paid cash dividends in the past but that practice was stopped in 2009.
WABCO has a program for buying back shares that was initiated in mid-2011. And $340 million of the $400 million authorized was used to repurchase 6.4 million shares in open market transactions thus far. The average price of the shares purchased was about $53 and that was near the middle of the stock's price range of $37 to $72 for the time period during which the shares were purchased. Management recently approved another $400 million authorization so the buyback now totals $460 million for share repurchases between now and the end of 2014.
In Q3 sales were $588 million, down 7.2 percent in local currencies and down 16.7% in U.S. dollars from a year ago. The operating margin was 12.4% on a U.S. GAAP basis, down from 13.1% a year ago. Diluted earnings per share were $1.19 on a U.S. GAAP basis, down from $1.22 a year ago.
In the Q3 report management commented on the deterioration taking place in global truck and bus production with the emphasis on Europe, North America, and China. However, some of that was offset by improvement in emerging markets where its technologically advanced products gained market penetration. Its aftermarket business continues to prosper and it delivered its best ever results in Q3.
As usual, WABCO continues to make acquisitions to expand and its product lines and its marketing capabilities. Some such matters are worthy of note:
In Q3 it acquired Ephicas, a pioneering company in the field of aerodynamic solutions for commercial vehicles. WABCO intends to develop a range of aerodynamic products designed to increase vehicle efficiency and reduce fuel consumption for trucks, trailers and buses. Its first product introduction was an innovative aerodynamic side wing for trailers. Already installed within 17 major European fleets, the side wing delivers long-haul fuel savings up to 5 percent; that's up to 3 times more than those from comparable competitive products.
It entered into a new agreement with the GAZ Group, Russia's leading manufacturer of commercial vehicles. WABCO is the sole supplier of anti-lock braking systems for its heavy-duty trucks, and it will supply systems for production of Ural trucks and GAZ Group's whole line of buses. It will also supply its innovative integrated system for electronic tire pressure monitoring, for series production of low-floor LIAZ buses for Moscow's public bus fleet.
It introduced some breakthrough hydraulic anti-lock braking systems. This technology is the industry's first and unique range of hydraulic systems that integrate electronic stability control for trucks and buses worldwide. As the first supplier to bring such technology to market, WABCO helps original equipment manufacturers respond to government regulations that increasingly require such systems on different classes of commercial vehicles. From 2013 onward, national authorities will be implementing the legislation in Europe, Asia, and North and South America.
It also introduced on-lane technology, a lane departure warning system for trucks and buses, in Q3. This system marks WABCO's next step in advanced driver assistance systems. It increases vehicle safety by providing the driver with visual and acoustic warnings or an optional seat-vibration warning, during unintentional lane departure, which is one of the most common causes of accidents involving commercial vehicles. It is fully compliant with the European Union's regulation that requires such a system on new trucks and buses by November 2013.
There is much to like about WABCO's fundamental merits. But an investor has to be concerned about the return on his investment. Whereas I am able to wax enthusiastically about the company's fundamental merits, I am unable to do so when I evaluate the technical merits of the stock along with one other important consideration, that being the lack of a cash dividend.
Technically, what's going on with the stock?
Technical analysis is basic supply and demand analysis as taught in economics 101 and nothing more. When the propensity to buy a stock is greater than the propensity to sell it the price goes up; and when the opposite is true the price goes down. It's that simple. The difficulty is deciphering what the balance is between the two propensities and whether the balance extant will continue or reverse. An equilibrium situation requires one interpretation and a disequilibrium situation requires another.
Let's look at the chart I constructed from data in my workbook: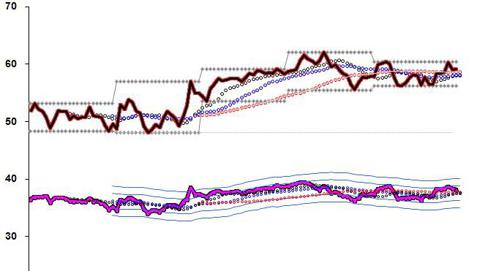 (1)The bold black line on top is price and the bold pink line below it is relative strength. (2) The dotted lines are moving averages and there is a set of those for price and a similar set for relative strength; they are used to define trends and reversals. (3) The five sets of gray parallel lines that frame the stock's price action are 22-day trading ranges and their progression shows how the trading range shifted during the 110 days charted. And (4) the four wavy blue lines that straddle relative strength are Bollinger Bands and they are used to detect overbought or oversold situations. Any one of the items listed as (2) to (4) is independent of the other two and could be cited as a valid technical indicator for buying or selling the stock.
Now consider this: (1) The stock moved sideways before showing positive price and relative strength reversals some 66 days ago (oftentimes the two don't reverse at the same time and it's important to know when a divergence occurs, and which leads the other). During the past 22 days the relative strength wasn't great but it wasn't bad either, it was "neutral." (2) On the price chart the most recent 22-day trading range was in the middle of the range indicated for the previous 22 days. So the recent price action was also "neutral." (If the "recent" had shifted upward like the "previous" did from the "prior" 22-day period, the recent price action would have been bullish; downward, bearish.) And (3) the relative strength action is within the Bollinger Bands so it is neutral at this time (note that any time the 2x band is approached or penetrated, that situation is quickly reversed).
The "prudent man rule" as legally defined is about as follow: An investment operation is one which, upon thorough analysis, promises safety of principal and a satisfactory return; all other operations are speculative. The basics of the prudent man rule are sound and all investors would be well served if they used them as guides when making investment decisions. Let's focus on the phrase "satisfactory return."
All the investor gets from a stock are the capital gain (or loss) that Mr. Market confers on him and the cash dividend that the company distributes. But WABCO's management has failed miserably in the way that it distributes the company's largess to its stockholders. If management had chosen to distribute the $800 million to shareholders as dividends instead of buying back shares, it could have paid $12.50 per share to each of its shareholders. It didn't have to do that in one lump sum; such could be done over an extended period of time as regular dividend distributions.
If the $340 million spent (wasted?) so far in the buyback program had been distributed as dividends, shareholders would have received about $5.30 for each share of stock that they own. If management was husbanding its cash flow to reinvest it prudently in capital projects to grow the company that would be praiseworthy. But to use it to buy back shares in lieu of cash distributions doesn't make sense. Others may disagree with my opinion and they are free to do so. WABCO's free cash flow is robust and a liberal dividend policy could easily be sustained. The company's fundamental merits are stellar beyond doubt. It appears to me that management is focused on operating and growing the company but it is not stockholder friendly. Perhaps that is because the insiders own so little of its shares (a miniscule 0.1%). They were also sellers of some 210,000 shares during the last six months, with the latest sale being just a few days ago at a price above current levels. Perhaps if the stock had a significant dividend yield they would have retained the shares that they have been selling.
If 25% of the $800 million being spent on buybacks was distributed to shareholders as cash dividends, that $200 million would be sufficient to pay a dividend of $3.12 per share which would amount to a current dividend yield of 5.3%. That would be an attractive feature for a potential investor to consider when evaluating the stock's investment merits in today's low interest rate environment. And, it is probable that the stock would trade at a higher price with a cash dividend than it is now without one.
I started writing this article thinking that WABCO could be a stock that I would like to buy. But now I am of the persuasion that the stock should be sold by current stockholders and avoided by others who are potential buyers.
That said and having studied the chart I am now ready to recommend that the stock be "sold" at this time for the following reasons. (1) The company's business base is stellar and management's corporate development program is good. So what? If management's opinion of the stock's investment merits is low as evidenced by its miniscule position in the stock, why should my opinion as an investor be any higher? (2) Insiders have been sellers of the stock (210,000 shares in the past six months, which was about two-thirds of their holdings) and the most recent sale was November 1st at a price just above the current price of $59.08. If insiders think the stock is at or near its top, why shouldn't I be cautious or discouraged about buying in? (3) A more troubling question is this: if the large buyback program is better than paying a liberal cash dividend to shareholders, why are the insiders selling a lot of their stock? Mr. Rubik would blow his mind trying to figure that out. And (4) corporations make investment decisions based upon return on capital so why shouldn't shareholders do likewise? A cash dividend contributes to a shareholder's tangible return.
So while I like the company because its fundamental merits are stellar, I don't like the stock because I don't like the way management treats its stockholders. Others, of course, could and will disagree with my assessment. Let them. I'm just trying to abide by the guidelines set forth in the prudent man rule. Not because I am legally required to do so, but because I find that the rule has sound advice for an investor to heed. Others may have a different interpretation of the rule and that is their privilege. That's why they make vanilla and chocolate ice cream.
The business cycle goes from trough to peak and repeats as it expands and contracts. The ideal time to be a buyer of a stock like WABCO is at the beginning of a cyclical upturn in the economy when the underlying secular economic trends are positive. Right now WABCO is facing contraction in its markets so it will be adversely affected to some degree. And the secular growth trends in many of its markets have been ruptured. No one can say how deep the contraction will be or how long it will last. So why should a stockholder take risks unnecessarily if the most likely scenario is that the stock will move sideways in the market?
I don't short individual stocks so I won't be doing any of that. But I might consider buying some puts if I think the strike price, premium, and timing with regard to general market conditions warrant such action at the time of purchase. The stock is now in a trading range and priced at $59.08. There is support at $55.50 and resistance at $62.10. If the price ticks up to near the $62.00 level I would be inclined to use a put strategy at that time.
Disclosure: I have no positions in any stocks mentioned, but may initiate a short position in WBC over the next 72 hours. I wrote this article myself, and it expresses my own opinions. I am not receiving compensation for it (other than from Seeking Alpha). I have no business relationship with any company whose stock is mentioned in this article.