CF Industries Holdings Inc (NYSE:CF) reported better than expected third quarter adjusted EPS of $5.85 on the back of higher ammonia prices and lower than expected costs (favorable natural gas prices).
We have a bullish stance on CF because we believe that the current nitrogen fundamentals remain robust, and the company will not only continue to benefit from favorable agricultural and nitrogen markets in the next quarter, but in 2013 as well. Favorable grain prices and elevated farmer income will increase the application of fertilizers, which bodes well for the company's future. The company's cheap valuations and increasing nitrogen margins further support our stance.
We believe that the company is well positioned to benefit from high planted acreage expectations for 2013 and 2014, especially for corn (the US is likely to produce 96 million acres of corn in 2013). The company is also expected to benefit from a tight nitrogen market, which we are hoping to continue through 2013, and from cheap feedstock due to favorable gas prices.
The company has a dividend yield of 80bps and we do not expect a dividend increase in the near to medium term due to CF's cash allocation of $7 billion ($3.8 billion capex expansion, $3 billion stock buy-back plan) between now and 2016. However, a share buy-back plan is also like a dividend for investors, as it will put money back in their pockets.
3Q Earnings Review:
CF Industries reported 3Q12 earnings of $5.85 per share, beating consensus estimates of $5.70 by 3 percent. This is CF's third earnings beat in the last four quarters.
| | | | | |
| --- | --- | --- | --- | --- |
| Earnings History | 4Q11 | 1Q12 | 2Q12 | 3Q12 |
| Consensus EPS | 6.85 | 4.83 | 8.91 | 5.7 |
| Actual EPS | 7.13 | 6.06 | 8.65 | 5.85 |
| Surprise % | 4.10% | 25.50% | -2.90% | 2.60% |
Source: Yahoo Finance
The company's EPS were adjusted by $0.39 per share for non-cash natural gas derivative gains and $0.11 per share for a change in post-retirement benefits.
Total nitrogen shipments were down 3 per cent y/y to 2.96 million tons. The average realized prices were up y/y, for both ammonia and urea by 13 percent and 11 percent respectively. Higher urea and ammonia prices, together with lower costs, resulted in a 16 per cent increase in margins.
The margins for phosphate were down 26 percent from the same quarter of last year. Shipments were up 2.4 per cent y/y due to the strong US demand. However, due to higher costs and lower prices, margins dropped to $63.4 million, from $85.9 million a year ago.
The company's cash and equivalents currently stand at $2.22 billion compared to $1.21 billion at the end of 2011. On the other hand, the company's long-term debt totaled $1.60 billion compared to $1.61 billion at the end of last year.
Guidance:
The company remains positive on its outlook for the rest of the year and through 2013 due to expectations of a possible bumper corn crop, higher demand for fertilizers, favorable domestic nitrogen supply and natural gas cost environment.
The sell side has a mean recommendation of 2.2. Eleven of 19 analysts have a buy recommendation, and 2 strong buy, while none of the analysts have an underperform or sell recommendation. Analysts are expecting the next quarter's earnings to be $6.70 per share.
Company Overview:
CF Industries is involved in the manufacturing and distribution of fertilizers, serving both industrial and agricultural customers. It has become the second largest producer of nitrogen fertilizers in the world after its acquisition of Terra Industries in 2010. The company is also the third largest producer of phosphates in North America. The company has two main reporting segments, namely, Nitrogen and Phosphate. A majority of the company's revenue comes from its nitrogen segment, which accounted for 82 percent of the total revenue in 2011.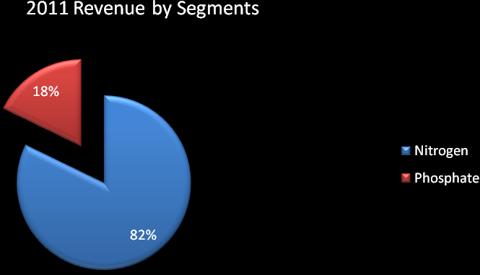 Company Documents and Qineqt's Calculations
Financials
CF is trading at a forward P/E of 8.2x. The company has a long-term earnings growth rate of 10.70% and a PEG ratio of 0.70. CF's forward looking dividend yield is 0.80 per cent. The company's shares have gained 34 per cent YTD.
| | | | |
| --- | --- | --- | --- |
| Comp Sheet | CF Industries Holdings | Agrium Inc.(NYSE:AGU) | Potash Corp.(NYSE:POT) |
| Forward P/E (1 year) | 8.23 | 10.56 | 11.9 |
| PEG ratio (5 year expected) | 0.71 | 1.36 | 5.3 |
| EV/EBITDA (TTM) | 3.74 | 6.2 | 9.9 |
| Dividend yield | 0.80% | 0.90% | 2.10% |
| Long-term earnings growth rate | 10.70% | 7.50% | 2.60% |
| Share price Performance (YTD) | 34.00% | 50.50% | -7.50% |
Source: Yahoo Finance

CF's YTD Stock Performance (Source: Yahoo Finance)
Risks:
A steep decline in prices of agricultural commodities across the globe due to capacity expansion and an increase in natural gas prices are key risks to our analysis.
Disclosure: I have no positions in any stocks mentioned, and no plans to initiate any positions within the next 72 hours.
Business relationship disclosure: The article has been written by Qineqt's Basic Material Analyst. Qineqt is not receiving compensation for it (other than from Seeking Alpha). Qineqt has no business relationship with any company whose stock is mentioned in this article.