We think Exelon Corporation's (NYSE:EXC) Chief Lobbyist Elizabeth Moler said it best when she said that Exelon is "The President's Utility." President Obama was the most popular political figure during the summer of 2008 and Exelon's stock had reached a peak of $92.13 in July 2008. In our widely followed analysis and evaluation of Exelon's performance, we were amused at some of the responses we have seen from Exelon's stockholders with regard to our evaluation of EXC's performance. However, we aren't bothered by it because many of those same critics came to realize that we were right about Exelon's weak performance due to its business model. The catalyst that compelled Exelon stakeholders to realize we were right was when EXC's CEO hinted at cutting Exelon's $2.10/share annualized dividend, which represents a 6.7% yield as of Nov. 9.
Exelon was formed from the merger of PECO Energy and Unicom Corp. in October 2000. In 1999, PECO and Commonwealth Edison's holding company Unicom agreed to a blockbuster merger that created the largest nuclear power plant operator. At the time, Unicom owned four plants with 13.47 GW of capacity and PECO owned two plants outright with 4.07 GW of capacity. PECO also owned 50% of a joint venture with British Energy called Amergen and Amergen owned four plants with 3.625 GW of capacity. The purpose of this deal was to combine to historically mediocre performing utilities located in big urban metropolitan areas which had large nuclear power operations in order to potentially take advantage of the emerging wholesale power distribution markets. Exelon later bought out British Energy's share of Amergen and renamed it Exelon Generation LLC. For a period of time, Exelon was able to take advantage of its low operating costs for its nuclear power plants and the steadily rising prices of energy commodities (in particular natural gas, which serves as the biggest influence in wholesale power pricing decisions at the margin) in order to grow its ExGen wholesale power generation profits from $260 million in 2000 to $2.28 billion in 2008.
Click to enlarge images.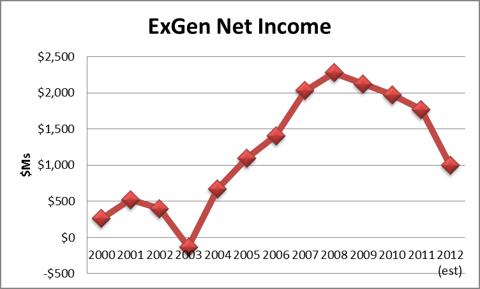 Click to enlarge
Source: Exelon's 2000-11 Annual Reports and our Estimates.
Exelon's rapid profit growth at ExGen helped the company offset declining profits at its ComEd and PECO regulated utility operations and have enough left over to grow its quarterly dividend by nearly 150% cumulative from 2001 to Q4 2008. Unfortunately, the company's dividend has remained frozen in time since Q4 2008 as the natural gas bubble was burst in 2008 due to the left-handed hook of the financial crisis and the right handed uppercut of hydraulic fracturing, or fracking. These two factors helped cause natural gas spot prices to plummet from $10.79/MCF in July 2008 to a low of $1.89/in April 2012, before rebounding to $3.69/MCF as of October 2012. The collapse in gas prices resulted in ExGen's Net Income deteriorating from $2.28 billion in 2008 to an estimated $1 billion in 2012.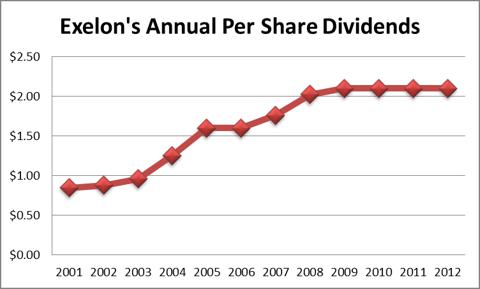 Click to enlarge
Source: Exelon Investor Relations.
Despite Exelon's dividend being frozen in time for the last four years, it has actually grown faster since its 2000 formation than the SPDR S&P 500 Utilities Select Sector ETF (NYSEARCA:XLU) during this time period. The XLU has been around since late 1999 and paid its first dividend in 1999. From 2001 to the present, Exelon's quarterly split-adjusted per share dividend growth (148%) significantly outpaced the dividend growth on the XLU (60.4%). However, despite having the most recognized brand name in the utility sector, despite operating in the exciting go-go growth sector of the utility industry (wholesale power generation) and despite being the world's most valuable utility by market cap (or at least until natural gas prices plummeted), Exelon's dividend growth during that time fell short of its neighbor to the north, Wisconsin Energy (NYSE:WEC). Wisconsin Energy was a regulated utility and it had to devote every dollar it could get its hands on to its Power the Future power generation capital investment upgrade program from 2000-11. Despite its relative competitive disadvantages to Exelon, Wisconsin Energy pulled off a 200% dividend growth during this period.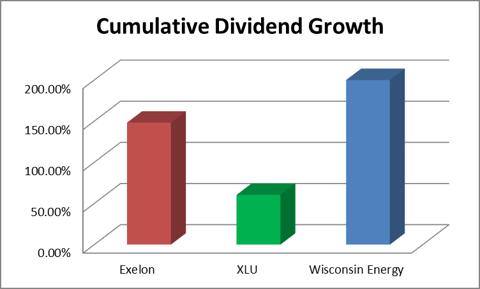 Click to enlarge
Source: Morningstar Direct.
Although Exelon has never cut its dividend since its 2000 formation, its predecessor companies PECO, ComEd, and Constellation Energy have each cut dividends twice. ComEd cut its annualized dividend by $.70 in 1992 and 1993 and this represented a cumulative 46.67% cut over the two-year period. PECO had cut its dividend but 44% in 1990 and 1998 and Constellation checked in with a 71% cut in 2001 and a 50% cut in 2009. Although Exelon has merely frozen its dividend over the last four years, it has effectively cut its dividend in real inflation-adjusted terms as the cumulative inflation rate from 2008 to 2012 according to the CPI has been 10%. Plus, despite the fact that Exelon's nominal dividend has remained constant since 2008, Exelon's stock has suffered the slings and arrows of a 64% cumulative dividend adjusted decline since its July 2008 peak of $92.13. If we were retirees living off Exelon dividends, we'd probably want to try to look for ways to save money since Exelon's shares have tumbled into a 64% negative total return since its all-time peak.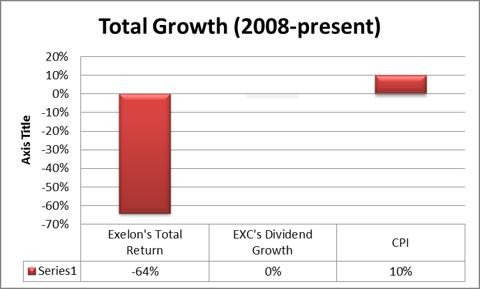 Click to enlarge
Source: Morningstar Direct and the BLS CPI Report.
Earlier in the year, Exelon's new CEO Chris Crane stressed the importance of maintaining the dividend. However, management introduced a bit of uncertainty with regards to the dividend even though it beat adjusted EPS expectations by $.05 and has the benefit of higher natural gas prices in Q4 2012 relative to Q2 2012 and even Q4 2011. Despite the fact that EXC generated $412M in free cash flows in the year-to-date 2012 period, the company's free cash flows paled in comparison to the $1.3B in dividends that Exelon has paid its shareholders during this time period. EXC's adjusted EPS guidance range is $2.75-$2.95 and the company is currently paying $2.10, which results in an estimated payout ratio of 71%-76%. Crane mentioned that typical utilities have a dividend payout ratio of 65%-70% and Wisconsin Energy has a current payout ratio of about 52%, but is looking to increase it to 60% in 2014.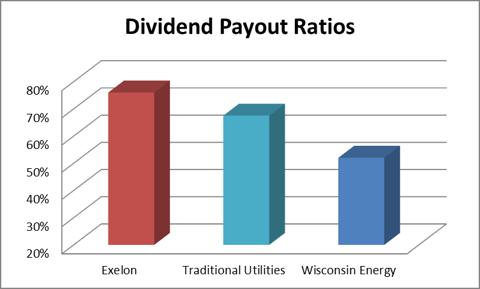 Click to enlarge
Sources: Exelon's Q3 2012 Conference Call and Wisconsin Energy's Q3 2012 Report.
Even if the company's EPS and free cash flows stabilize and avoid further declines, we see potential for dividend cuts not merely because the CEO floated the idea of a potential dividend cut in six months. The company's dividend may be safe relative to traditional financial analysis ratios such as free cash flows and EPS in excess of dividends however the company has a harder row to hoe with regards to maintaining its investment grade credit rating versus a traditional regulated utility because of the volatile, economically cyclical nature of its ExGen wholesale power generation subsidiary. That's precisely the reason why even though it has a lower percentage (56%) of adjusted debt and pension liabilities to equity capital than Wisconsin Energy (60%); Wisconsin Energy has a higher credit rating (A3) than Exelon (Baa2). Exelon could potentially decrease its dividend in order to free up cash to pay $1.4B in upcoming debt maturities over the next twelve months as well as its $2.6B underfunded pension plan in order to maintain its investment grade credit rating because of the importance of maintaining that rating for its Exelon Generation LLC wholesale power generation business.
A dividend cut doesn't have to be the end of the world for Exelon. Even Wisconsin Energy ended up having to cut its dividend by nearly 50% in 2000 in the wake of its merger with WICOR and the commencement of its Power the Future program. Wisconsin Energy then upgraded its executive management team by hiring Gale Klappa (CEO), Rick Kuester (W.E. Power President) and Allen Leverett (NASDAQ:CFO) away from Southern Company (NYSE:SO) in 2003 in order to help oversee the Power the Future power generation capital investment upgrade program. While Wisconsin Energy's stock dropped from $23.56 in September 2000 when the dividend cut was announced to a low of $17.88 in October, the shares rebounded and almost recovered those losses by the end of the year. Since 2000, an investor in WEC would have seen his investment increase by nearly 375% including dividends and WEC has increased its pre-cut dividend by 54% even taking into account the nasty 50% cut in 2000 thanks in part to nine straight years of dividend increases.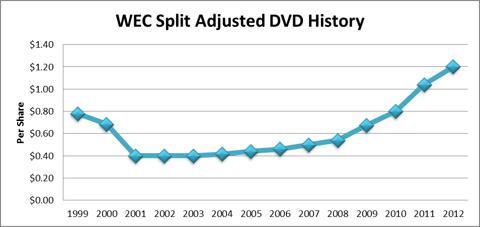 Click to enlarge
Sources: Wisconsin Energy's Investor Relations.
Conclusion
In conclusion, we were amazed that it took the CEO speculating about a dividend cut to open the eyes of investors to Exelon's poor performance. We believe that Exelon would be the best utility to invest in if the fracking genie is stuffed back into the bottle. Unfortunately, we don't see any demand for that on the part of electricity and gas ratepayers. The reason why Exelon's yield was higher than other utility companies is because there was more systematic risk involved in the company's operations as it is more exposed to volatile energy commodity price swings. The reason why we have written our replace Exelon with Wisconsin Energy report series is because we had seen poor performance at its ComEd unit and we are seeing mediocrity set in to ExGen and Baltimore Gas and Electric as well.
Disclosure: I am long WEC. I wrote this article myself, and it expresses my own opinions. I am not receiving compensation for it (other than from Seeking Alpha). I have no business relationship with any company whose stock is mentioned in this article.
Additional Disclosure: This article was written by an analyst at Saibus Research. Saibus Research has not received compensation directly or indirectly for expressing the recommendation in this article. We have no business relationship with any company whose stock is mentioned in this article. Under no circumstances must this report be considered an offer to buy, sell, subscribe for or trade securities or other instruments.