Among American food retailers, Safeway (NYSE:SWY) offers a very attractive dividend yield. Currently, it yields over 4%, within the highest of U.S. retailers but behind global peers, such as Delhaize (DEG) or Casino Guichard (OTC:CGUIY), as I analyzed in my previous article, "3 food retailers with yields above 4%." But is this yield reason enough to buy Safeway? In this article, I analyze Safeway's dividend sustainability to see if it is a good income investment.
This high yield is mainly due to Safeway's stock price weakness over the last few months. In 2012, Safeway's share price has tumbled by almost 20%, underperforming Kroger (NYSE:KR) and Wal-Mart (NYSE:WMT) significantly. Safeway's short interest as a percent of float is high, at more than 30%, and partially explains this weak performance.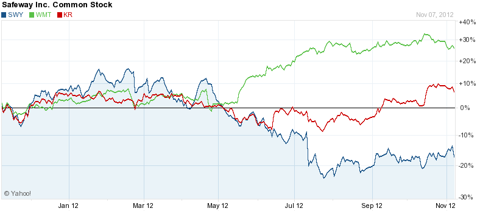 Click to enlarge
Source: YahooFinance
Company Background
Safeway is one of the largest food and drug retailers in North America, among the top 5 industry players by market share. It is present in the grocery, supermarket and online formats, operating more than 1,600 stores, as of September 2012. Geographically, it's present across more than 20 U.S. states and in Canada. Safeway has more geographical risk than its competitors, due to its heavy concentration of stores in the West Coast. It also holds a 49% interest in Casa Ley, a food and general merchandise retailer in Mexico, and also owns Blackhawk Network, a subsidiary that provides third-party gift cards and recently announced its IPO.
Over the last decade Safeway renovated nearly all of its stores, but this hasn't been enough to protect its market share. Similar to other traditional grocers, Safeway has been under pressure from alternate channels including specialty retailers, convenience stores and drug stores. Safeway's North American market share measured by sales was 4.8% in 2011, a drop of 1.6% from 10 years ago.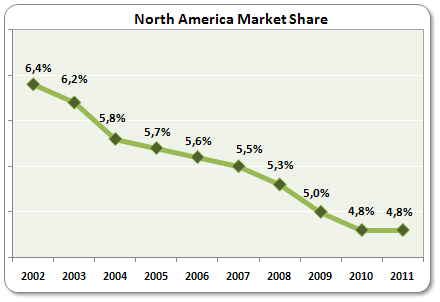 Source: Bloomberg
Historically, food retail sales have been positively correlated with GDP growth and negatively correlated with rising unemployment. Not surprisingly, over the past five years Safeway's sales have barely grown. Sales grew by more than 6% to $43.6 billion in 2011, but remained below 2008 levels ($44 billion) and only slightly above 2007 sales ($42.3 billion). Nevertheless, this trend isn't so bad if it is considered that over this period Safeway has rationalized its portfolio, through the closure of 65 stores net of new store openings.
However, this relatively stable top-line performance hasn't been matched by operating income that declined considerably, resulting in lower profit margins over this period. Indeed, the operating profit margin has decreased 160 basis points over the last few years, from 4.2% in 2008 to 2.60% last year.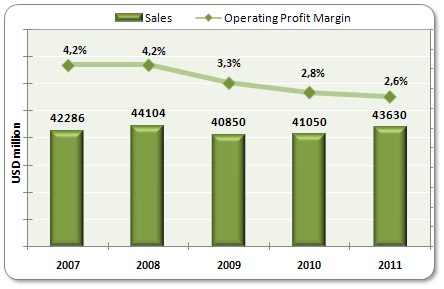 Source: Company data
Safeway's profitability is higher than other traditional grocery stores retailers, achieving above-average margins compared to closed peers, like Kroger and Supervalu (NYSE:SVU). This is mainly the result of higher prices than being more efficient, as the company believes its customers are skewed more towards higher-income levels than its competitors. However, if competitors such as Wal-Mart or Supervalu continue to lower prices to gain market share, Safeway's margins should continue to be under pressure.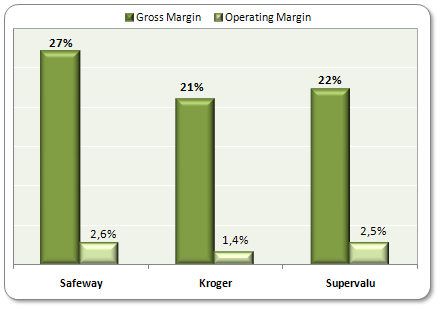 Source: Bloomberg
Recent Operating Performance
The traditional grocery retailers, like Safeway or Supervalu, are facing a challenging environment as consumer confidence remains low, decelerating inflation means lower volumes, and due to a fierce competition. Indeed, increased competition from Wal-Mart following its "see for yourself" campaign should continue to pressure traditional supermarkets' top-line and earnings in the short-term.
Safeway is also feeling the industry headwinds, reporting deteriorating operating trends over the last few quarters. In the third quarter of 2012, Safeway's sales declined 0.2% to $10.5 billion, although partially is the result of the disposition of 17 Genuardi's stores, and operating income dropped 12% from $248 million to $218 million, due to lower margins. The gross margin decreased 60 bps year-on-year (yoy) to 26.4%, driven primarily by costs associated with the Just for U program. The operating margin declined to 2.2%, representing a 30 bps decline yoy.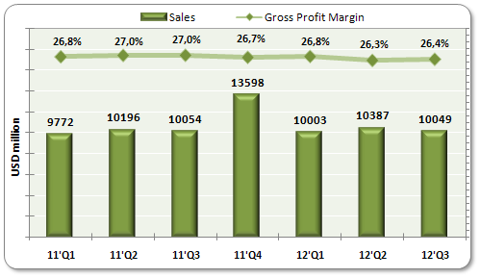 Click to enlarge
Source: Company data and Bloomberg
Dividend Analysis
Safeway has increased annually the dividend over the past five years, posting an impressive 20% average annual growth rate. During this period the dividend per share more than doubled, from $0.2645 in 2007 to $0.555 last year. The dividend frequency is quarterly, but I use annual aggregated data for simplicity in the following chart.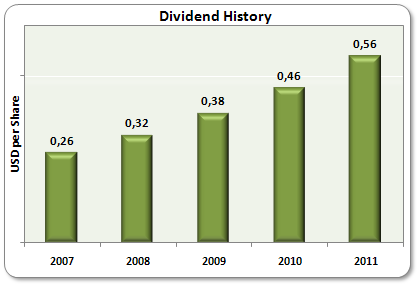 Source: Company data
On the other hand, this impressive track record isn't solely justified by an improvement in business fundamentals. Under the company's repurchase program initiated in 1999, Safeway has aggressively bought back shares over the last few years. The average number of shares outstanding was reduced from 445 million in 2007 to 344 million last year, which represent a 23% decrease.
Safeway has accelerated the share repurchases recently through the increase of the repurchase program in $1 billion. In the first two quarters of 2012, Safeway's outstanding shares decreased by 57 million to 240 million, from the 297 million shares outstanding at the end of 2011. During the last quarter, the company did not repurchase any shares, as it appears to be now more focused on paying down debt.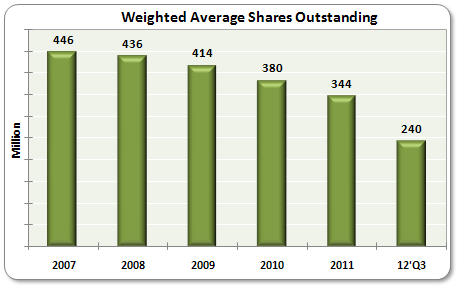 Source: Company data
If instead of buying back shares Safeway had maintained stable the number of outstanding common shares, its dividend per share would have been much lower than was actually distributed to shareholders, as shown in the next chart. I have used the 2007 level of 445 million average shares outstanding and calculate the dividend per share that would have resulted only through higher cash dividend outlays.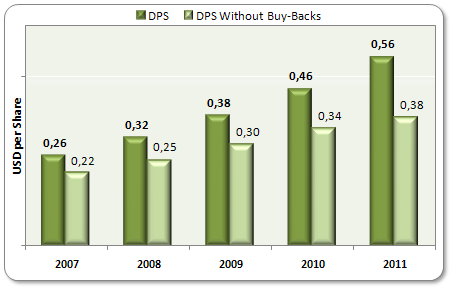 Source: Company data and author's calculation
Based on earnings Safeway's dividend appears to be relatively safe. The average dividend payout ratio since 2007 to 2011 was only 25%. However, this ratio has increased a lot over the years reflecting the disconnection between the increasing dividend and earnings growth. The payout ratio was 40% over the last quarters remaining at acceptable levels, but further increases should be considered a warning on lower dividends quality and sustainability.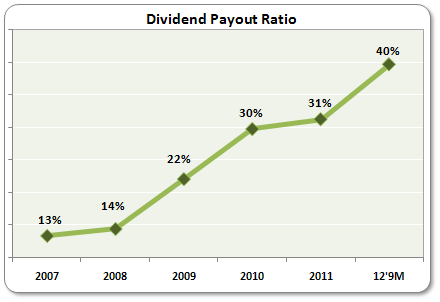 Source: Company data
Regarding investments, the company's capital expenditures were amply covered by its operating cash flow over the past few years, especially after the capex cut occurred in 2009. This leaves the company with a good cash cushion for deploying attractive shareholder remuneration, even after the investments on the company's future growth prospects.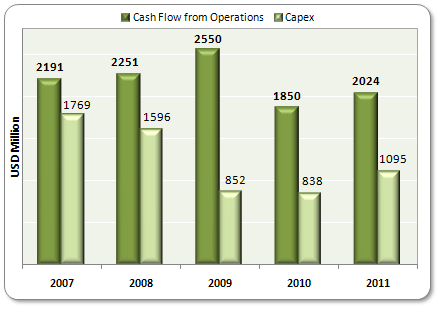 Source: Company data and Bloomberg
Based on Safeway's free cash flow generation capacity, the company's dividend is extremely secure. In 2011, dividend payments were only 23% of Safeway's free cash flow. Over the last few years, free cash flow was much higher than dividend payments, leaving plenty of room to maintain the dividend even if the cash flow dwindles. However, the total stockholder remuneration, including stock buybacks, was much higher in 2011 at $1.7 billion surpassing for the first time the company's free cash flow generation.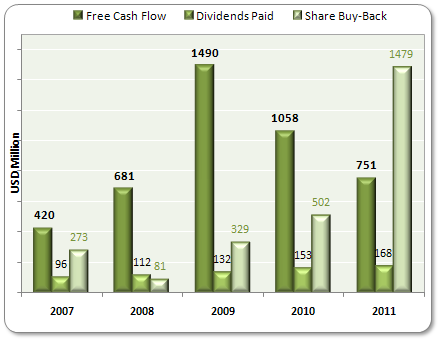 Source: Company data and Bloomberg
The share buyback programs are usually conducted when management thinks the company's share price is low and represent a good use for the company's cash in the balance sheet. However, in Safeway's case, it seems that this program isn't the best use of the company's cash in the long haul, given that it didn't increase shareholder wealth in absolute or relative terms. Effectively, Safeway's share price is lower today than in 2007 and compared to the S&P 500 index it has underperformed, especially over the last two years despite the increase in share repurchases.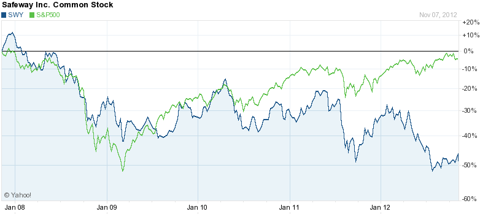 Click to enlarge
Source: YahooFinance
Safeway's shareholder remuneration policy has led to higher debt levels and increased company's leverage. Net debt increased by 33% to $6.2 billion in 2012, resulting in a higher net debt/EBITDA ratio and deteriorating the company's credit fundamentals. Although in the short-term this doesn't represent a big threat to Safeway's dividend payments given that it only has a $250 million bond payment in 2013, it should be a good reason to at least rethink its stock buyback program and the company's use of its own cash.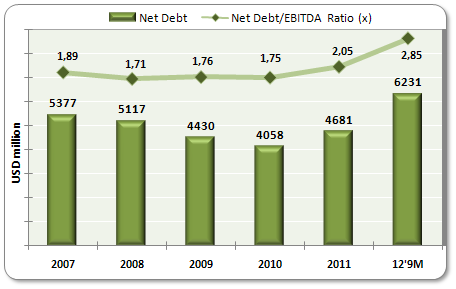 Source: Company data and Bloomberg
Conclusion
Safeway offers a very attractive and relatively safe dividend yield but its sustainability appears to be deteriorating rapidly, given the weak operating environment, the increase in the dividend payout ratio and the company's weaker credit profile. Furthermore, because Safeway's business is struggling as the macroeconomic outlook keeps weak, management can choose to protect its balance sheet going forward, naturally at the expense of shareholder remuneration through lower dividends or the cancellation of its share repurchase program.
I think the best route for Safeway should be to terminate the share buyback program, as it doesn't seem to achieve its goals of increasing shareholder remuneration and would increase the dividend sustainability. Instead of wasting money buying back shares, it could continue its policy of regular dividend increases as the company has a good cash flow generation capacity, and use the remaining cash to make the balance sheet strongest.
Disclosure: I have no positions in any stocks mentioned, and no plans to initiate any positions within the next 72 hours. I wrote this article myself, and it expresses my own opinions. I am not receiving compensation for it (other than from Seeking Alpha). I have no business relationship with any company whose stock is mentioned in this article.