We were actually disappointed that Sprint Nextel (NYSE:S) agreed to a deal with SoftBank (SFTBK. PK, SFTBY.PK) in which Softbank would acquire 70% of Sprint. We were wondering if Sprint's management did this deal in the wake of the T-Mobile USA/MetroPCS (PCS) tie-up. In our September 7th report on Sprint, we demonstrated that Sprint represented the best value to wireless customers and the best value for investors. We felt that Sprint's steady progress in building out its 4G-LTE Network would enable it to catch up with AT&T (NYSE:T) and Verizon (NYSE:VZ), especially because Sprint now has Apple's (NASDAQ:AAPL) wildly popular, cutting-edge iOS devices consisting of the iPhone smartphone and the iPad tablet computer. If Sprint had to merge with another company, instead of merging with SoftBank in 2013-2014, we would have preferred the company merge with CenturyLink in 2015 after it finishes its wireless reseller agreement with Verizon Wireless. Even though CenturyLink was not currently interested in Sprint and was digesting its Savvis and Qwest acquisitions, we felt a deal in 2015 or afterward would have made sense particularly because it would have reunited Sprint's wireless operations with Sprint's rural incumbent local exchange operations (Embarq, which was acquired by CenturyLink in 2009).
A Sprint/CenturyLink deal would have made sense because both companies are the third largest carriers in each firm's respective segment. CenturyLink is the third largest wireline carrier by revenues and market cap and the only company other than the AT&T/Verizon duopoly to own one of the seven Baby Bells that were spun-off from the old American Telephone and Telegraph Company. CenturyLink transformed itself from a small, rural local exchange carrier in Louisiana into the third largest wireline carrier by revenues and market cap with its acquisition of Embarq, Qwest (U.S. West) and Savvis from 2009 to 2011. Unlike the AT&T/Verizon duopoly, CenturyLink is a pure-play wireline carrier, though it has a wireless communications reseller deal with Verizon Wireless. Still, we think that eventually, CenturyLink will get tired of seeing its wireline access line customer count continuing to decline quarter-by-quarter and seeing its wireline customers cut the cord in favor of Verizon Wireless, even if CenturyLink is the sales agent for Verizon Wireless. AT&T/Verizon are seeing greater wireline access declines than CenturyLink however those companies each have a wireless subsidiary that is generating growth and offsetting declines at the wireless operations. In comparison, CenturyLink does not have a growing wireless operation of its own and has to settle for reselling Verizon Wireless' products and services.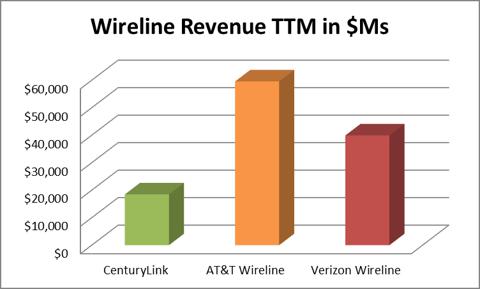 Source: Last Four Quarterly Earnings Reports for CenturyLink, AT&T and Verizon
As we previously mentioned, one thing Sprint has in common with CenturyLink is that both companies owned legacy Embarq for a period of time. Sprint owned it up until it spun it off in 2006 and CenturyLink has owned it since 2009. Another thing Sprint has in common with CenturyLink is that Sprint is #3 in wireless communications revenues. Sprint has a small wireline operation consisting of its legacy long-distance services business however that is steadily declining and is almost irrelevant to the investment thesis behind Sprint. Even if we include Sprint's Wireline operations for the purpose of our calculations, we see that Sprint's $35B in TTM revenues was far behind that of AT&T Mobility LLC (AT&T Wireless) and Verizon Wireless. At least Sprint's revenue disparity to the AT&T/Verizon duopoly is less severe than CenturyLink's disparity.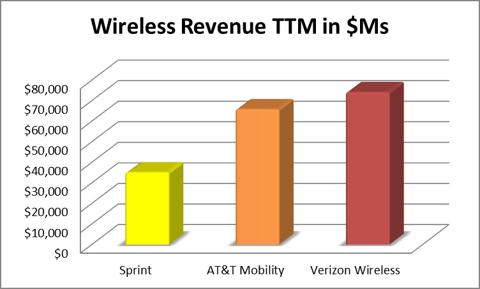 Source: Last Four Quarterly Earnings Reports for Sprint, AT&T and Verizon
While a CenturyLink/Sprint combination would not have eliminated this gap overnight, we believe that such a combination would have resulted in greater scale and organizational resources in order to take on the AT&T/Verizon duopoly. CenturyLink/Sprint would have been the third largest telecom company in America by revenues with $53.5B over the last 12 months and assuming that Sprint's market cap of $16.5B was what CenturyLink would pay to acquire it, this would create a telecommunications giant with over $40B in market cap as of October 26th. One downside is that by combining CenturyLink and Sprint, the combined company would have nearly $43B in debt, which isn't that far off from the $63.75B in debt that AT&T has and the $55.15B in debt that Verizon Wireless has.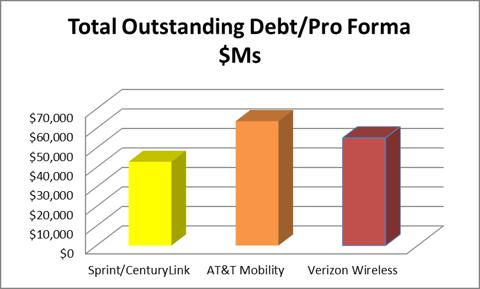 Source: Last Four Quarterly Earnings Reports for CenturyLink, Sprint, AT&T and Verizon
Although Softbank has higher GAAP/IFRS-basis profit margins than CenturyLink, CenturyLink's profit margin is skewed because of the high level of depreciation and amortization accruals that it has been booking as part of its three big mergers (EMBARQ, Qwest and Savvis). CenturyLink is expected to generate $3.25B-$3.4B in free cash flows in its FY 2012 period, which is comparable to the $3.47B generated by Softbank in its FY 2012 period. We would have liked to have seen a merger between Sprint and CenturyLink because it would have been a merger between the #3 wireline provider and the #3 wireless provider and between cash flow (CenturyLink) and capital needs (Sprint).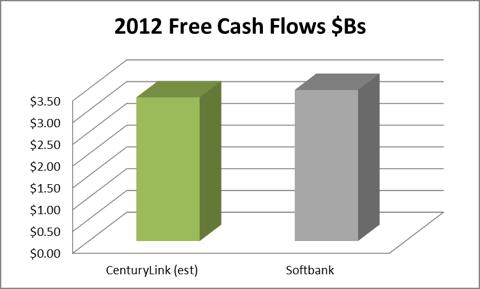 Source: CenturyLink's MRQ Report and Softbank's 2012 Annual Report
Other reasons why we would have preferred a CenturyLink/Sprint merger than Sprint hooking up with SoftBank are as follows:
Sprint/CenturyLink would have been the unquestioned number #3 communications carrier in the US
The company would have had the scale to consign T-Mobile USA/PCS to the dustbin of irrelevance
CenturyLink's wireline customer access line decline is narrower than AT&T/Verizon
Sprint's CEO Dan Hesse has had experience running operations at both companies
CenturyLink's broadband internet growth rate is growing faster than AT&T/Verizon
Sprint has recently enjoyed a faster growth rate in wireless revenues than AT&T/Verizon in 2012 and we expect this will continue now that Sprint has the iPhone, the iPad and a steadily increasing 4G-LTE footprint
In conclusion, we believe that Sprint did not need Softbank to come in and acquire 70% of the company for it to be a stronger company than T-Mobile, even though T-Mobile recently announced that it was merging with MetroPCS. We maintain that Sprint had been positioning itself to potentially provide headwinds to growth for the AT&T/Verizon wireless business and we would have preferred to see an independent Sprint continue this journey rather than take the Roy Raymond route of selling out. At the same time, if it had to sell out (either out of need or to engage in opportunistic strategic alternatives), we think a Sprint/CenturyLink combination would have had the ability to give the AT&T/Verizon duopoly a real run for its money as Sprint had a higher wireless revenue growth rate than AT&T Mobility and Verizon Wireless and CenturyLink was more profitable than Verizon Wireline and it was seeing its wireline access line erosion occur at a slower rate than AT&T and Verizon.
Disclosure: I am long AAPL, CTL, S. I wrote this article myself, and it expresses my own opinions. I am not receiving compensation for it (other than from Seeking Alpha). I have no business relationship with any company whose stock is mentioned in this article.
Additional disclosure: This article was written by an analyst at Saibus Research. Saibus Research has not received compensation directly or indirectly for expressing the recommendation in this article. We have no business relationship with any company whose stock is mentioned in this article. Under no circumstances must this report be considered an offer to buy, sell, subscribe for or trade securities or other instruments.