Many investors favor covered calls because they can generate regular income for any portfolio when executed properly. This fairly simple trade can be executed in retirement accounts with some brokers. A stock investor will sell a call option against shares they own giving up their rights to increases in the stock's price above the agreed upon strike price of the call. Like all options contracts, this call option and the trade has a finite term.
Why would an investor sell their rights to stock appreciation? Simply put, you can't get too greedy and expect to make money. It takes time and slow appreciation to have lasting gains. Creating a covered call trade provides some certainty that you are receiving a minimum amount of compensation for holding your shares and being patient.
Out-of-the-money covered calls involve the sale of call options with a strike price above the current trading price of the stock. In some cases, an investor might have a specific price target identified prior to even considering a covered call trade. In general terms, the covered call trade provides an additional tool to boost yield and automatically sell your stock.
Investors in Best Buy Co. Inc. (NYSE:BBY) and Navistar International Corporation (NYSE:NAV) should consider an out-of-the-money covered call to increase portfolio income and profit from any potential price gains. Call options on each company's stock trade with a rich time value premium on them. This affords an opportunity to profit from volatility in the underlying securities. Additionally, Best Buy stands to benefit from increased consumer confidence headed into the Holiday buying season, while Navistar should get a similar boost when companies begin to ramp up capital spending to meet demand.
A November 2012 expiration covered call in Best Buy Co. Inc. could yield a potential profit of 9.3% over the next 8 days when holders of the stock sell the $16 call option. This represents a 418% annualized return. If the stock trades above 16, shares will automatically be sold at the expiration date. If shares trade below $16, the seller of the call gets to keep the $0.66 option premium, capturing a yield of 4.2%. If shares fall to $14.64, the investor reaches a break-even point on the trade.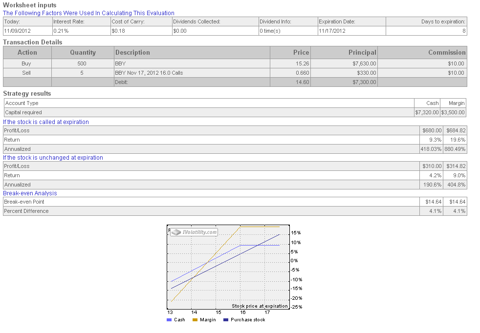 Investors in Navistar International Corporation could profit from a similar covered call trade by selling the December expiration $20 strike price call option for a premium of $1.75. If the share price rises above $20, the stock will automatically be sold for a profit of 9.8% over a holding period of 43 days. That's a potential annualized return of 81.79%. The break-even price on the trade is $18.22.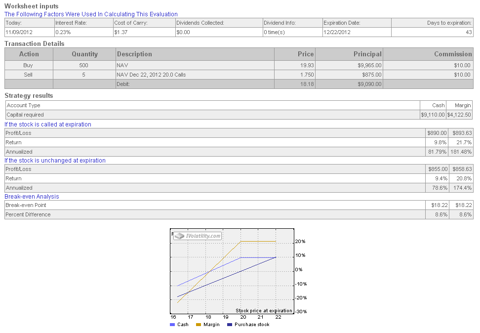 Entering into covered call trades helps an investor to profit from volatility. With all the doom and gloom surrounding the recent election, this should help an investor find light in the darkness.
These trades should be considered hypothetical and as part of a larger financial strategy. Exercise your own due diligence surrounding the underlying stocks and do not enter into any options trade without understanding the complexities of the transaction.
The calculations provided above are generated through an online calculator provided by the Options Industry Council. Prices and options quotes gathered prior to the open of the market.
Disclosure: I have no positions in any stocks mentioned, and no plans to initiate any positions within the next 72 hours. I wrote this article myself, and it expresses my own opinions. I am not receiving compensation for it (other than from Seeking Alpha). I have no business relationship with any company whose stock is mentioned in this article.