In our previous article we discussed our observations about the difficulties insuring stock positions that pay a high dividend yield. The article discussed a long term married put position on Annaly Capital Management Inc. (NYSE:NLY). The conclusion of that article was that high dividend paying REITs and securities are highly attractive investments, but the lack of growth may hinder additional profits beyond the lucrative dividend payment.
In that previous article we mentioned that we have had success with the married put technique on stocks that pay a lower dividend rate and have the potential for growth. We referenced past positions such as Kraft Foods Group Inc. (KRFT) and Johnson & Johnson (NYSE:JNJ) as successful married put positions that also paid an attractive dividend.
Dividend paying stock criteria:
To start we want to look for stocks that have the potential for growth. We also want a stock that pays a dividend, but we do not want the yield to be too high so that potential growth is limited. We will start by entering these basic stock criteria into our married put search tool:
Stock price between $9.00 and $85.00 per share (matches our account requirements)

% EPSG greater than 5% (to identify stocks that have grown in earnings)

P/E Ratio between 0 - 50

Average stock volume greater than 750,000 shares (average over the last 90 days)

Stock price to be above the SMA 50 (identify stocks that are in an uptrend)

% Dividend Yield between 2-6% (reasonable range that won't hinder growth)
To save time with our research and analysis, we are also going to enter in our put option criteria for the married put trade:
Option expiration time frame - at least 5 months out in time

% range in-the-money less than 15%

% maximum risk between 3.5% to 7.5% (keep risk to single digits)

Put open interest greater than 10 contracts
By combining these criteria together in our patented search we greatly reduce our time spent on research and analysis as only those positions that match both sets of criteria will appear in the results. Here are the potential positions that matched our dividend-yield married put search (Source: poweropt.com):

There are eight married put positions that matched our initial criteria on five stocks: Companhia Vale ADS (NYSE:VALE), Johnson & Johnson, Deere & Co. (NYSE:DE), J.P. Morgan Chase (NYSE:JPM) and Teva Pharma. Indus. Ltd. (NYSE:TEVA). We had the results sorted by highest percent EPSG. Although VALE appeared at the top of the list, we were not satisfied with the stock chart to enter into the position at this time. Another factor that led us away from VALE was the put option matched our criteria, but was only 226 days out in time (June 2013 expiration).
The next choices were two different married put combinations on Johnson & Johnson with a January 2014 expiration. The deeper in-the-money put, the 2014 January 75 strike put option offers a maximum risk of only 5.5%, whereas the 2014 January 72.5 strike put carries a risk of 6.5%. Johnson & Johnson offers an annual dividend of 3.5%.
The stock chart for Johnson & Johnson better matched our requirements for a married put position (Source: BigCharts.com):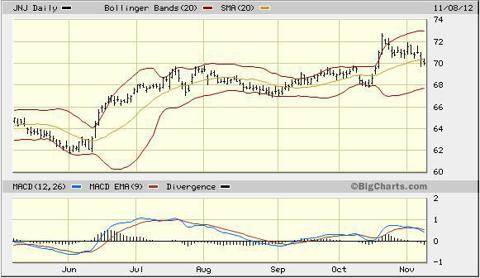 Johnson & Johnson has shown good growth over the last 6 months, even though it has recently dipped below the 20 day moving average. Although it has recently pulled back after breaching $72.00 per share, we do see support around the $68.00 level. Our expectation is that JNJ will continue to show growth over the next few months as investors look to more conservative, dividend paying companies with a proven track record of good earnings and good management.
As pointed out by Seeking Alpha contributor Kevin Quon, Johnson & Johnson also has a steady track record of increasing the dividend over time. This is another enticing characteristic that led to our selection of Johnson & Johnson for a long term, dividend paying married put candidate.
Put selection:
In general when we open one of these married put positions following the RadioActive Trading guidelines, we are expecting the stock to move up in price by 5-8% in the next 30-60 days. When using a dividend paying stock that has lower volatility, we lower our expectations. We still expect the stock to move up in price, but the growth is expected at a slower rate.
For this reason, we want to focus on the 2014 JAN 72.5 strike put option. Yes, since the option is not as deep in-the-money as the 75 strike put we have a slightly higher at risk, 6.5% compared to 5.5% of our invested capital. By purchasing the lower strike put we may see opportunities to manipulate the put and use other options strategies to generate income with a smaller movement in the stock. Since the 2014 JAN 72.5 put is only 3.5% in-the-money, we may be able to apply an adjustment with only a 2% or 3% gain from our stock purchase price. Here is the break-down of our selected married put trade:
Buy shares of Johnson & Johnson @$70.00
Buy 2014 JAN 72.50 put @$ 7.50
Total invested = $77.50
Guaranteed exit from put option = -$72.50
Total At Risk = $ 5.00, or 6.5%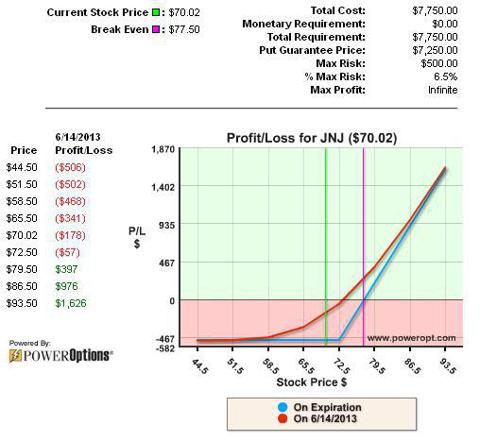 The above profit and loss chart shows that the maximum at risk of 6.5% occurs at January 2014 expiration, about 435 days from now, or if Johnson & Johnson had a decline of more than 50% in the near term. We are not down by 6.5% as soon as we enter the position. In fact, we could choose to liquidate the stock and put right away. All we would lose is the bid-ask spread on the put option (assuming the stock is still trading right around $70.00 per share).
The total invested capital is $77.50, but we are guaranteed to get $72.50 back because of the rights of the protective put option. This makes our maximum risk $5.00, or 6.5% of the invested capital in the worst case scenario. The profit and loss chart above does show a break even of $77.50, but again that is only at January 2014 expiration. The curved red line on the profit and loss chart shows the theoretical gain or loss of the married put position on June 14th, 2013, the half-way point between now and January 2014 expiration. Here we see a break-even of about $73.00 per share as opposed to the expiration break-even of $77.50.
This is due to the fact that the put option will not decrease 1:1 with a rise in the stock. The put will lose intrinsic value as the stock rises, but the extrinsic value of the put option may actually increase as the put goes from in-the-money to at-the-money (a phenomenon known as the ATM Bell Curve). Ergo, we will not need the stock to rise above $77.50 (the expiration break even) prior to expiration to realize a profit.
Johnson & Johnson's dividend payment will not cover the full at risk amount if we stayed in the position to January 2014 expiration as was the case with the NLY position. We expect to see more growth in Johnson & Johnson over time which will allow us to make adjustments, generate income and lower the initial at risk in addition to receiving the dividend payments.
We feel these types of stocks with a lower dividend payment and potential growth are better set-ups for the married put strategy when using dividend paying securities.
Disclosure: I am long JNJ. I wrote this article myself, and it expresses my own opinions. I am not receiving compensation for it (other than from Seeking Alpha). I have no business relationship with any company whose stock is mentioned in this article.