No sooner do we start a Virtual Value Portfolio that one of our selected stocks goes on sale.
In Dr. Paul Price's Virtual Value Portfolio, we started with equal amounts of money in a set of stocks identified as value opportunities (originally listed in Building a Portfolio from the Ground Up - Part One). Paul is going to double down on one of the stocks in that portfolio, Express Scripts (NASDAQ:ESRX). In other words, he's doubling the amount of virtual dollars allocated to ESRX.
Express Scripts was trading down about 12% to $55.15 after hours on Tuesday, November 6.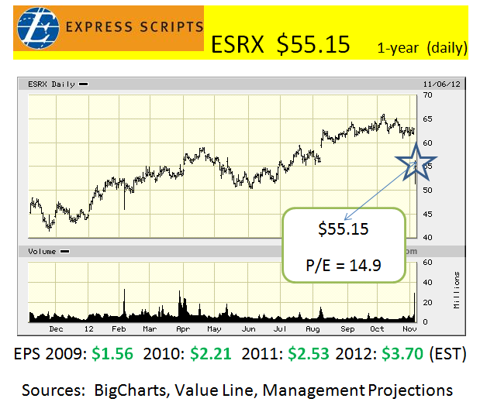 Paul thinks the drop was due to overly pumped up expectations. He wrote:
While announcing the excellent quarterly and current year prospects ESRX management indicated that next year's estimates looked overly optimistic. They still expect another all-time record year in 2013. They simply wanted to temper analysts' over-enthusiasm.

In reality, not much has changed. ESRX has a 10-year median P/E of 21x. Even 18 times this year's reaffirmed midpoint EPS of $3.70 would support a current price of $66.60. That same multiple on even $4.20 for next year would suggest a $75.60 1-year target.
Paul's goal for the stock is $85 - $90 in a year to 18 months. He is currently long ESRX and buying more. In his opinion, the stock is a buy.
Wolf Richter, a financial industry observer, author and blogger, disagrees. He believes we need to start worrying that the numbers will be disappointing in the future:
It appears the toughest creature out there, the one that no one has been able to subdue yet, the ever wily and inexplicable American consumer, is having second thoughts about prescription drugs. And is fighting back. A paradigm shift.

We've already heard from some companies, such as drug maker Pfizer, whose revenues in the US plunged 18%, largely due to the collapse of its flagship drug Lipitor that is losing its battle with much cheaper generics. But the direst indications came from Express Scripts, the largest pharmacy benefit manager in the US -- and perhaps one of the best gauges of spending patterns for prescription drugs.

During the earnings call, CEO George Paz, who ominously was 'not prepared to provide 2013 guidance,' embarked on a dark speech. The company's clients had 'unprecedented concerns about our country's economic outlook,' he said.

Unprecedented concerns!
(Read Wolf's full article: The Inexplicable American Consumer Revolts Against Prescription Drugs)
This is why prices fluctuate, why there are buyers and sellers, believers and disbelievers. When stock prices fall, it reflects a consensus that the share price will continue dropping, that the company's business model is flawed, or that the economy will not support the growth forecast.
The drop in price, in some people's eyes, is a bargain. In others, it's the beginning of a new trend.
Paul is the new featured contributor of our newsletter, Market Shadows.
Dr. Paul Price: Biography. Dr. Price is a featured columnist every business day on TheStreet's Real Money Pro web site. He is also a popular contributor to Seeking Alpha and Phil's Stock World.
Disclosure: I have no positions in any stocks mentioned, and no plans to initiate any positions within the next 72 hours. I wrote this article myself, and it expresses my own opinions. I am not receiving compensation for it. I have no business relationship with any company whose stock is mentioned in this article.
Additional disclosure: Dr. Paul Price is long stocks listed in this article.