Insurance companies have seen their share prices plummet along with those of their investment banking brethren. Fear, however, may have caused some investors to underestimate the value of some insurance companies' balance sheets. While insurance giants have suffered the blow from subprime exposure, some analysts have begun to emphasize the value in the plain-vanilla investments at the heart of many insurance companies' investments.
With cleaner balance sheets and more transparent structures, many insurance companies have been surprisingly resilient in the face of financial crisis. This trend has been mirrored in our Sector Momentum Rankings and the performance of the PowerShares Dynamic Insurance Portfolio (NYSEARCA:PIC).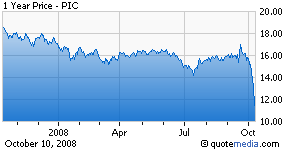 From September 3 to October 1, PIC moved from the No. 24 position in our rankings to the No. 7 position. Year to date, PIC is down less than 15%—a nearly 12% improvement over that of the S&P 500.
In an effort to capture this value—while minimizing exposure to potential "bad apples"—PowerShares launched its PIC in October of 2005. PIC tracks the Insurance Intellidex Index, which uses fundamental growth, stock valuation, investment timeliness and risk factors to measure the suitability of index components. This methodology has helped PIC keep a relatively even keel in a difficult sector. Since the fund's inception, the Insurance Intellidex Index has outperformed the S&P SuperComposite Insurance Index by more than 8% and the S&P 500 by 3.84%.
Insurance companies are lumped into the financial sector, and the recent crisis surrounding subprime mortgages and investment banks has weighed heavily upon industry giants such as PIC's Progressive. While insurance companies have suffered from some exposure to both Lehman and the larger subprime market, PIC's components have fared relatively well. AIG is not included in PIC's current holdings, and some analysts have been speculating that AIG's competition—including PIC's components—could benefit from the dismantling of the insurance leader. Joshua Shanker, the P&C analyst at Citigroup, recently upgraded two of PIC's top ten components—Chubb (NYSE:CB) and Travelers (NYSE:TRV)—to buy from hold. "Business could flake away from AIG," noted Shanker in a recent report.
Citigroup is not alone in its upgrade—Goldman Sachs analyst Thomas Cholnoky also noted in his September Travelers upgrade that several of PIC's components could benefit from the recent AIG shake-up. Cholnoky noted that while TRV and ACE Ltd. (NYSE:ACE) may benefit most directly from AIG's downfall, other insurance companies such as Chubb and Progressive could also benefit. "Well-capitalized domestic insurers with strong institutional platforms" could emerge stronger from AIG's fallout, according to Cholnoky. In its exclusion of AIG and inclusion of well-capitalized competition, PIC could reap the rewards of a large-scale desertion.
PIC's largest holding, ACE Ltd. (ACE), announced September 30 that the company had "minimal exposure" to failed Lehman investments and peer AIG. Don Wordell, portfolio manager of RidgeWorth Mid-Cap Value fund counts ACE among his top holdings. Wordell believes that dividend-paying equities like ACE will be "long-term survivors because they don't have the balance-sheet risks that the others have." As investor fears about credit markets intensify, the demand for high-quality dividend-paying stocks—like ACE—could help strengthen PIC's returns.
Marsh & McLennan Cos. (NYSE:MMC), PIC's third-largest holding, is in positive territory for 2008. When Citigroup upgraded MMC this past summer, it called MMC's business model "recession resistant" and lauded the in-coming CEO as a marked improvement in management. MMC has slipped in recent weeks, but the company remains up more than 11% year to date as of October 6.
While the safe-haven status of quality insurance companies could boost PIC in the upcoming months, potential investors should weigh the risk of scooping up shares. Commercial insurance pricing has weakened at an estimated rate of 10% this year, according to Barron's, and a decline in next year's earnings could put pressure on PIC's price. Like many sector ETFs, PIC is relatively illiquid—a serious consideration for investors apt to panic on difficult days. In the last three months, PIC has traded an average of only 36,500 shares a day. Because of low volume, investors should remain mindful of premiums and discounts involved in PIC's intraday trading.
The risks involved in financial investments have been splashed across headlines for months. For those willing to tiptoe back into financials, however, PIC may represent a safer stake than individual stocks. The current flight to quality has caused many investors to go back to basics in order to focus on companies with strong balance sheets that pay dividends to shareholders. As financial fears subside and the regulatory dust settles, solid insurance companies—like the ones included in PIC—could offer considerable returns for forward-thinking investors.