We reiterate our bullish stance on First Solar (NASDAQ:FSLR) based on its impressive grid integration system, increasing conversion efficiency, high production and module efficiency. Its capacity utilization has considerably increased from 63% to 83% and cost per watt has decreased by $0.05 over the course of one quarter. The company has registered earnings of $1.27, which beats the analysts' estimates by $0.23 in the third quarter of 2012. The United States has imposed heavy duties on Chinese solar imports for the next five years, which will help FSLR to strengthen its market position in North America. The company's decline in average selling price and continuous drive to achieve grid parity are most important determinants for long term investors. The stock is attractive to investors due to its relatively cheap valuations. It is trading at EV/Revenue of 0.63x, at a discount when compared to the industry average of 0.7x. Its expected five year PEG ratio of 0.21 shows that investors can buy growth cheaply. We have calculated our 12-month target price of $97 (by using average four years EV/EBITDA multiple), with an upside of 320%. Therefore, we recommend investors to take a long position in the stock.
Industry overview:
Yesterday, the U.S. finally approved duties worth billions of dollars on the import of solar panels from China. In our opinion, these duties, for the next five years, will significantly diminish the Chinese solar market in the U.S. and help the domestic producers develop their market share across the country. The Chinese call this step a protectionist move that will threaten the solar energy future and increase its cost for consumers. Some Chinese solar manufactures, including Yingli Green Energy (NYSE:YGE), Canadian Solar (NASDAQ:CSIQ) and Suntech Power Holdings (NYSE:STP), criticized the U.S. anti-dumping policies. They believe that this step will initiate a trade war between the two countries.
The Chinese government has been increasing subsidies in order to retain its position in the solar export market. One of the largest U.S. solar panel companies, SolarWorld, has blamed Chinese manufacturers, including STP, for selling solar panels in the country at comparatively low prices, after getting massive subsidies from the Chinese government. In response, the United States has further strengthened its import duties ranging from 31 percent to 250 percent. We believe it will become difficult for the Chinese government to provide subsidies to the companies for a long period of time.
Emerging market growth:
FSLR's strategy to enhance its global presence and strengthening its position into emerging markets of India and Australia are positive signs for the sustainability of its high revenue growth. Over the last two quarters, FSLR has established itself in the sustainable markets of Dubai, Thailand, India, China and Australia, which is reflected in the quarterly development table below. We believe that the increasing exposure in the high growth markets will enable the company to enhance its brand equity and take advantage of the increasing demand of solar panels all over the world.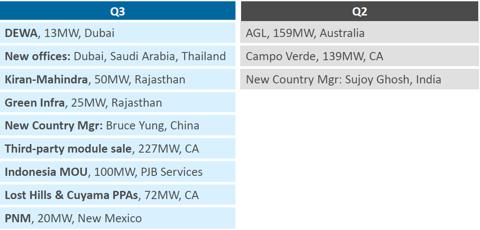 Source: Company Website
Development of Advance Grid Integration System:
We believe First Solar is engaged to bring superior services to its customers and a recent development of its Grid integration System is a milestone in creating strong bonds with customers. As we see in the process chart below, First Solar has established an efficient solar power supply system, with voltage regulation, fault ride-through and active power control system. This unique supply system does not require any customer development and comfortably provides electricity to utility companies at a rate of every millisecond. In our opinion, it has a great opportunity to expand this advance plant control system technology to its international geographic portfolio.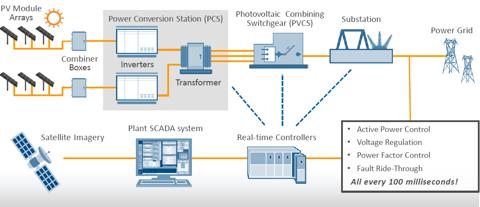 Source: Company Website
Growth in Pipeline:
The company's pipeline projects grew up from 2.9GW (Giga Watts) to 3GW over the last quarter. The increase was primarily witnessed because of a gradual increase in business transactions in Indonesia, Dubai, India and most importantly in the U.S. The company's management reveals that it will be able to maintain the same level of current pipeline margins in the future as well. We believe its current progress to enter the sustainable markets will further enhance its pipeline growth.
Financial Highlights:
Due to the company's delay in construction at Agua Caliente and decline in the Silver State North project, its sales have declined by $118 million over the last quarter. This decrease reaches $167 million when we compare the result from Q3 of 2011. However, its 550-megawatt Topaz Solar project is expected to bring in considerable revenue for the company. First Solar has reached an impressive capacity utilization level of 83 percent in the Q3 2012, from 63 percent in the Q2 2012. It has decreased production cost to $0.67 by approximately $0.05 in the last quarter.
Risk:
There are a few major risks associated with our forecasts that can create a negative impact on the stock, which are as follows:
The United States removes its anti-dumping policies on Chinese imports.
The Chinese government increases subsidies on solar panel export.
Fluctuation in average selling price or rise in cost.
Advancement in alternative form of cheap electricity generation.
Delay in projects can also hit its expected profitability in the next few quarters.
Price Movement:
FSLR has shown an upside of approximately 34 percent in the last six months primarily because of the U.S. anti-dumping policies on the Chinese solar imports and the introduction of high revenue generation projects. More than 30 percent of insiders and 71 percent of institutions are holding this stock.
We believe the stock has significant potential to show an upside due to its low valuation and strong growth prospects. The stock has slightly gone down by 6 percent in the last one week due to the company's lower operating cash flow guidance. It has slightly cut its guidance due to the impact of Hurricane Sandy on some of its construction projects. We believe the company has full potential to cope up with the situation and quickly restore its profitable position.

Source: Google Finance
Valuation:
Our estimated 12-month target price is $97 with a considerable upside of 320 percent. FSLR is trading at a EV/Revenue of 0.63x, at a discount when compared to its competitors Yingli Green Energy and Suntech Power's EV/Revenue of 0.77x and 1.01x, respectively. On the other hand, it is trading at a premium when compared to its peers JA Solar (NASDAQ:JASO) and Trina Solar's (NYSE:TSL) EV/Revenue of 0.49x and 0.57x, respectively. The stock is trading at a price-to-sales ratio of 0.7x, EV/EBITDA of 3.9x and a forward price to earnings ratio of 5.9x. In our opinion, the company after capitalizing on its emerging markets growth would further improve its valuation multiples.
Comp. Sheet

First Solar

Trina Solar

Suntech Power

Yingli Green Energy

JA Solar

PEG (5 yr expected):

0.21

-

1.14

P/S :

0.7x

0.18x

0.06x

0.13x

0.11x

Enterprise Value/Revenue :

0.63x

0.57x

0.77x

1.01x

0.49x
Source: Yahoo Finance
Below are the details of FSLR's valuation and 12-months target price of $97.
| | |
| --- | --- |
| Average. EV/EBITDA(Last four years) | 12x |
| Estimated EBITDA of 2013 ($ millions) | $665 |
| EV | $8,226 |
| | |
| EV | $8,226 |
| Less: (Debt) ($ millions) | $468 |
| Add: Cash ($ millions) | $614 |
| Add: Marketable securities ($ millions) | $102 |
| | |
| Equity($ millions) | $8,474 |
| No. of shares (millions) | 87 |
| | |
| Target Price of 2013 | $97 |
Disclosure: I have no positions in any stocks mentioned, and no plans to initiate any positions within the next 72 hours.
Business relationship disclosure: The article has been written by Qineqt's Energy Analyst. Qineqt is not receiving compensation for it (other than from Seeking Alpha). Qineqt has no business relationship with any company whose stock is mentioned in this article.