As of this morning's current levels (8270 on the DJIA), the DJIA is down over 40% from its peak on 10/9/07.  Below we have highlighted similar declines since in the Dow since 1900.  The chart highlighting these significant declines could be comforting some and disconcerting to others. 
We cannot say when the bottom will occur, frequently they are when we least expect them, but in every occurrence save one the market rallied back to its pre-decline levels within the next year or two.  The part that may be less comforting is that the market takes a long time before another rally ensues. 
Many commentators have compared this bear market to that of 1974.  Until the most recent downturn they had been similar, but this decline so far has been just as bad in half the time.
click to enlarge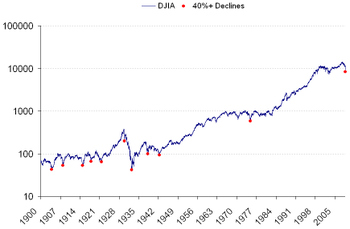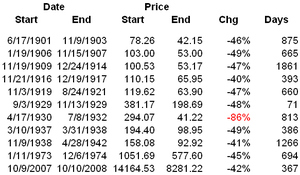 Judge for yourself which decline is most similar to this one.